Are you looking for ways to spruce up your loft apartment? I was in the same situation a few months ago.
I wasn't happy with my loft's look and feel, so I started searching for decor ideas online. I discovered that changing the illumination can make a huge difference in the interior of an apartment.
The good news is that there are many cheap loft lighting ideas. Some are do-it-yourself (DIY) projects, while others you can buy ready-made.
When you search online for loft lighting, you'll find everything from industrial to rustic. You can choose from modern cordless LED lamps or stick with more traditional fixtures like chandeliers.
If you need loft bedroom lighting ideas, I've got you covered, too!
I've put together a list of 21 options for you to consider. I'm sure you'll find at least one that fits your style!
1. Hanging Bulbs for a Simple Retro Look
When it comes to loft space lighting, hanging elements are essential. They allow you to illuminate a larger area.
You can go retro by hanging plain bulbs from a cord or chain. You'll get warm, even brightness in all directions.
2. Lanterns for a Sophisticated or Rustic Look
Lanterns add a special touch to any room. They come in many styles, so you can pick the one that best fits your decor.
You can set a lantern on a counter or nightstand. Hang one by your bed for nighttime reading.
3. Lighting in a Recessed Ceiling Provides Indirect Illumination
This is one of my favorite loft ceiling lighting ideas. The soft glow from the hidden bulbs gives the apartment a homey feeling.
4. Cordless Floor Lamps Provide Light Where You Need It
Do you need a floor lamp somewhere far from an outlet? That's no problem with modern technology.
You can move rechargeable or battery-operated floor lamps anywhere you need them. They often use energy-saving LED bulbs, meaning the charge lasts much longer than with other types of bulbs.*
5. Natural Lighting Saves Energy
High ceilings mean more space for windows. Take advantage of all the natural light your space offers.
If you need privacy, consider a window treatment that allows a significant amount of light to get through.
6. Automated Lighting for Modern Convenience
Not all loft apartment lighting ideas are created equal. Here's one that can make a huge difference in your peace of mind and your electric bill.
Installing smart light switches and outlets, a hub, and occupancy sensors can be a fun DIY project.
After you're done, you won't have to worry about turning lights off before bed or getting up to dim the lights before watching a movie.
You can control your loft's illumination using an app on your phone!
The Joyfully Growing blog shows a full tutorial for installing automated lighting!
7. Colorful Table Lamps Add Charm
A few pops of color around your apartment can liven up the space. Your loft lights can help accomplish this.
A brightly-colored mosaic lamp can provide the perfect evening ambiance in your living room or bedroom. It casts a rainbow on all the surrounding surfaces, too!
Hop on over to Amazon.com to see all the options available.
8. Save Money by Making Your Own Wall Sconces
Are you interested in sconce lighting but find it too pricey? There are some excellent DIY ideas out there!
In this video, Kelsey and Becky from The Sorry Girls show how to make four different types of wall sconces on a budget.
9. Fairy Light Curtain
Fairy lights can be a lot of fun. You can hang them along a wall to illuminate a part of your apartment.
The fairly light strings can double as a place to clip photos. You can also hang them from corner to corner in a room to create soft ceiling illumination.
10. Himalayan Salt Lamps Add a Warm Glow
Himalayan salt lamps are said to have a series of health benefits, including helping you sleep.* Even if research can't yet prove a link, it's easy to see how they could have relaxing properties.
Low lighting at the end of the day can help prepare you to sleep better at night.* Try this warm glow to help you relax.
Check out this product and several other models at Wayfair. Choose your favorite!
11. Hanging Elegance
Chandeliers have long been a standard feature of rooms with high ceilings. You can go with a traditional style, find something more modern, or even build your own!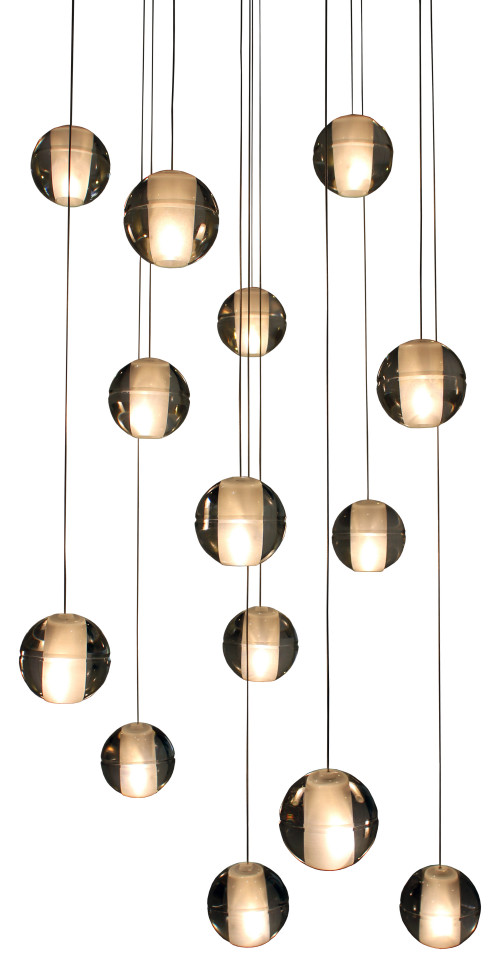 12. Make Your Own Creative Pendants
Did you ever think of using unconventional objects as pendants for your loft lighting? For instance, you might use a drum, a globe, or something else that reflects your personality.
You can find the instructions for this drum pendant project by visiting Makely.
13. Make Your Loft Welcoming with Candles
There's something about the glow of candlelight that puts people at ease. Whether you're looking to relax or entertain guests, candles can help create the right mood.
You can even try your hand at candle making using one of the many tutorials available online.
14. Mounted Mason Jars Add Farmhouse Charm
Turn your old canning jars into a light fixture with this fascinating project. You might want to light your kitchen with this rustic piece.
Visit thesummeryumbrella.com to see the whole tutorial.
15. LED Strips Create a Festive Mood
Do you want your loft lights to convey a party-like atmosphere? LED strips are an excellent way to make that happen.
The strips typically come with adhesive, so you can mount them anywhere you like. There are lights that change colors, and some even pulse in response to music!
Check out the endless amount of LED strips lighting and color at Wayfair.
16. Vintage Spotlight Adds a Unique Touch
An old-fashioned spotlight is an excellent addition to your loft, especially if you already have a vintage theme going.
It provides functional illumination but will certainly also be a conversation piece.
You can even make your own DIY tripod light for the same effect!
17. Amber Light Protects Your Eyes While Reading
This clip-on lamp is convenient for many different locations. However, the amber color makes it especially appropriate for reading before bed.
Wherever you use it, it protects your eyes from absorbing an excess of blue light, which can interfere with sleep.
See Amazon.com for this model or others similar to it.
18. Go Vintage with Industrial Lighting
Are you looking for industrial loft lighting ideas? This style mimics old-school factories with metal fixtures.
You can find all-metal lampshades and wire-like elements that give a vintage feeling.
19. DIY Wooden Spotlights for Rustic Charm
Are you up for a woodworking challenge? Craft this beautiful spotlight strip by following the tips in the video.
20. Whimsical Loft Lighting That's Easy
Looking for a super simple way to add lighting quickly?
I love pieces that can come together and create a dramatic, artistic effect while offering practicality as well!
Get ahold of a vintage wooden ladder. Pick up a short string of LED lights (with plastic bulbs of course). Then wrap around with your artist's touch.
21. Ceramic Pendant Lamp Brings an Artsy Touch
This ceramic lamp is beautiful in itself. What's more, it leaves intriguing light patterns all over your walls.
Head over to Etsy.com to learn more about this piece of art.
In Summary
If your loft needs a lighting makeover, you can find many ideas online. Use one of the above suggestions or find your own perfect fit.
In no time at all, you'll transform the look and feel of your apartment!
Wondering what your home is worth in today's market?
Get New HOT listings to your inbox daily, before any other buyers at: