Many homeowners have decked the halls early this year. Those who are embracing the warmth and coziness of home during the pandemic are finding themselves in a particularly festive spirit. Sixty-seven percent of consumers say they don't have enough holiday decorations this year and plan to buy more, according to a study conducted by the storage company UNITS.
Many homeowners are somewhat insecure about their holiday decorating efforts. Nearly a quarter say they're worried that their holiday decorations won't look as good as their neighbors', according to the survey. Nearly 30% say they feel pressure to make their decorations look good. With the holidays quickly approaching, here are some of this year's popular decorating trends.
1. A Blue Christmas
Blue is a trendy color for everyday home decor, and now it's being weaved into more holiday decorations. Shades of blue, like navy, are being used to decorate trees, garland, ribbons, and lights. Decorator's Warehouse suggests pairing navy holiday decorations with white, silver, gold, or red accents.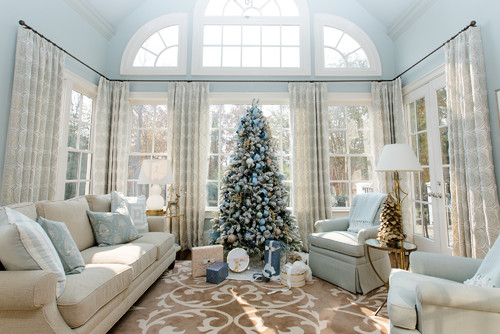 2. Buffalo Prints
Buffalo plaid in black and white or red and black offers up "cozy" interior vibes. Pair black-and-white buffalo ribbon with burlap on a tree for a farmhouse style.
3. Get Nostalgic
Some cozy holiday decorations are a blast from the past. Gingerbread houses on display, hand-knit chunky stockings hung on fireplace mantles, and tabletop ceramic Christmas trees are all vintage decorations that are trending.
4. Digital Decorating
The growth in affordable, high-tech gadgets is making it easier to digitally decorate. For example, AtmosFX offers a holographic Santa that looks real and can sing Christmas carols on your doorstep. Laser projectors can be a great solution for sellers who have their home on the market this season and don't want to clutter their lawn with decorations. Just plug in the projector, point it at the house, and it'll bathe the entire home in reds, greens, or even animated snowflakes.
5. Griswold Style
It's been a tough year. Some homeowners are taking a Clark Griswold approach to their holiday displays, turning decorations into a community spectacle. Griswold, a character in the 1989 hit movie "National Lampoons Christmas Vacation," covered every square inch of his home in holiday lights. Apparently, more homeowners are feeling in a Griswold styling mood this year. Sixty-nine percent of Americans say they plan to go all out on holiday decorations this year, according to a survey from interior design company Modsy. Watch out in Illinois, Texas, and Washington: The survey found homeowners in these states are most likely to channel a Griswold style in their holiday decorations.
Giant inflatable figures taller than a home are a trend with this over-the-top style. And the best part: They can be quickly deflated and stowed away prior to showings.
---
Subscribe to receive weekly home staging tips and design trends delivered directly to your inbox from the Styled, Staged & Sold blog.
---
Wondering what your home is worth in today's market?
Get New HOT listings to your inbox daily, before any other buyers at: