Sherwin Williams Dover White is a white and yet not-a-white.
Well, yes! There are quite a few considerations that make this color even more mysterious and unique.
However, if you are planning to use this color for New Construction or Makeovers for your homes, there are a few details you might want to educate yourself with before embellishing your walls with it.
There is no doubt that all the whites and off-whites, warm whites and cool whites look the same – isn't it?
I always find myself confused looking at my iPad screen – and wondering the differences between all these colors!
And that is when I realize – there is no better way to compare colors than ordering their physical samples and comparing them in natural light. And that's when you see their utmost beauty.
But short of doing that, I'll give you my full review of this color. Let's call it the next best thing to evaluating if this is the color to use in your home.
Whites do have their own shades, tints, and tones.
And trust me on this, the day you understand that – choosing colors is going to be 10 times easier.
So, are you excited? Let's read below to find out what this color has for us!
Sherwin Williams Dover White SW 6385 Color Details and Specifications
Dover White is undoubtedly more inclined towards the softer tones – SO, it is definitely a WARMER tone of the authentic Whites.
Since this color has a yellow tint to it and is considered a warmer tone, you might have to be very careful when painting your walls with it – especially focusing on the colors that will pair up with Dover White.
You don't want your space to end up looking too warm and unbalanced!
I must say, "Creamy White" should be an alternative name for Dover White.
Dover White is a perfect fit for Country and Farmhouse Interiors, as shared by Kelly Nan on her blog.
The creaminess of the color gives your space a nice, warm look, so I highly recommended for all you "cozy-look" lovers!
Before getting on to design ideas, let's read through some basic specifications of the color that hold a lot of importance while choosing a color.
First and foremost, you can never afford to ignore the Light Reflectance Values (LRV) of the color – it helps you decide how light or dark the color is – that later will help you in deciding which room should that probably be in!
In this situation, the LRV of Dover White is 83.
And that is an ideal situation if you want your space to look bright and light! Remember, the more the LRV – the brighter your walls are.
In simpler terms, it is a warm-toned color with yellow undertones and a light shade.
Moving ahead, the colors have associated RGB values and HEX values that typically define the scientific details and preparation of the color.
Here, Dover White has:
Red = 240, Green = 234, Blue = 220
HEX Value = #f0eadc
How Does the Dover White Feel in a Space?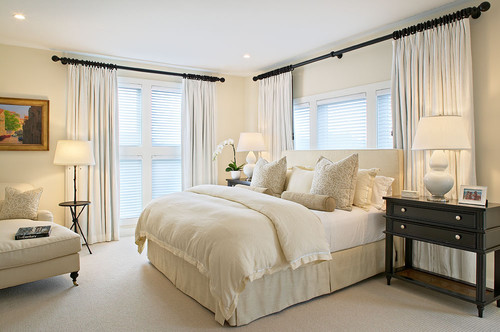 Well, the warmth that the color imparts – is likely to make your space feel cozy and comfortable.
I would highly recommend using this color for all the North state dwellers. Trust me, you will see the cozy magic in winters.
The yellow undertones have an energetic yet serene vibe to it that even makes your room feel much spacious!
Hence, if you have a congested space or a small room that you may want to look brighter and spacious – here is the answer for you – Dover White.
A great trick, Isn't it?
However, if you want a huge, cozy living room and you're thinking of painting it in Dover White – do it only if your furniture is well placed. Fill up your space with end tables, vases, sectionals, and lamps.
This way – you don't have to compromise.
How Does Light Affect Dover White?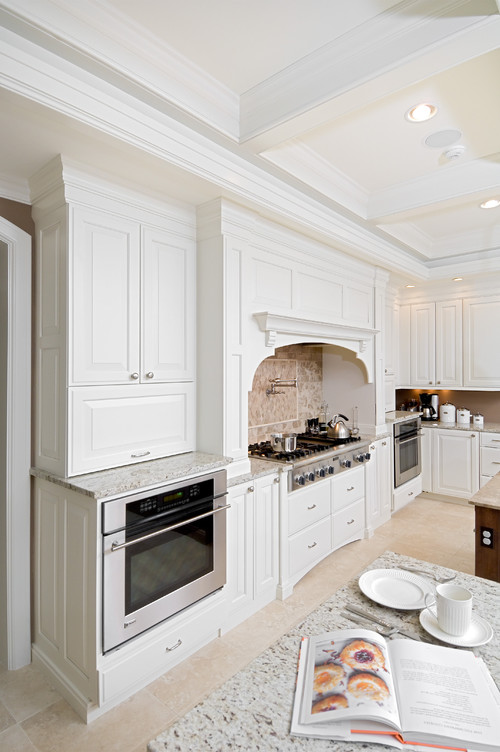 Another important aspect of choosing the best color for your home is studying and analyzing the impact of light on the paint color.
The artificial light that needs to be considered is warm whites, cool whites, warm yellows and colored meanwhile, natural light and sunlight are primary as well.
Some colors really act as chameleons!
They change their looks instantly – and Dover White is a perfect example of it!
Now remember, natural light and falling sunlight can make Dover White look yellow-ish! Not LEGIT yellow – but still – a lighter tone of it.
Similarly, the wall sconces and pendant lights with warm whites can tend to add a tinge of beige-yellow to it!
However, don't worry! If you pair it up with the best options available, your space might look absolutely warm and stunning.
I wouldn't recommend using cool-whites or colored light here!
A cohesive room is a cozy room!
What are the Coordinating Colors for Dover White?
Now that if you are confident about using Dover White for the walls or built-in cabinets and wondering what best aligns with the theme – here are a few recommendations you should consider.
In the case of trims, the ultimate secret is to always go neutral and bright. So, in this case, the one I absolutely love for the trims is SW High Reflective White.
And the reason behind using a clean white is to protrude out the actual hue of your walls – in this case, Dover White will apparently look its real shade if paired with bright white.
The best way to pair up Dover White is to blend it with deep blues and subtle oranges. In this case, I highly recommend SW 9141 Waterloo as an accent and SW 9023 Dakota Wheat as the base, or vice versa!
Other than that, using Dover White with grays and greiges is an absolute NO-NO!
You can also pair Dover White with warm greens! That look I would say is balanced!
Sherwin Williams SW 6385 Dover White Vs. Similar Colors
Designer Julia from Tag & Tibby mentions the best White paints from Sherwin Williams
Well, there are other great options as well, in the world of warm whites.
I understand we are never satisfied with one option, and that is why I present other similar colors from the same and other manufacturers that you might want to consider.
SW Dover White Vs. SW Alabaster
Alabaster is soft, warm, and creamy – just like Dover White – but with an LRV of 82.
Well, too close!
The major difference lies in the undertones – unlike Dover White that is yellow, this is more of an off-white creamier shade!
However, exhibiting the same properties in natural light, it's quite likely for one to get confused between the two!
SW Dover White Vs. BM White Dove
Benjamin Moore White Dove is a soft, warm white with an added tinge of cream.
No, it doesn't have yellow undertones and it's also neither a clean white!
However, with an LRV of 85, it is slightly lighter with many neutral backdrops! I personally love White Dove and usually find myself amazed with its crispness!
Where to Use Sherwin Williams Dover White SW 6385 in Homes?
Dover White has a slight Farmhouse and French Country Style touch to it!
Now that I have hinted at where this color needs to be used, you have to very careful while actually using it.
Since it has a warm touch, be careful of using it in north-facing rooms mainly! Since it's bright – it will give a natural look to your room.
Let's discuss where you should probably use this color!
Dover White in Bedrooms
Well, not a bad option!
As far as you have a spacious bedroom, that doesn't receive a lot of sunlight – there is no harm in specifying Dover White!
Pair it will parquet flooring, the wooden media unit and bright white trims! Place a few antiques and souvenirs around and let the country feel take up the magic!
Also try a monochromatic theme by implying SW Canvas Tan, SW Patience, SW Aged White in contrast with Dover White and observe the charm it plays!
Dover White in Living Rooms
Dover White is a remarkable solution to the living rooms, especially if you have an exposed brick finish around the fireplace.
For a sophisticated and seamless look, you could paint all your walls in one, however, there is no compulsion.
Adding a dark blue or green accent in the space will balance out all the warmth imbibed in the space.
Dover White in Kitchens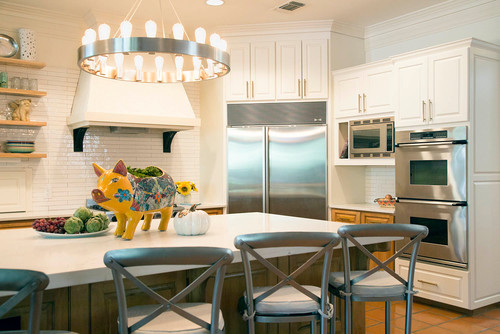 Here, we see Dover White beautifying the upper kitchen cabinets. A stunning look at lends to the warm glow of the kitchen created by the circular chandelier.
Now, this could be a difficult situation. Using Dover White on cabinets can make it look dirty and unclean, sometimes when paired with ultra-clean whites.
So, if you do want to use Dover White in the kitchen – remember to pair it up with darker and bolder shades to let the color stand out.
Just in case, if your walls are in Dover White, try a lighter theme on the cabinets and darker on countertops.
Dover White in Exteriors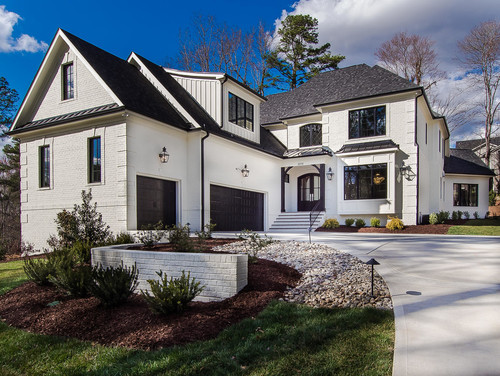 In the photo above you can see the exterior embellished in Dover White: Timeless
Remember, not to use this for trims and moldings as it looks too yellow!
Other than that – there is no harm in specifying this color for the exteriors. With immense natural light – your home exteriors would absolutely look fresh, bright, and airy.
But with a tinge of warmth!
Now that we have enlisted a few reasons where you should and shouldn't use the color, do you feel confident about giving it a thought? Let us know in the comments below as we would love to hear your experiences with this intriguing color!
Wondering what your home is worth in today's market?
Get New HOT listings to your inbox daily, before any other buyers at: