With a wide variety of blues from sky blues to electric blues, there is one particular shade that never goes unnoticed.
And that is the timeless and classic, Benjamin Moore Hale Navy paint that definitely has a touch of sophistication and elegance to it.
Hale Navy is an inspiring dark-toned blue paint color with deep cool undertones.
The extravagant aesthetics provided by this paint color is absolutely amazing, which is why you will often find this paint color being awarded as the "color of the year" or amongst the top color trends for the upcoming year.
Classic and Timeless, the setting above simply looks priceless.
Navy is symbolic of strength and tranquility – so just in case if you're planning to use this paint color in your homes – I would definitely recommend it as far as you abide by the rules and regulations.
Since it's a dark color – you simply can't use it anywhere or pair it with whatever color that is next on the list!
You have to be careful around it and use it only up to a certain limit and pair it with the best opposites so that your space looks balanced and cohesive!
Benjamin Moore Hale Navy HC-154 Details and Specifications
If you're a newcomer here, let me tell you – there are a few color theories and specifications associated with each paint color.
And before you choose a color to paint, you need to consider the values that will help you in determining where to use the paint color in your homes.
So, first and foremost, think of the Light Reflectance Values or LRV's that will help you in determining how light or dark the paint color is.
So, LRV for Hale Navy is 6.3 which is quite low.
Remember, the lesser the value – the darker the paint color is.
And since the number is quite low here, it makes clear about the fact that the paint color too falls on the darker end of the scale.
Now, enough with the technical data, let's get our hands on the practical aspects and real-time applications of this paint color.
How Does This Blue Feel in a Space?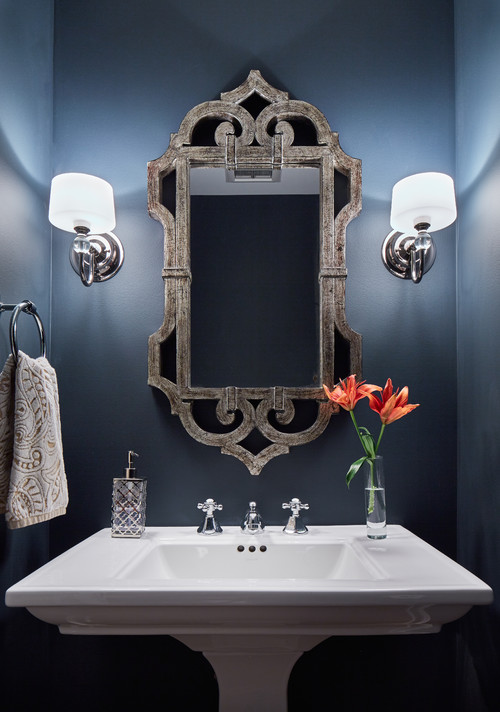 You can see in the above that BM Hale Navy is symbolic of boldness and a is a daring backdrop.
Hale Navy is going to add the missing charm of luxe in your homes.
Due to its low reflectivity, your homes are bound to look smaller and more intimate.
Thus, this could also be a solution if you are not satisfied with your huge and uncomfortable spaces – since, this paint color can add a touch coziness and warmth.
If you are planning to paint this color on even a single wall, it might appear closer than it is – thus, great for creating an illusion.
Moreover, this paint color will add dynamism to your spaces!
Too much of this paint color will lead to congestion and heaviness in your space – which will not be very much welcomed in the long run.
How Does Light Affect the Color?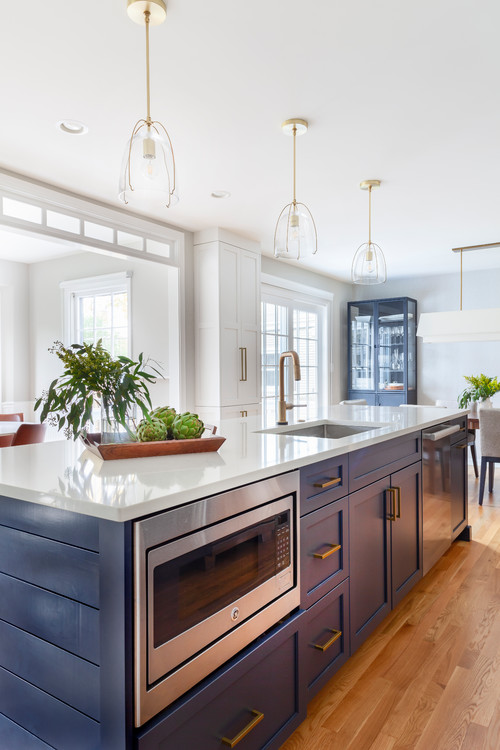 Most of the natural light received by this paint color will be absorbed by the paint itself and little will be reflected.
Hence, light has a major role to play here!
In the presence of immense light, this paint color will seem to be much lighter than it is whereas, in the case of absence of light – it will appear darker!
And sometimes, almost black!
So, I would recommend understanding and determining the amount of natural light received!
Well, if there is plenty – there shouldn't be an issue, otherwise – focus on lighter paints that will make your space look brighter and not congested!
What are the Coordinating Colors for Benjamin Moore Hale Navy?
Are you wondering what best would go with HN?
Don't worry! I got your back.
If you're planning to use this paint color in your home, I would highly recommend you pair it opposite greys, whites, sage greens, and pastel yellows and oranges!
To name a few, here is a list:
Silver Gray 2131-60
Leisure Green 2035-60
White Ice 2139-70
Meanwhile, always remember to paint your trims, moldings, and ceilings in Simply White to further protrude out the paint color.
The crisp texture of the paint color is bound to add a sense of depth to your rooms. (And that is why, it is also very famous in the interior design and home décor industry)!
Hale Navy Vs. Similar Colors
Even though looking for an alternative doesn't make sense here, but I would still recommend few similar colors that share properties with this majestic paint color.
The beauty of HN is like none other! So, some of the paint colors that are most similar are AF-565 Mysterious and 833 Evening Sky.
Let's compare with both of them to identify the best option for you!
Hale Navy Vs. Mysterious
With an LRV of 6.81, Hale Navy could be your perfect alternative for the home. It has a crisp deep blue texture with the utmost sign of luxury and sophistication.
Slightly lighter than HN (almost similar), this paint color can be well paired with the greys, beiges, and tinges of warmer shades.
They share the same undertones so; you need not worry about how the color will appear to look like.
For accurate results, I would recommend buying real-time swatches and paint samples to examine the actual difference.
Hale Navy Vs. Evening Sky
With an LRV of 5.35, this paint color has a tinge of purple undertones when observed in excessive daylight or artificial light.
So, if you're planning to use this paint color, I would recommend pairing it opposite bright yellows and greys as that will help create a balance in the room.
Comparatively darker, this paint color is also extremely timeless and majestic!
So, don't shy away from using this if you also want a tinge of warmth in your room.
Where to Use Hale Navy in your Homes?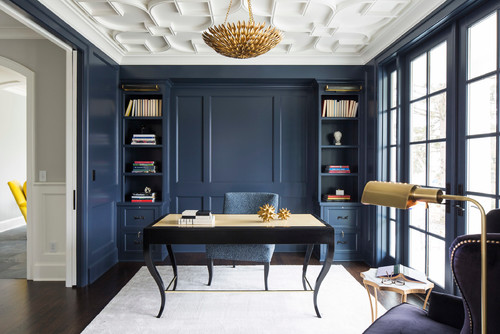 HN imply looks classic in this beautiful home office.
You can use this paint color absolutely ANYWHERE as far as your space is huge enough to accommodate the depth of the paint color.
For all the Coastal Interior design lovers, this color should definitely be on your list!
Even Modern, Contemporary, and eclectic interior design can choose this paint color as an accent or focal wall.
Let's see, where individually can we use this paint color in homes!
Using in Living Rooms
Hale Navy in the living room will give a bold and authentic outlook. You could use it as a focal point on the wall for the fireplace or use it simply as accents through interior design elements.
However, if you plan to use it on the walls, I recommend pairing it with greys, greiges, beiges, off-whites, and whites through rugs, furniture, and curtains.
In the case of a fireplace, you can embellish it in exposed brick, white marble, or even travertine or natural stone to give a perfectly refined look.
Hale Navy in Bedrooms
Shared by Tara from Lehman Lane, her boy's bedroom makes a classic use of BM Hale Navy.
As I say, bedrooms are the most personal spaces!
So, if your design style allows, use this navy paint color in the bedrooms as a focal point behind the headboard.
You can also pair this paint color with lighter upholstery, light grey headboard, white nightstands, and some accent yellow, burnt orange, and patterned throw pillows.
Using in Kitchens
Chrissy from Chrissy Marie Blog reveals BM Hale Navy in the kitchen cabinets
You can absolutely use Hale Navy in the kitchens – either on the walls or the cabinets!
Just in case if you're planning to use HN on the cabinets – make sure to paint the walls white and vice versa.
To top it all, you can pair the palette with silver or brushed steel pull handles and fixtures.
Furthermore, if you have lush hardwood floors, it is a cherry on the top!
What about on Exteriors?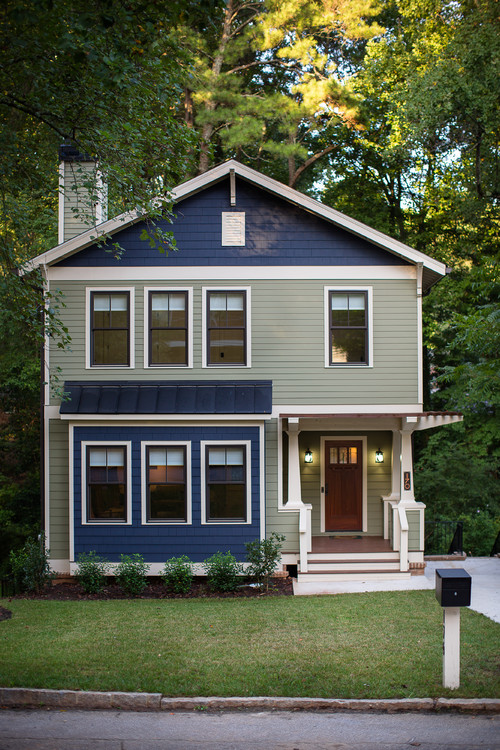 The home above highlights Hale Navy on the shiplap like feature on the horizonal slats.
You can absolutely use this blue on your exteriors, and it is bound to look lighter due to excessive natural light!
For a further refined look, you can pair it with white trims, moldings, and door and window frames.
You can also use stone features such as walls and walkways that will give a characteristic charm to your space when combine with this amazing dark blue.
So, are you excited to use BM Hale Navy in your homes? Do let me know your experiences and reviews in the comments below as I would love to hear more about them!
Wondering what your home is worth in today's market?
Get New HOT listings to your inbox daily, before any other buyers at: