Grays are one of the most popular paint colors among homeowners! And you know why?
They are timeless, subtle, and can easily align with almost any and every interior design style. Here, Benjamin Moore offers some of these classic grays that are more than what meets the eye!
One such notable example is Revere Pewter that is one of the most popular grays!
There have been quite a lot of times I have recommended this color to my clients – and never regretted it.
They have absolutely admired the warmth and coziness their living space takes on when we're all done.
Benjamin Moore Revere Pewter is a warm-toned gray that beautifully restores calm and balance in your home with its subtle appearance.
This color magnificently releases relaxing vibes in any living space. Period.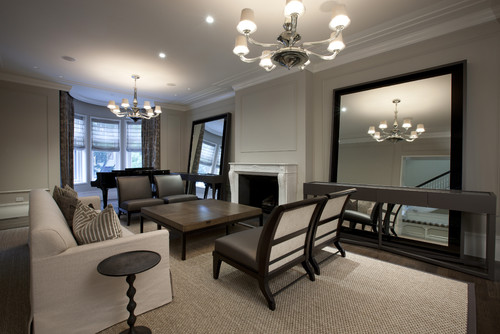 It falls on the mid to lighter end of the scale to make your homes feel comfortable and cozy at all times.
So, if you are looking to use this in your home, you're on your way to making a great decision.
However, the biggest point to remember is that you must be mindful of its underlying undertones and thus, the best complimentary colors to pair with.
Don't worry!
I am going to discuss it in detail with you – so relax and sit back!
In no time – you will be a Revere Pewter expert!
Benjamin Moore Revere Pewter HC-172 Details and Specifications
Before we jump on to the color palettes and schemes, let's first discuss the practical aspects and specifications of this beautiful color.
Remember, it is crucial to first understand the color in order to use it in homes. Every color has a story to tell – and that may differ from one another.
Similarly, no two gray paint colors are exactly the same, even though they tend to appear 'similar'!
So, read carefully to know more about the hidden scientific knowledge about the color.
First and foremost, it is important to understand the concept of Light Reflectance Values or the LRV's that help in determining how light or dark the color is.
In this case, the LRV of Revere Pewter is 55.51. And that means the paint falls on the mid to lighter end of the scale – as the greater the value, the lighter the feel.
Also if you are wondering where to find this value, well, simply look at the end of your palette. Or you can even contact the manufacturer or have a look through their website!
Secondly, other important associated terminologies are the RGB and HEX Values that further tell us what the color is made of.
Red = 203
Green = 198
Blue = 184
HEX Value = #cbc6b8
You'll find this hue to fall between a red and green undertone location. It put it in the orange-yellow range, and while it's slight, it's enough to give it it's cozy charactertistics.
Now that we have discussed enough about the technical and scientific information, let's get started with the practical aspects of this warm gray Benjamin Moore paint.
How Does this Color Feel in a Space?
Undoubtedly, this timeless color is bound to make your space feel 'weighted upon' and at the same time, characteristic, bold, striking, strong, and daring.
With a warmer texture, the color ends up releasing warmer vibes to the interiors of your home – making you feel cozy and enclosed, especially in the colder regions.
Moreover, I recommend using this in homes that are not-too-small as this color will positively leave a negative impact and make you feel dizzy and uncomfortable due to its bold character.
So, use it only in spaces that have a fair share of size and probably higher ceilings.
How Does Light Affect the Color?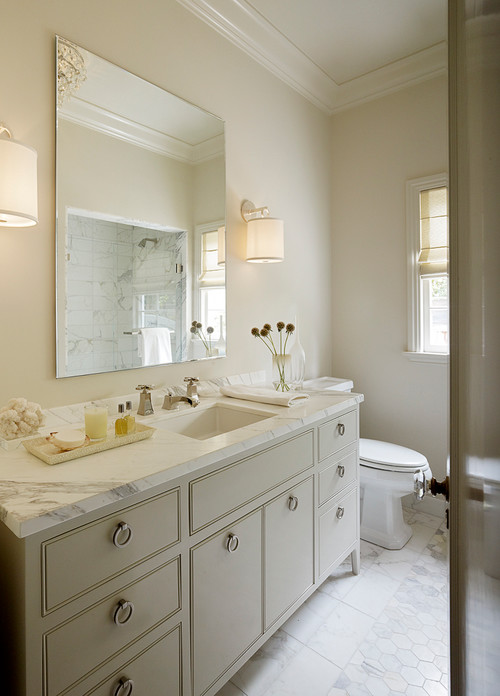 Here comes another major aspect in choosing paint color for home – light reflectivity!
Let's talk natural light sources first:
So, before you make a choice, just look around and observe the incoming natural lighting in your space – whether it is too little or too much – your color solely depends on this criteria.
In this case, use only if your space is receiving ample natural lighting. Otherwise, incorporate only on a single wall – as the 'accent'!
Furthermore, I recommend using this color on the north and south-facing walls to create a cohesive and balanced environment.
This helps balance the natural light with shadows depending on your floor plan, and the shades in your floor and furnishings.
You can also add desirable artificial lighting in the form of pendant lights and chandeliers to further create the desired mood.
Maybe play with warm whites or warm yellows?
What are the Best Coordinating Colors?
Now here comes the most awaited – color palettes and color schemes!
Are you excited about it?
So, now that we have discussed the practical aspects of the paint and how it feels like, it is important to carefully pick colors that best align with this timeless color.
You can either choose a contrasting or a monochromatic color palette – depending upon the interior design style!
Well, here are a few of the colors I would recommend for a monochromatic palette!
2108-50 Silver Fox
2108-40 Stardust
2108-20 Sierra Spruce
On the other hand, here are a few of the colors I would recommend for a contrasting color palette!
2143-70 Simply White
2095-40 Mudslide
2098-30 Dark Nut Brown
For your ceilings, trim, and moldings – I would recommend using BM Simply White to further achieve a creamier look or else if you want a crisp look, choose BM Chantilly Lace.
BM Revere Pewter Vs Similar Colors
This color doesn't have a lot of similar-looking options because of its distinct character. However, I am going to list down two options that are hereby closely related!
One of them is BM 1485 Brushed Aluminum and the second one is 973 Ice Formations.
Let's see how the three of them differ.
Revere Pewter Vs Brushed Aluminum
This elegant and beautiful alterative is a warmer gray alternative to BM Brushed Aluminum. With an LRV of 56.39, this one tends to be slightly lighter than the former.
You can absolutely incorporate it in homes keeping in mind the similar tones of the above-mentioned complementary colors.
Undoubtedly, this color aligns towards the steely grays with a slight touch of warmth as experienced in the west and east-facing rooms.
Revere Pewter Vs Ice Formations
Very similar to the above two, Ice Formations is a perfect alternative for greige paint colors!
It has very warm undertones (beige undertones?), and makes a great option for traditional-styled homes. With an LRV of 55.51, this color definitely shares reflectivity similarities with the former!
For more accurate results, I recommend grabbing some swatches and or buying paint samples to determine the true hue.
Or you can also place it against a white sheet of paper to help to see the differences in this subtly different gray undertones!
Where to Use Revere Pewter in Homes?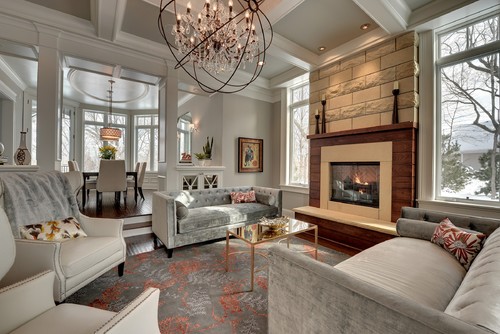 Revere Pewter makes a bold and characteristic statement when used in homes!
Especially for the interior design styles such as traditional, transitional, French-country, Modern Bohemian, and Modern Farmhouse – this color is a plus point!
Let's see how to specifically use this paint in your spaces.
Revere Pewter in Living and Dining Rooms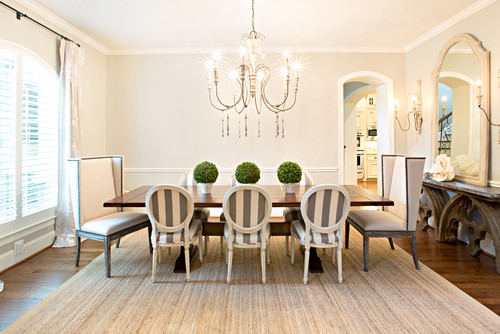 For larger living and dining rooms, Revere Pewter can make a great base and neutral as well! Whereas for smaller spaces, I recommend using this only as an accent!
So, if you want a cozy and comfortable experience in these spaces, you should definitely incorporate this.
It goes amazingly well with the traditional furniture, white sheer curtains, hardwood floors and cabinetries, glass shelves, and neutral linen upholstery.
In the case of a fireplace, choose a natural stone to clad the surroundings.
Using Revere Pewter in a Bedroom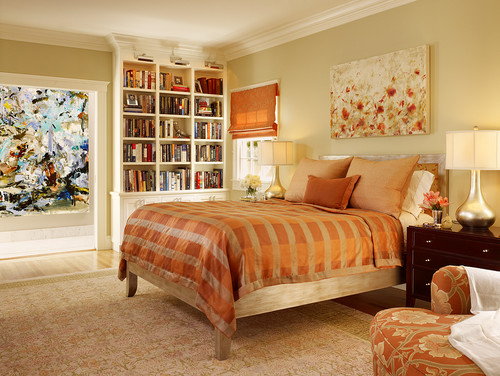 There have been quite some time when I have recommended this paint for use in a bedroom.
It gives a nice appeal when used on all the walls with white painted trim and moldings.
You can either choose a velvet bed frame to add a touch of luxury or simply use exposed metal for a rustic appearance!
And that is what the beauty of this one is – it tends to seamlessly align its style.
In case you have a TV Console and dresser, you can even ensure to choose white paint or a similar finish for this surface.
Using in Kitchens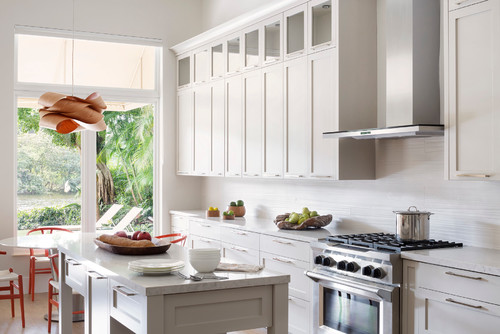 Lighter and subtle kitchens are the best!
You can choose the transitional style and paint the cabinets in this color and let the backdrop wall be pure white.
Furthermore, you can add a white veined marble countertop, brushed nickel pull drawer handles, and industrial-style pendant lightings.
Using on Exteriors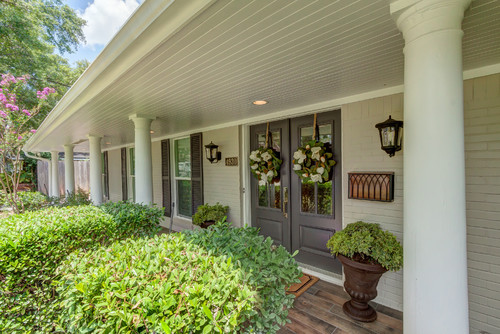 I would recommend this color in Traditional, Transitional, Country, and Farmhouse style homes – hence, if you have one of those styles, do use it for your homes!
You can definitely pair it with either soothing whites, charcoal blacks, and muddy browns for trim colors as well as moldings, door and window frames.
So, how do you want to use this color in your homes? Interiors or Exteriors?
Now that you have all the secrets – are you excited about painting your home in Revere Pewter? Should there be any questions or thoughts, let us know in the comments below!
Wondering what your home is worth in today's market?
Get New HOT listings to your inbox daily, before any other buyers at: