There is a reason why I used the word best in the title!
Yes – it is quite popular among homeowners and builders. And one reason it's so popular is the clean and subtle texture it lends to the appearance of the surfaces it's painted on.
Sherwin Williams Big Chill is a cool-toned gray neutral with a very slight blue undertone, but in most cases – if observed closely, it appears to be 'true' gray!
Its crisp texture on the walls gives them a soothing and timeless outlook that will secretly draw the eye of any visitors.
Well, who doesn't want that right? I love when my guests steal glances of the interiors and end up asking me – 'where did you get that?' or 'what paint color is that?'.
So, yes – if you like that too and enjoy admiring your own creative decisions – Sherwin Williams Big Chill is what you should have your eyes on!
I would highly recommend using this color as bases and neutrals to some stark contrasts (which I will recommend later).
Well, long story short, BC is an attractive gray paint color if you are looking for more cooler tones in your homes and a paint color that will never ever go out of style.
Sherwin Williams Big Chill Details and Specifications
Big Chill painted on the stairway walls
Now here is some general information – whenever you pick or choose a paint color – it is important to always consider their technical data!
Does it sound monotonous?
Well, it's not! Remember, it is the most important aspect to get the knowledge of the color's hidden theories and associated values.
Don't believe if someone says that the colors are the exact same!
They never are.
Every color is different, and they have their own stories to tell.
Here is an important aspect of BC – the most important value to consider is the Light Reflectance Value or LRV's. They help in determining how light or dark the paint color is, which in return helps in deciding which particular walls and rooms do the paint color need to be used in.
So, the LRV of Big Chill is 62 making it a light-toned paint color.
Other associated terms are RGB and HEX Values that are as follows:
Red = 208
Green = 206
Blue = 201
HEX Value = #d0cec9
Now that you're aware of the technical aspects, let's jump into the practical applications of this paint color.
How Does Big Chill Feel in a Space?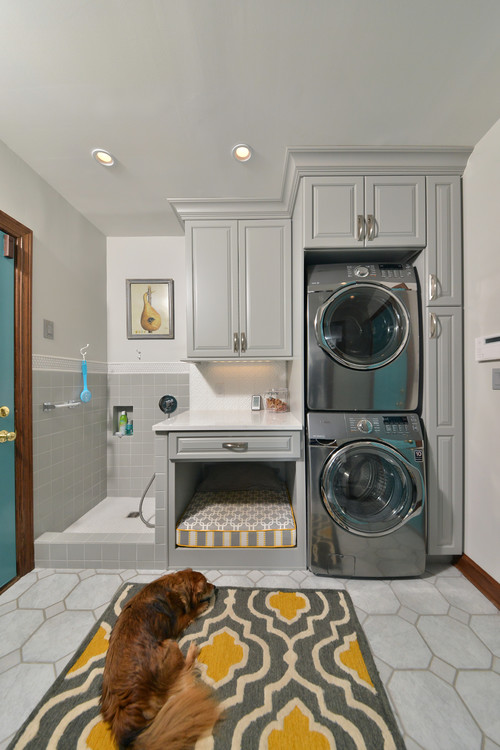 Above you can see how this gray makes a great pair with whites and lighter tones.
Sherwin Williams Big Chill is going to make your room feel much spacious, airy, and bright!
Due to its high reflectivity, this color makes a great option for small space solutions like city apartments and homes with smaller square footage.
With a tinge of blue, this paint color is bound to add a sense of security, purity, and serenity!
This paint color is going to give you a quiet and calming experience every time you come back home tired!
For very small spaces, I would recommend a lighter paint color – with an LRV greater than 80.
How Does Light Affect the Color?
Megan from Megan Brooke Handmade reveals how SW Big Chill brightens her home interiors
Light always has a major role to play in a paint color.
Remember, paint colors are like chameleons – they keep changing their appearances depending on the natural and artificial light received!
They tend to look lighter in excessive light and darker due to the absence of light!
For Sherwin Williams Big Chill, the color will look absolutely very light in the south and west-facing rooms – well, sometimes, it also appears a light warm due to the yellow effect of the sun rays.
Meanwhile, in the case of north-facing rooms, the color appears to be more crisp-textured with its true gray reflecting!
So, this paint color reflects tons of natural light making it extremely light!
What are the Coordinating Colors for Sherwin Williams Big Chill?
So, now that you are planning to use this paint color in your homes, you must pair it with the best possible opposites!
You could either choose from a monochromatic or a contrasting scheme, depending on your design preference.
So, if you're planning to use BC in your homes, here are a few recommendations that I would like to offer!
If you are a minimalist and Scandinavian design lover, consider the following:
High Reflective White SW 7757
Snowbound SW 7004 (see my Snowbound review here)
First Star SW 7646
You can mix and match all these shades in the form of wall paint, furniture, and furnishings to create a perfect cohesive look.
Whereas, in the case of a contrasting scheme,
I would highly recommend incorporating stark whites, deep blue's/greens/yellows, blacks, and dark greys!
Some of the recommendations are,
Pure White SW 7005
Cityscape SW 7067 (see my Cityscape review here)
Silver Strand SW 7057
Make sure for all the above-mentioned cases, you choose Sherwin Williams High Reflectance White for your trims, moldings, and door/window frames.
Sherwin Williams Big Chill Vs. Similar Colors
Looking for alternatives this gray wouldn't be a bad idea.
If you are looking for similar-looking options, I would recommend choosing SW 7671 On the Rocks and SW 7651 Front Porch.
SW Big Chill Vs. SW On the Rocks
Sharing the same Light Reflectance Values of 62, Sherwin Williams 'On the Rocks' is a perfect alternative to the paint color with a slight reddish undertone.
When applied on the walls, this grey paint color can appear slightly warmer that tends to attract the nearby tones!
For a better understanding of the color – I would recommend placing it against the white sheet of paper to analyze its true undertones.
SW Big Chill Vs. SW Front Porch
SW Front Porch has an LRV of 60 that makes it slightly darker than Big Chill.
However, if you closely observe, this paint color may slightly appear greenish-grey in excessive natural light!
Remember, it too is a cool-toned gray so don't hold back from using this paint color.
Also, don't forget about buying real-time swatches and samples to determine the tonality of the paint.
Where to Use Sherwin Williams Big Chill in Homes?
I would highly recommend this paint color for Modern, Minimalist, Scandinavian, Coastal, and Mid-Century Modern homes!
So, as a neutral or a base, you could definitely use Big Chill in your homes!
Due to its high reflectivity, this color makes for a great timeless option!
The best part is, even if you plan to paint and re-paint your homes every few years – you wouldn't have to change this paint!
Let's see where all you could use this paint color!
Big Chill in a Living Room
Big Chill is a great option for the surrounding walls of your living room as well as the entrance hallways.
You can pair it with white sheer curtains, hardwood parquet flooring, exposed brick fireplace, and neutral greige or off-white toned furniture!
Through throw pillows and blankets, you could add a contrasting touch to your living room.
Make sure to use stark white paint for the door and window frames here!
Using in a Bedroom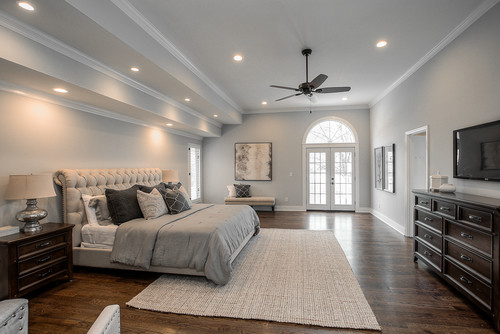 Bedrooms are your most soothing spaces – so, Big Chill is a great way to incorporate calmness and tranquility in your bedroom.
I personally will recommend this paint color in your bedroom if you pair it with a darker grey or blue focal wall and lighter-toned upholstery.
Use matte black as your accent in the form of pendant lights, table lamps, and bedframes and nightstands!
Remember to balance the saturation by adding ample of whites and off-whites.
Big Chill in Kitchens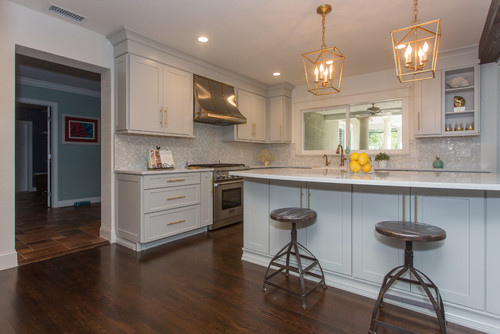 You can see in the photo above how the cabinetry makes the kitchen look bright and welcoming.
Great way to make your kitchens much lively, spacious, and bright!
Pair your gray cabinets with matte black or gold-toned pull handles and white paints on the walls.
You could also do the reverse and paint the walls in Big Chill whereas the rest in white.
Using in Bathrooms
SW Big Chill in the Bathrooms is a tranquilizing solution.
Bathrooms are personal spaces which should be relaxing.
I recommend a lot of my clients to use shades of grey in their bathrooms and pair it with either blues or greens (mainly, cool-toned shades)!
However, if you do use this color in bathrooms, make sure to paint all your walls in BC.
Big Chill in Exteriors
Absolutely, Yes!
If you are planning to use Big Chill on the exterior façade, it will tend to appear much lighter than it already is! (of course, due to excessive natural light)
Pair it with charcoal shaded trims and moldings!
Yes – that way you make a great contrast in your home exteriors.
Also, you can do the other way round, by using pure whites on the decorative moldings!
Big Chill is definitely going to add the chilling effect in your homes. Use it if you live in warmer areas! So, are you excited about using this paint color in your homes? Do let me know your experiences in the comments below!
Wondering what your home is worth in today's market?
Get New HOT listings to your inbox daily, before any other buyers at: