Classic and Timeless – Sherwin Williams Colonnade Gray
What comes to your mind first when I say, "Gray"?
I am sure there is a picture of gray that is usually the color of concrete or sometimes slate, light or dark, right?
Well, that's what generic 'gray' looks like. It is a cool appearance with slightly blue or green undertones.
But that is definitely not the case with Colonnade Gray!
It is an unusual kind of gray that appears more to be soft beige and brown. Unlike the others that you pictured in your head which are slightly blue, green, or purple.
Sherwin Williams Colonnade Gray is a soft, warm gray with beige undertones. It also appears to be very slightly green – if you observe carefully.
This gray has its roots back in major historical structures like, for example, the gray-green-greige concrete you see in Roman or Greek buildings in those Corinthian pillars – well this is the gray you see!
With a greige background – this color seems to be more inclined towards beige than actually gray. And this is the most unique characteristic of this color.
Colonnade Gray exhibits a warm touch to your walls.
Since the undertone of this color is quite confusion – you must note the color you pair it with.
It might change its appearance – very easily!
Sherwin Williams Colonnade Gray SW 7641 Details and Specifications
Before you paint the walls of your home or office, you must consider the underlying theories associated with the color.
Not only will it help you finalize the best option but also decide upon the best color to pair it with.
Whether it's an accent wall or the moldings and trims, the RGB Values and LRV (Light Reflectance Value) are important to know.
The LRV of Colonnade Gray is 53.
And that makes it a mid-shade color with neither too darkness nor brightness.
Now, since you have this information – you know you can use it in larger or mid-sized rooms. Wait, did I blur out the secret already?
There are quite a few more to go!
But let's first talk about the associated RGB Values,
Red = 198, Green = 192, Blue = 182
HEX Values = #c6c0b6
How Does Colonnade Gray Feel in a Space?
In the photo above you can see how Colonnade Gray complements rich hardwood floors and stark white moldings really well.
Colonnade Gray promises a crisp, warm, and cozy touch.
It is not too dark and not too-light to be having a lot of restrictions imposed.
Thus, proves flexibility and beauty to the utmost!
When exposed to Natural light, this color definitely proves to be a lighter shade color. It makes your room look bigger and brighter!
Pair it with white trims and you will further feel more into the color.
So, long story short – with no light – the color aligns itself towards gray but with light – the color is comparatively more soft, beige-shaded hue.
Isn't that a good option if you are bored with the walls looking alike all the time?
Yes, use classic Colonnade Gray!
How Does Light Affect the Color?
When paired with whites, SW Colonnade Gray showcases a perfect soft and smooth feel.
I must say -A LOT!
The chameleon-like feature of this color makes it quite confusing to understand what the color actually looks like.
If you have a south or west-facing room, the color will apparently look lighter but if it is painted in north-facing rooms – the color may appear dark!
This color is most commonly used in living and family rooms to give an extra tinge of comfort and warmth.
But a plus point – there are no hard and fast rules for this color – so you're good!
What are the Coordinating Colors for Sherwin Williams Colonnade Gray?
If you are planning to use this color in your homes – there are a few recommendations I would like to offer.
I personally love Monochromatic style – and if you have a similar design thought, here is the list of colors you should incorporate aside from Colonnade Gray.
SW Modern Gray
SW Skyline Steel
SW Pussywillow
However, if you like more pops of colors and contrasts – try a complementary theme. Some of the colors I would recommend you are-
SW 0023 Pewter Tankard
SW 9044 Little Blue Box
SW Origami White
However, for the trim and moldings, I highly prefer using White Reflectance White or Pure White (It is personally my favorite that well complements most of the colors)!
This color is definitely a win-win for wooden textures as well. So, if your dining room has a farmhouse touch with rustic tables and chairs – Colonnade Gray could be considered.
Sherwin Williams SW 7641 Colonnade Gray Vs. Similar Colors
If you are looking for other alternatives – there are quite a few options, you could refer to.
From light to dark and cool to warm-undertones, every color has viable other options. One such great option is Skyline Steel. And another option to be is BM Revere Pewter!
I also mentioned this color to be one of the counterparts of monochromatic shades, but also has great alternate potential.
Colonnade Gray Vs. Skyline Steel
With an LRV of 52, the color shares the same scale of brightness.
With a clean, crisp, and warm touch – this color is a perfect alternative to Colonnade Gray.
However, this color has a slightly reddish-brown undertone! Do you see the difference?
For even accurate results, buy real-time swatches and paint samples and try them on the wall and see the results in natural light!
Trust me, you will see the difference.
Colonnade Gray Vs. Revere Pewter
One of the most common grays of Benjamin Moore is Revere Pewter. Classical and crisp, it is a perfect alternative to Colonnade Gray.
These two colors share the same brightness and depths! They both are neutral with a greige touch and green undertones – just like Colonnade Gray.
Revere rather has an earthy touch – thus, ideal for a farmhouse, rustic, and contemporary interior design style homes.
Also, if you have lush hardwood floors – there is no doubt in using either of the two colors for your space.
Just pair them with white door/window frames and enjoy the warm touch!
Where to Use Sherwin Williams Colonnade Gray in Homes?
Use this color anywhere – the hallways, living room, bedroom, kitchen and even exteriors.
But be careful what you want to pair it with.
With a perfect set of accents, neutrals, and bases – the color might look absolutely amazing!
Let's see what this color has to offer in the specific areas of your room!
Colonnade Gray in Bedrooms
Jennifer from A Place 2 Call Home absolutely loooves painting with this color.
Blogger Jennifer paints her bedroom in Sherwin Williams Colonnade Gray
Bedrooms are the most personal spaces – so if you are a preacher of subtleness, smoothness, and serenity – this color is highly recommended.
Just pair it with a wooden headboard, side tables, and a rustic-styled floor lamp to attain perfection in your room.
However, if you have a Scandinavian or Minimalist style – this color is absolutely a no-no!
Colonnade Gray in Living Room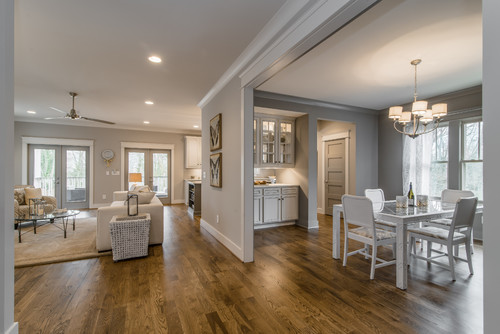 Want a cozy and comfortable space to relax and have a cup of coffee with your family in the evening?
Living Room walls in Colonnade Gray will give you exactly what you want.
Black modern fireplaces are to go however if you have an exposed brick fireplace – do not use colonnade gray – it will be a blunder that you should absolutely avoid!
Colonnade Gray in Kitchen
If you need a subtle looking kitchen, crisp and clean Colonnade gray is a good option. However, if you like artsy backsplashes – try avoiding this color.
But a plus point here is if you are planning to use distressed exposed wooden shelves – this color is definitely a yes-yes!
Colonnade Gray in Exteriors
Like I always say, any color would look lighter when used on exteriors.
This color appears to be clean and a shade that would most likely be used in the northern states!
Just pair them up with white frames, trims, and moldings to get the perfect look. Stone wainscoting is not an issue here – thankfully!
Bottom of the story, if you like warm gray – Colonnade Gray is at least worth considering. It doesn't restrict you much or binds you down to hard and fast rules! So, are you excited to paint your home in Colonnade Gray? Do share your experiences in the comments below!
Wondering what your home is worth in today's market?
Get New HOT listings to your inbox daily, before any other buyers at: