Could I say – I absolutely love this color and drool over it again and again?
Well, I am sure most of you too love the game this color plays – royalty and superiority!
Unlike other generic blues that either mimic the ocean or skies – this one is unique and a lot different from its cousins!
Okay, it is high time I introduce one of my favorites…
Sherwin Williams Dark Night is a bold and dark blue paint color with deep green undertones. Well, the green hue in it is quite notable from all the aspects!
Even though it shares quite a few similarities with the blue, SW Naval (more on this one here) – the two tend to differ majorly in undertones.
As such, I wouldn't call this true-blue paint!
Rather, a blue that amalgamates with the greens to create a perfect bold shade that mimics the hues of a peacock.
So, are you planning to incorporate this paint in your home or simply figuring out if this is the right choice or not?
Don't worry!
I have got your back!
I will spill some beans about how this color truly feels like, its characteristics, and what makes it so unique from the rest of the Sherwin-Williams lineup of blues.
So, sit back and relax! (Maybe grab your favorite coffee as well)
Sherwin Williams Dark Night SW 6237 Details and Specifications
Before you pick any paint color, it is crucial that you truly understand the details and specifications.
Remember, you should always read through the facts associated with a paint color that will truly help in determining what the color is made of!
So, first and foremost, it is important to read through the Light Reflectance Value or the LRV's of the paint color.
This value helps in determining how light or dark the paint color is.
In this case, the LRV of Sherwin Williams Dark Night is 4. And that means, it falls on the very darker end of the scale.
(Remember, the lesser the number, the darker the paint)
And if you are wondering about where to find it, well, simply look at the back of the paint swatch!
Secondly, other associated terms are the RGB and HEX Values that are important to take into consideration.
Since these are the values that determine what the color truly is made of!
Red = 35
Green = 56
Blue = 63
HEX Value = #23383f
That is all I wanted to talk about the color specifications and details, let's now get started with the practical aspects of this bold blue-green paint color.
How Does this Color Feel in a Space?
SW Dark Night will certainly make your space feel royal, luxe, playful, and yet high-end!
Yes – I would categorize this paint under Art Deco high-end catalog!
The daring expression of the color is going to exhibit an eye-catchy experience on the walls while making your home look different than ever.
However, the major matter of concern is the bold attitude – due to the very dark complexion, it may get challenging playing around with the paint and choosing complementary colors!
But before jumping on to that aspect, let's first discuss what climate is the color best suitable in.
I highly recommend all the colder as well as the warmer regions to incorporate this paint color – since the hue is irrespective of the climates!
Furthermore, you should only use this paint in very large spaces that can accommodate the depth of the paint!
Well, something like mansions and villas!
(Just kidding – you can also use it otherwise as well. I will tell you the trick later)
How Does Light Affect the Color?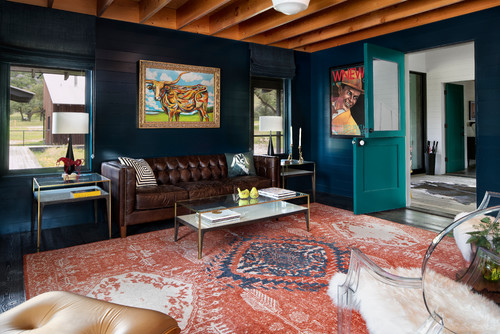 Light has some role to play here.
So here is a trick – before choosing the paint for your space, just simply look around and observe the compass directions as well as the sizes of your wall openings!
If you receive ample natural light – note that you can use this paint as an accent (even in a small room)!
Else, try avoiding if there is little space and little light!
Furthermore, I recommend you use this paint in any of the directions – north, south, east, and west! However, note that in the west and south-facing rooms, this paint will appear slightly warmer and washed with the incoming light!
In terms of finishes – avoid high and medium gloss to avoid direct glare.
What are the Best Coordinating Colors?
Now that we have analyzed what the color truly is and what it feels like along with the reflectivity values, it is time to pair it with the best opposites.
You can either choose from a contrasting or a monochromatic color palette – depending upon your interior design style and personal preference.
Make sure to analyze the color carefully so as to not mess up with your space later!
So, here are a few of the colors I would recommend for a monochromatic palette!
SW 6236 Grays Harbor
SW 6235 Foggy Day
SW 9143 Cadet
On the other hand, for a contrasting color palette, I would recommend the following paint colors that you could incorporate:
SW 9165 Gossamer Veil (see my full review here)
SW 7018 Dovetail
SW 6059 Interface Tan
For your ceilings, trims, and moldings – I would recommend using SW Pure White to further achieve a creamier look or else if you want a crisp look, choose SW High Reflectance White.
SW Dark Night Vs Similar Colors
There are quite a few similar-looking colors to choose from! Well, thanks to Sherwin Williams for providing a wide array of color opportunities here!
So, the two closely related paint options are SW 7625 Mount Etna and SW 7623 Cascades.
Let's see what differs between all of them!
Dark Night Vs Mount Etna
SW Mount Etna is another beautiful paint from the timeless collection that plays amazingly well!
Sharing the same LRV similarities of 6, both the hues equally tend to add a bold character to your home.
However, note that this paint doesn't align a lot with greens – unlike the SW Dark Night!
Dark Night Vs Cascades
Beautiful and a perfect replica of the colors from a peacock, SW Cascades is a green paint color that also aligns with the blues!
It has an LRV of 4 – making it absolutely darker than the other two paints.
Where to Use Dark Night?
The beautiful SW Dark Night paint can be incorporated in the kitchens, bedrooms, hallways, living rooms, and the exteriors (Also play areas)!
Especially for the interior design styles like Modern, Contemporary, Art Deco, Parisian and Hollywood Glam – this paint should be a definite choice!
Let's see how you can incorporate this color in your home – and specifically how!
Dark Night in Living and Family Rooms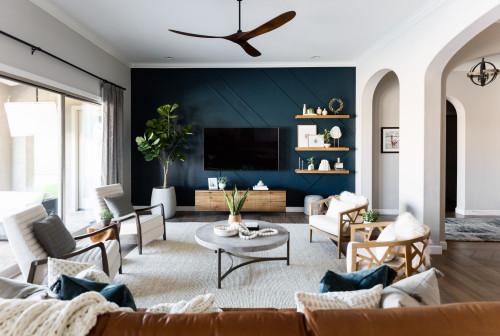 SW Dark Night is a great recommendation for these large common spaces – especially if they have larger sizes and also double heights!
Most commonly used as an accent, you can definitely pair it with crisper whites to neutralize the saturation of the paint.
Moreover, choose mustard-hued accent chairs, a gray upholstered couch, and a large neutral area rug to feel the most of this color!
Also, remember to choose heavy white or lighter gray blackout curtains in the case of a modern and contemporary look!
Else choose patterned curtains for traditional or Art Deco style!
Using in Kitchens
Use this color in the kitchen if you really want to!
It might look overwhelming – but also very beautiful if you have a large kitchen or an open concept plan!
Pair it with brass pull handles and fixtures to further add a sense of glam to your space.
Lastly, have some fun with the backsplash tiles – could be clean white patterned as well!
Dark Night in Bedrooms
You can use this paint in your bedroom – especially on the accent wall behind the headboard!
Try pairing it with either lighter beiges or creamy whites on the rest of the walls for a perfect balance.
Use neutral-toned upholstery, white velvet or suede frame, and tons and tons of throw pillows to warm up your space.
Using on Exteriors
Absolutely yes!
Although know that it will tend to further fade away the darkness and wash it all away!
You can pair it with super whites, or even lighter grays through decorative moldings, door and window frames, and trims to add a character to your home exteriors.
This color is also an amazing option for modern, Victorian, Craftsman, and Mid-Century modern-styled exteriors.
So, how do you want to use this color in your home? Interiors or Exteriors? Now that you have all the secrets – are you excited about painting your home in bold Dark Night?
Wondering what your home is worth in today's market?
Get New HOT listings to your inbox daily, before any other buyers at: