Sherwin Williams Hazel is a perfect example of calmness and serenity that will undoubtedly, make you drool over it again and again!
The color has a peaceful touch that will ensure freshness in your space once stained.
No doubt it's linked with Biophilia! After all, who doesn't like a tinge of quietness in their homes after a long, hard-working day at the office?
Well, yes! Its depth of purity is bound to turn your homes into an absolute retreat – even if you reside in the center of the city.
Looking to get away from all the hush-bush and noises around for a little unwinding and a few hours of relaxation?
Painting your bedroom wall in Sherwin Williams Hazel is your answer!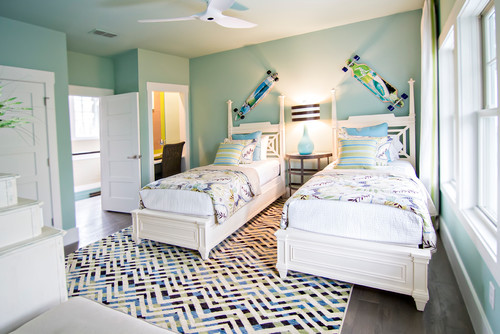 This beautiful color is known for showcasing a relaxing appearance – thus, highly suitable for spaces like bedrooms that are designed to relax.
If you are planning to use this subtle shade in your homes – I must say – go ahead with it and give your spaces what they are craving.
However, there are a few tips and tricks associated with this color – even though it's a symbol of perfection – you might still want to look upon a few do's and don'ts.
But first, let's discuss the basic theories linked with this color that will further help you in deciding if this is the perfect blue you're looking for!
Sherwin Williams Hazel SW 6471 Color Details and Specifications
Sherwin Williams Hazel is a mid-shaded bluish-green hue that depicts the ultimate colors of nature.
Sharing the undertones with the shades of teal, this color is also inclined towards the 'cool' side of the color wheel.
Its crispness and yet-so-chilly look make it a much attractive and versatile color.
But you know what the best part is?
The Light Reflectance Value of Hazel! The number showcases how reflective the color is – that later helps us in deciding which rooms the color should be used in!
LRV of Hazel is 50!
Being right in the center of the scale – this color is neither too dark nor too light!
And this characteristic makes the color highly flexible and versatile.
Some of the other important values associated with the color are-
Red = 168,Green = 193, Blue = 183
HEX Value = #a8c1b7
With these diverse advantages, Hazel really has a lot to offer you!
Now, let me help you visualize how this color will add to the factor of 'calmness' in your space!
How Does Hazel Feel in a Space?
Walls painted in Hazel pair up best with stark white distressed wood as shown by Christina Muscari from her blog Pretty Distressed.
Why do yoga retreats feel so calm?
Or imagine walking down the woods or by the coast?
Do you feel a similarity? Is it a sense of nature indoors?
Well – that is what this color exactly feels like in a space! Calm and Peaceful! Due to its mid-scaled reflectivity – you could use it anywhere – really, anywhere!
But remember to be careful around the tones that shadow the beauty of this color!
You wouldn't want to ruin the looks by pairing against a blunder! None of us can afford to make that mistake and especially if it is our beloved home!
Hazel's calmness is often a no-no in areas for working out or gymnasiums! It doesn't trigger or rushes your adrenaline and makes you energetic – so, remember to keep it off your home gymnasiums!
How Does the Light Affect the Color?
To be honest – it does have a lot of effect!
Due to the mid-scaled reflectivity, this color does act like chameleons sometimes – so I highly recommend you to be careful around choosing the temperature of your artificial lighting in the home!
Warm-white is a great option but choosing colored could be a blunder.
Want a space to feel like a sparkling ocean? Paint the walls of your North-facing room in Hazel.
What are the Coordinating Colors for Sherwin Williams Hazel?
Wondering what will blend best with your Hazel walls?
It is definitely not warmer colors like terracotta and blood reds but similar toned colors like grays, whites, and soothing beiges.
Some of the best options to go for are:
Aesthetic White SW 7035
Tony Taupe SW 7038
Green Trance SW 6462
Keep a note of painting your trims and moldings in Pure White or High Reflectance White – it will help in protruding out Hazel even further.
If you are a lover of monochromatic interiors, here I have enlisted a few shades from the same family you can incorporate in your space:
Raging Sea SW 6474
Watery SW 6478
Vintage Vessel SW 9050
Surf Green SW 6473
Sherwin Williams SW 6471 Hazel vs. Similar Colors
I understand you possibly don't require any alternatives to this beautiful color but why leave a chance?
We are surrounded by these intriguing colors and shades – literally, everywhere!
So, just-in-case if you prefer to use a little different toned color that shares similarities with Hazel – here are a few!
Hazel vs. SW Kind Green
With an LRV of 51, the brightness of the color is almost similar – except that the latter is more inclined towards greens with slight green undertones.
The 'green' touch here is highly reflected in ample natural light but when there's not enough lighting – it looks like Hazel!
However, I highly recommend buying real-time paint swatches and paint samples to test this color on a bare wall for the best realistic results!
Screens could be deceiving – so don't rely on it completely!
Hazel vs. SW Spearmint
Another 'greener' alternative – this color is comparatively darker than Hazel and realistically, much subtle and bolder.
With ample natural lighting – this color exhibits the properties of a crisp, bluish-green shade. So, if Hazel is too-light for you, Spearmint will help add the 'bold' touch to your space while staying within the same family.
Where to Use Sherwin Williams Hazel in Homes?
Blogger Valerie from One Happy Housewife painted her dining room walls
The cool setting of the color makes it highly workable in most of the spaces in your homes.
Avoid this color if you want a warm and cozy look – since it's a version of relaxation and tranquility.
I would highly recommend using in bedrooms, bathrooms and nurseries.
I personally would not recommend this color in the living room and kitchen unless you have a specific design theme running around.
Because this color doesn't exhibit timelessness, you might have to update the walls in the coming few years.
Since bedrooms and bathrooms are totally personal possessions and a space designed to offer relaxation – Hazel here is definitely good to go!
Hazel in Bedrooms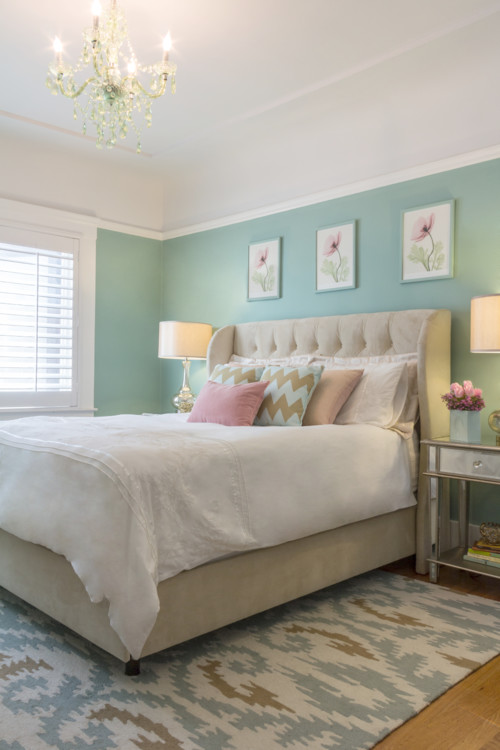 Definitely a yes-yes!
You could either paint all your walls in Hazel or just paint one and let it be a base! Hazel will make your room feel spacious – so, if you have a small and congested room – Hazel is the solution!
However, if you already have a large room and still want to use this color – remember to strategically place your furniture and 'fill' up your space for a seamless look!
Try sheer white bedding and a few solid greys and patterned throw pillows to add character to the bedroom.
Hazel in Living Room
Even though I let you know my personal preference for Hazel in the living rooms, it shouldn't stop you from using it if you absolutely love it!
A little creativity would do no harm right?
So, if you are planning to use Hazel in the living room – try to pair it with natural wood textures, neutral accents and white trims.
Also, go for an all-in-all coastal vibe theme throughout the house.
That way, you get the best of the color and a comfortable, cool vibe home.
Hazel in Kitchens
Amber fromEveryday Farmgirl explains how she really made her farmhouse kitchen pop.
If you are planning to use Hazel in the kitchen, be careful what you pair it with.
Use stark white cabinetry, natural wooden textures and white countertops to completely balance out the look.
Forbid the use of any other color than neutrals here.
Hazel in Exteriors
In the photo above the front door of this Vintage Queen Anne home in Atlanta is painted in Hazel.
Do you live by the coast? Or have a locality with cool-colored home facades?
Hazel is a great solution to your exterior walls! However, remember to pair it with stark white trims, moldings and door and window frames.
For the roof, I highly recommend going dark grey – slates or shingles would be a great option!
So, now that we see Hazel has a lot to offer. From helping us relax to taking space to the next level of serenity – this color definitely has an absolute charm to it! For all the coastal themed homes – Hazel is invented for you! It's time to cherish the color and enjoy its soothing character.
Wondering what your home is worth in today's market?
Get New HOT listings to your inbox daily, before any other buyers at: