Sherwin Williams Kilim Beige is a warm-toned neutral paint with no inclinations to a specific undertone.
This color has been used by painters, homeowners, and builders all over again and again – and do you wonder why?
Because of the independence of the color! It doesn't change its appearance that easily – thus, making it an ideal beige to be used literally, anywhere.
With the evolution of the greiges, greys and off-whites, there is beige somewhere in the middle that adds the "warm" factor to your space.
With a slightly creamy texture, this color somehow looks like the latte, oh yes – maybe it's more relatable when you have it tomorrow morning before work!
Even though the color falls on the warmer end of the wheel – it still looks quite neutral – making it one of the many neutral beiges provided by the manufacturer.
You definitely don't have to worry much while using the color as it stays true to itself and won't really change much due to the surrounding hues.
Hence, on the bigger picture – there is nothing to worry about, but you might still have to look at the little bits while painting your walls in Kilim Beige!
Sherwin Williams Kilim Beige SW 6106 Color Details and Specifications
Kilim Beige complements the best with off-whites and stark whites
Color theory is a broad topic – and there are hidden mysteries behind each and every color!
These theories help in deciding if you should use a specific color in a specific room or how will the light affect the overall appearance of the color in a room!
Well, Kilim Beige is like no other!
But you may still need to consider a few details when choosing it.
First and foremost, always remember to check the Light Reflectance Value (LRV) of the color. This value is dependent on how reflective or light the color is.
In this situation, the LRV of Kilim Beige is 57.
Which is pretty good (Or I must say – lighter shade).
Hence, you can undoubtedly use the color in small rooms to make them look bigger and brighter!
Other considerations associated with the color are RGB and HEX Values!
Red = 215,Green = 197,Blue = 174
HEX Value = #d7c5ae
This color neither has a golden touch nor an orange or pink touch (unlike all other generic beiges)!
Okay, as now you have the basics of the color – let's discuss more about the inspirations and what the color has to offer you.
How Does Kilim Beige Feel in a Space?
Classic Wooden Touch complements the Kilim Beige
It is quite likely for your space to look much lighter, brighter, and spacious!
It definitely doesn't add a bold statement so there are no issues regarding your space looking messy or congested.
Instead, the freshness imbibed by this color is likely to transform your space into an airy haven!
In this case of beige, you might want to avoid very energetic warm colors – perhaps try bold neutrals and whites or off-whites to let this color outshine.
Kilim Beige feels lighter in this renovated home by blogger Lisa from Texas Decor.
Beware if you are living in southern warmer states or by the humid regions – this color is warm for your walls and even though the weather outside is not so warm – you might still feel over 80 degrees with this color on the wall!
Rather use in smaller amounts in specific areas to enjoy the color while not making the space look 'too-warm'!
But if you are looking for a nice, creamy warm touch – don't hold back from Kilim Beige!
How Does Light Affect the Color?
Vidya from What's UR Home Story, shows off her family room in her favorite beige color.
Like I previously said – not too much!
This is not one of those chameleon colors I keep talking about.
Kilim Beige is quite true to itself! Hence, I highly recommend using this color in rooms that you don't plan to update quite much.
When used in south-facing rooms or rooms that get direct afternoon light, this color appears to be warmer with a creamier texture!
Despite the whites, blues or browns surrounding the color – the property of this color may never change!
What are the Coordinating Colors for Sherwin Williams Kilim Beige?
Classic monochromatic look: The woodwork here is SW Kilim Beige
You can use Kilim Beige in two ways. Either use a monochromatic color scheme or reflect contrast through coordinating the color with other shades and hues.
Choosing a monochromatic theme is an ongoing trend!
Thinking about trying the Kilim Beige family? Well, here I am enlisting a few colors from Sherwin Williams that would go perfectly with Kilim Beige.
Nomadic Desert SW 6107
Latte SW 6108
Hopsack SW 6109
It is always fun to play with monochromes in a room, right?
Whether it's a dark-shaded couch in the front of a lighter-shaded wall or a darker coffee table placed exactly in the center of light-shaded surroundings – monochrome Kilim Beiges are bound to add drama to your space.
So, I also have a few recommendations if you are not a big fan of monochromes and would rather paint your home with some contrasts. Here is the list:
Latte SW 6108
Storm Cloud SW 6249
Divine White SW 6105
If you closely observe, this color goes well with either greiges, neutrals or cooler shades(blues and greens). Other reds, oranges and yellows are absolutely no-no!
Sherwin Williams SW 6106 Kilim Beige Vs. Similar Colors
Just in case if Kilim Beige is too warm for you, I have a few other options you could refer to!
Looking at the other way, maybe you like greiges but when it comes to beiges, the most similar yet subtle ones are Fresco Cream and Canvas Tan.
Kilim Beige Vs. Fresco Cream
With a similar LRV of 57, the two colors share quite a few similarities and one of them being the brightness.
But the latter is not too-warm or too-creamy! Instead has an orange tinge to it. I personally would use this one on the exteriors if the local context allows it!
Kilim Beige Vs. Canvas Tan
Canvas Tan is not really similar to Kilim Beige because they highly differ in looks but the reason, I recommend Canvas Tan here is that it is a perfect sober pastel.
If you are looking for a similar family with a color that is equally clean, crisp and timeless – I would highly recommend painting your walls in Canvas Tan.
Canvas Tan is comparatively lighter with an LRV of 64. You can read more about it here!
Where to Use Sherwin Williams Kilim Beige in Homes?
Kilim Beige is a perfect soft and creamy beige that is inclined towards browns and lighter tans.
It is a perfect solution to homes with hardwood flooring and wooden-textured cabinets and media units.
You could use this color absolutely anywhere as far as the pairing colors are a 'go'!
Kilim Beige in Living Room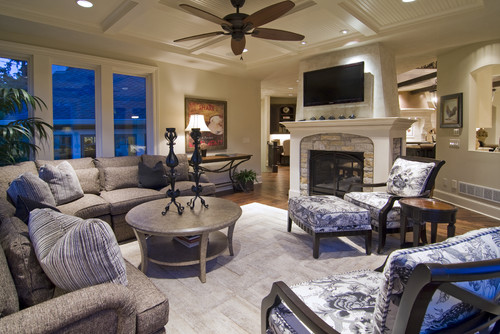 What I love the most about this color is that it simply doesn't look yellow – with or without light!
So, if you are looking for a warm and cozy living room – try Kilim beige.
In that case, paint your trims and moldings in alabaster and use grey accent chairs with midnight blue throw pillows.
To add a touch of coziness, you could also add white fur throw blankets and stool upholstery.
Another alternative is blue-green shades and patterns that would look flabbergasting with Kilim Beige.
Kilim Beige in Bedrooms and Bathrooms
The bedroom is the most personal space in your home. There is no good and bad here – except that the mood created by the room should be able to engage you and highlight a soothing experience.
Well, in that case – Kilim Beige is really not a bad option. It is calm, soothing, and tranquilizing.
However, ensure that the bed headboard, side tables, and your media unit should have a wooden textured look.
Kilim Beige in Kitchen
Do not use Kilim Beige in the kitchen unless it is moderately larger-sized.
Or else you'll be stuck with a little congested space!
But there is a loophole right here – If you use stark white cabinets – you can achieve a minimalist and transitional look.
If it is a larger kitchen and you want to make it look smaller – you could use a wooden textured finish on these cabinets.
Kilim Beige in Exteriors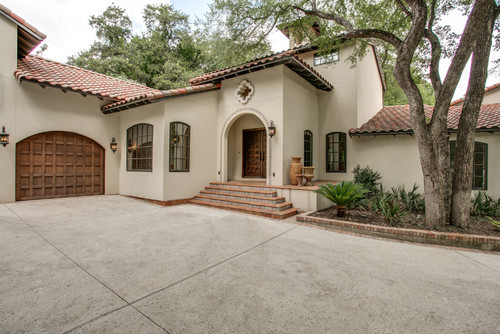 Now that you have an idea about the interior palette, let's discuss how this color adds to the exteriors of your home.
Well, this color is likely to get lighter outdoors due to excessive natural light.
But there is absolutely no harm in using this color on the exteriors.
A dark brown trim or Alabaster trim is good. Isn't it? Also if you have stone cladding – it is like cherry-on-the-top!
So, how do you feel knowing in depth about the color? Are you going to use it anywhere in your home? Do let us know about your experiences in the comments below!
Wondering what your home is worth in today's market?
Get New HOT listings to your inbox daily, before any other buyers at: