Just like the name suggests, 'Krypton' is a colorless gas – but is it really colorless?
Well, the name is truly deceiving. Sherwin Williams Krypton is not a colorless color – instead, it has a crisp blue backdrop that feels utmost cool when used on the walls of a room.
Like many other blues on the color swatch, this one feels very cool with a hidden gray undertone.
So, if you are looking for a paint that is subtle and soothing at the same time, this is probably one of the best options.
Its light tone and minimalist touch are bound to enrich your homes with absolute tranquility. So, whether you plan to use it as neutrals or base, it is a 'must try' color in homes!
This paint is comparatively easier to deal with – especially regarding the specification.
Here, in this post, I am going to help you determine if this is the right color for your home or not. And just in case if it is, choosing the best color schemes and palettes and understanding the true color would be the next thing to do.
So, sit back and relax!
I promise, in no time – you'll be a 'Krypton' expert.
Sherwin Williams Krypton SW 6247 Details and Specifications
Before choosing a paint color, it is important to analyze what truly the color has to offer.
I have observed many homeowners focusing on the visual appearances of the paint and ignoring the basic information.
Well, let me tell you – sometimes, these appearances can be misleading.
And that is why you should always flip through the basic information and color details of that specific paint.
Remember, no two colors are exactly the same (even if they look similar)!
So, I am going to brief out a few associated terms that you must acquaint yourselves with.
First and foremost, it is important to understand the concept of Light Reflectance Values or the LRV's of the paint. This value helps in determining how light or dark the paint is.
In this case, the LRV of Sherwin Williams Krypton is 52.
(You can find this value easily at the back of the paint swatch)
Secondly, other important associated terminologies are the RGB and HEX Values that further tell us what the color is made of.
Red = 184
Green = 192
Blue = 195
HEX Value = #b8c0c3
Now that we have discussed enough about the technical and scientific information, let's get started with the practical aspects of this blue Sherwin Williams paint.
How Does this Color Feel in a Space?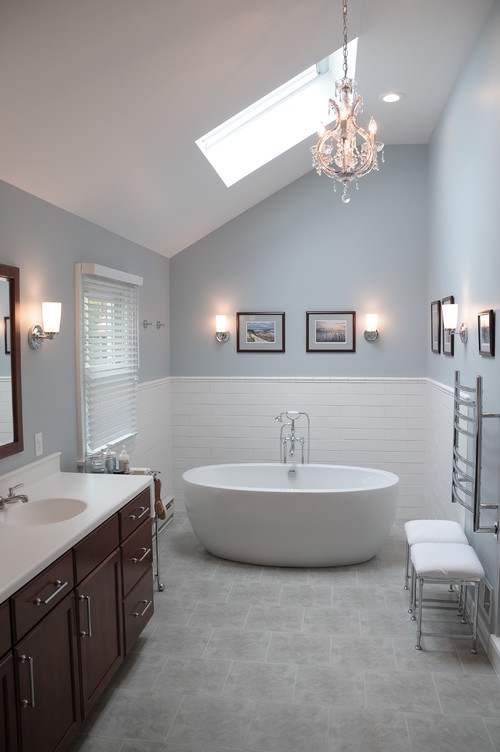 This beautiful paint color feels absolutely light, soothing, airy, and calm when used in a space. So, if you have similar intentions with your space – you can consider this paint.
I would recommend warmer and tropical regions to make the most of this paint – since it exhibits a cooler touch – it is bound to make your spaces calm down!
You are definitely going to feel better indoors when it is over 100-degree Fahrenheit outside! I promise!
Adding on, this color makes a great space-saving solution – well, it creates an illusion of pushing away your interior walls to make the space look bigger and brighter.
I wouldn't recommend this paint for very small spaces! (In that case, go for colors that have LRV's greater than 75)
How Does Light Affect the Color?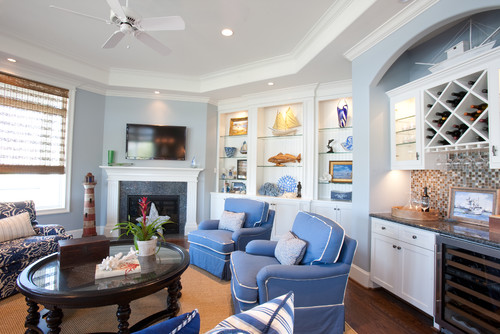 I would say, yes – light has some role to play here!
After analyzing the size of your room comes a stage when understanding the incoming natural light becomes primary.
So, look around and observe how much light does your room receives? Is it too much? Does your room face south, west, east, or north?
Well, I recommend using this color in either east or west-facing rooms as the incoming sunlight neutralizes with this cool-toned hue.
But if you receive even little or mid-sized natural light – this color is good to go. Excessive light will make your room appear lighter and much spacious.
What are the Best Coordinating Colors?
Now comes one of the most interesting topics to talk about and probably one of your favorites – color schemes and palettes.
After you have analyzed the aspects of undertones, reflectivity, and how the color feels like, it is time to choose the best complementary colors.
The best colors to go are darker greys, whites, creamy whites (like SW Marshmallow), mustards, Sakura pinks, and blacks. And you can either choose from a contrasting or a monochromatic color palette – depending on your interior design style.
Well, here are a few of the colors I would recommend for a monochromatic palette!
SW 6248 Jubilee
SW 9152 Let it Rain
SW 6249 Storm Cloud – see more about SW Storm Cloud here
On the other hand, here are a few of the colors I would recommend for a contrasting color palette!
SW 7661 Reflection
SW 7073 Network Gray
SW 6296 Fading Rose
For your ceilings, trims, and moldings – I would recommend using SW Pure White to further achieve a creamier look or else if you want a crisp look, choose SW High Reflectance White.
SW Krypton Vs Similar Colors
In this case, I would say there are tons of similar-looking options – even though they will differ a little, whether it is the undertones, light reflectivity, or the overall appearance.
So, the two most similar-looking hues are SW 7663 Monorail Silver and SW 6233 Samovar Silver.
Krypton Vs Monorail Silver
Typically a gray, this paint color doesn't really exhibit the blue undertones – but definitely flaunts off the soothing and subtle touch.
With an LRV of 50, this color is neither too dark and nor too light! You can absolutely use it in homes that crave a Scandinavian or Minimalist feel.
Although, know that these two colors feel and appear quite different in different spaces.
Krypton Vs Samovar Silver
This is a creamy blue paint that is not as 'cool' as Krypton. With an LRV of 51, it very beautifully enriches the home with its serene touch.
Although this color appears 'gray' in several light conditions – I would recommend using this in east-facing rooms.
For even accurate results, I recommend buying real-time swatches and paint samples to determine the true hue or you can also place it against a white sheet of paper!
Where to Use Krypton in Your Home?
Kristina from Medicines and Manicures reveals the use of soothing SW Krypton in Guest Bedroom and Bath
Krypton can be used anywhere and everywhere in your homes.
Whether it is the nursery, kids' rooms, bedrooms, living rooms, or the hallways – well, you name and can have it.
However, you can use it as a neutral or a base, but not as an accent. Especially for interior design styles such as Scandinavian, Minimalist, Coastal, and Transitional – this color is a great fit.
Let's see where and how to incorporate this beautiful blue color in your homes.
Krypton in Living and Dining Room
Definitely recommended – rather, you can paint all the walls in this color. And especially if you have a fireplace, I recommend using white paint or black glossy marble surrounding it.
Just in case if you are refurbishing, try using walnut-shaded hardwood planks on the floor and stark white ceilings. Moreover, you can also use white sheer curtains to let the natural light in – at all times.
Just add a few pink or yellow decorative pillows and throws or ottomans to further add a pop of color in your living room.
Using in Bedrooms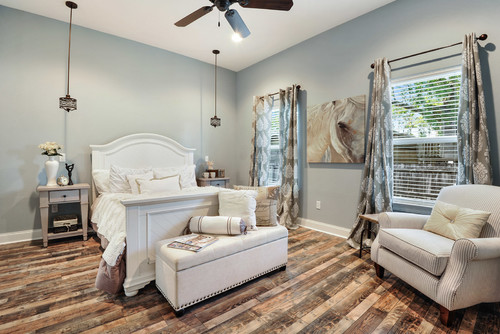 In the bedrooms, I will suggest using this color as an accent. You can paint the backdrop or the focal wall in this paint – or in some cases, the headboard wall.
Moreover, add touches of gray and black to further add a sophisticated factor to your space. If you are picking a new bed, try gray velvet finish or matte-black iron as the structure.
In the end, don't overcrowd your bedroom as it simply wouldn't go with the theme!
Krypton in Kitchens

Krypton kitchens are the best! I wonder when they would make a trend!
But anyway – if you're looking for airy and cool kitchens, you should paint the cabinets in this soothing color and let the remaining backdrop be white.
Whether it is the backsplash tiles or the marble countertop – try to stick with white as much as you can.
If you have larger-sized kitchens, replace this white with either dark grays or blacks!
Cape Cod kitchen styles majorly incorporate this color.
Using on Exteriors
Especially for Coastal and Contemporary exteriors, this color is a great option for your exterior walls.
However, it can be pretty light and soothing when used outdoors. Moreover, they tend to look lighter in such cases.
You can either pair it with black or grey accents through trims, moldings, and door and window frames.
If you are planning to use Krypton on the exterior façade, it will tend to appear much lighter (somewhat like white) than it already is! (of course, due to excessive natural light)
So, how do you want to use this color in your homes? Interiors or Exteriors? Now that you have all the secrets – are you excited about painting your home in Krypton? Should there be any questions or thoughts, let us know in the comments below!
Wondering what your home is worth in today's market?
Get New HOT listings to your inbox daily, before any other buyers at: