Looking for a gray and beige with a neutral backdrop? Well, let me introduce you to one of the most popular greiges – Sherwin Williams Mega Greige that is absolutely warm and welcoming at the same time.
So, if you are looking for a paint option that is bold and is greige – well, this color is as good as gold (…well, gray-beige)!
With slightly warmer undertones, you are quite likely to detect some red-pink shades underneath the paint color.
Also, since the color is pretty dark-toned, you must be very careful with how you use it. Remember, darker tones can bring unanticipated challenges vs lighter colors.
Furthermore, it is also important to analyze the incoming natural light to truly understand if the paint color is good for your space or not! Or if you really need this color in your home.
But if it's time to throw some greige magic into your spaces – don't worry – I am going to unveil all the information about this bold color and help you make the best use of it.
So, sit back and relax! Maybe reach for a glass of wine as this review is going to make you a 'greige' expert!
Let's get started!
Sherwin Williams Mega Greige SW 7031 Details and Specifications
I am going to first begin with the basics! Before you choose a paint color for your homes, it is crucial to understand the background knowledge and theories linked with the color.
Because trust me, my friend, without understanding this, it may be a total mess!
Hence, first and foremost, do remember to consider the Light Reflectance Values or the LRV's of the paint color you choose.
This value helps in determining how light or dark the color is. And just in case if you are wondering where to find that value – well, simply look at the back of the paint swatch!
So, the LRV of Sherwin Williams Mega Greige is 37. And that means the color falls somewhere between the dark to mid-toned shade.
Well, depending on this can we further decide where to use the color.
Other important associated terms to consider are the RGB and HEX Values that are as follows!
Red = 173
Green = 162
Blue = 149
HEX Value = #ada295
Now that we have discussed enough about the technical and scientific information, let's get started with the practical aspects of this bold Sherwin Williams paint.
How Does this Color Feel in a Space?
This Sherwin Williams paint feels absolutely bold, authentic, warm, daring, and cozy when used in space.
Hence, if you have an oversized large bedroom or a living room, you can use this color to make your space look enclosed and characteristic.
Since this color has low reflectivity, it tends to absorb most of the incoming light while adding depth to any space.
I wouldn't say it creates an illusion of making your space look larger – instead, it does the opposite!
I will recommend colder regions to incorporate this color as it adds a feeling of warmth and welcomeness. Even though many warmer states like this color – but I would say, try to balance the cooler tones in that case!
How Does Light Affect the Color?
Even before picking a paint, just look around and analyze the amount of incoming light in your space. Is it too much? Or is it too-less? Or is it adequate enough?
Well, if you have a small-sized room with little to no natural light – I wouldn't recommend using the paint. Or else if your space receives ample natural daylight – this color is good to go!
But don't worry! You can always play the card of artificial lighting. Use warm whites and warm yellows to create a desired mood in your space!
Without ample light, SW Mega Greige may feel darker than it already is – or vice versa!
What are the Best Coordinating Colors?
Now that we have analyzed the true theory behind the color, its light reflectance values, how it truly feels, and the effects of light, let's first look at what best suits the paint color.
This is the next major step to take when choosing a paint color in your homes.
So, you can either choose from a monochromatic or a contrasting color palette in your homes. Depending on the specific interior design style, the color palette may vary.
Well, here are a few of the colors I would recommend for a monochromatic palette!
SW 7029 Agreeable Gray
SW 7030 Anew Gray
SW 7032 Warm Stone
On the other hand, here are a few of the colors I would recommend for a contrasting color palette!
SW 9166 Drift of Mist
SW 6038 Truly Taupe
SW 6040 Less Brown
For your ceilings, trims, and moldings – I would recommend using SW Pure White to further achieve a creamier look or else if you want a crisp look, choose SW High Reflectance White.
SW Mega Greige Vs Similar Colors
Choosing a similar-looking option might be daunting since the color may 'look' similar even if they aren't! Remember, no two colors are exactly the same – they may always differ in undertones and lightness.
So, the two closely related paint colors are SW 7633 Tony Taupe and SW 7045 Intellectual Gray. Let's see how all these differ!
Mega Greige Vs Tony Taupe
One of my favorite taupes, Tony Taupe shares quite some similarities with the paint. With an LRV of 37, this color too falls on the darker side of the scale. With deep red undertones, this color is inclined more towards the brown reds.
You can absolutely use this paint in homes as a perfect alternative to SW Mega Greige! However, remember to pair it with red-brown undertones.
Mega Greige Vs Intellectual Gray
Not a greige but actually a gray, this paint is not very similar to Mega Greige. Hence, this neutral has deep gray undertones that appear somehow green in certain lighting conditions.
With an LRV of 36, this paint is almost an equal shade in lightness and darkness.
For even accurate results, I recommend buying real-time swatches and paint samples to determine the true hue or you can also place it against a white sheet of paper!
Where to Use Mega Greige for Interiors?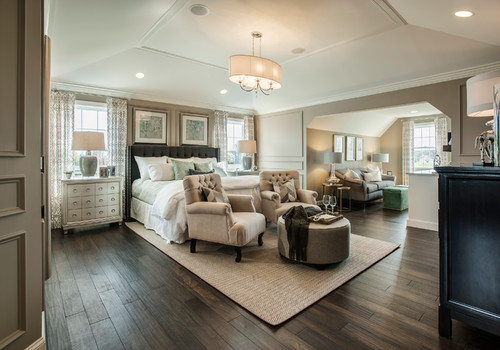 You can use this color absolutely anywhere in homes. Whether it is the foyers, bedrooms, or the corridors – I wouldn't recommend holding back from this color.
And especially in the traditional, transitional, mid-century modern, and Modern farmhouse interior design styles – this paint is definitely good to go!
Let's see where and how to incorporate this beautiful greige color in your homes.
Mega Greige in Living and Dining Rooms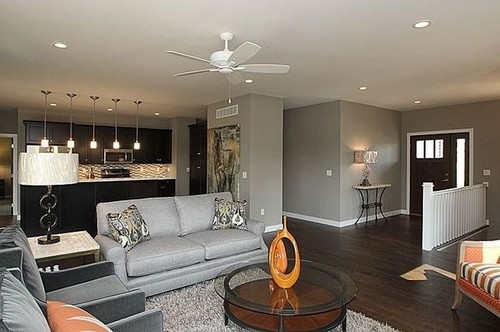 To invite a sense of coziness and welcomeness, I would recommend using this shade of greige. However, it may be challenging if you are tight on space.
Nevertheless, you can always pair it with lighter shades of beiges, off-whites, creamy whites, lighter browns, and muted taupes to create a perfect backdrop in homes.
To further make your space lively and airy, add white sheer curtains! Moreover, I would recommend painting only the focal wall in this color and leaving the rest in muted and lighter tones.
Using in Bedrooms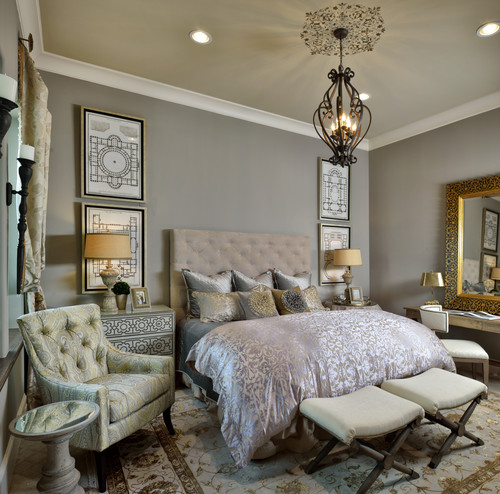 Choosing paint for bedrooms can be absolutely personal. It depends on your personal choice – whether or not you like greiges!
However, if you do, try to paint only a single wall in this color. (Maybe the headboard wall or the wall with the fireplace)
Secondly, choose neutral-toned upholstery and fabrics to further add depth to your bedroom.
Mega Greige in Kitchens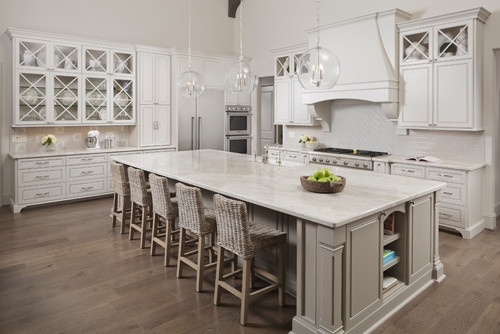 If you have an open concept kitchen style, do go for this color – however, make sure to pair it with similar tones in the commented living or dining space.
Secondly, you can also do the opposite by painting the backdrop wall in this color and leaving the rest for lighter shades or paint the cabinets in SW Mega Greige.
Nevertheless, choose white or off-white marble countertops and white backsplash tiles. In the case of accents through pull handles and fixtures, choose chrome finish!
Using on Exteriors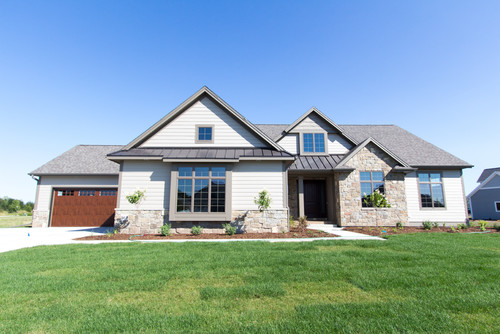 I personally LOVE the feel of greiges on the exterior walls. You can always pair it with beiges and off-whites through decorative moldings, trims, and door and window frames.
Have a look at the image above! Do you like the natural stone cladding and the gray roof tiles? Well, I love the exterior color palette here!
So, how do you want to use this color in your homes? Interiors or Exteriors? Now that you have all the secrets – are you excited about painting your home in Mega Greige? Should there be any questions or thoughts, let us know in the comments below!
Wondering what your home is worth in today's market?
Get New HOT listings to your inbox daily, before any other buyers at: