Yes! This paint color is exactly like you heard – moody and mesmerizing!
Sherwin Williams Moody blue is a perfect blue paint color with slightly blue and green undertones.
And of course, blue being on the dominant side, this color has a crisp feel to it when applied on walls.
So, if you're looking for a dark to mid-toned color with the blue and green mix, Moody Blue could be one of your options to be considered!
I personally love the touch of this color in a room.
And that is why I constantly find myself hovering over this swatch when looking for a perfect blue wall paint from Sherwin Williams.
It is not too-dark or too-light, even though it falls on the darker end of the scale!
Beautiful and timeless, it pairs great with whites and wood textures.
And that is the utmost beauty of this color!
I wouldn't recommend this color if you have smaller-sized spaces but just-in-case if you don't, there shouldn't be any harm in it!
If you use it in a monochromatic palette, I will definitely not stop you as this color really comes out very beautiful!
But before I spill all the beans, let's see how, where, and when you can use Sherwin Williams Moody blue in your homes!
In just a couple of minutes, I am sure you'll be a master of it!
Sherwin Williams Moody Blue Details and Specifications
By this time, I am sure you know that MB has a lot to offer to you and your homes.
So, it is time for some scientific techie terms and underlying theories behind the color!
Let me tell you – no two colors are the same. There is a minor difference between the two colors which sets them apart (even if they look exactly the same)!
So, the following data is what differs the properties of two wall paint colors!
First and most important, Light Reflectance Values or LRV's have a major role to play here. I have seen many homeowners ignoring this term, well actually this is considerably important when choosing a paint color for a particular room.
LRV is a term that helps you determine how light or dark the color is! Which later helps you where to use the color depending on the size of your room and natural light available.
So, for Moody Blue, the LRV is 27!
Which is more on the darker side of the scale.
Well here is a game-changer, if you apply this paint color in a room with ample light – there is little chance that it would come out dark.
Other associated terms are the RGB and HEX Values as follows-
Red = 122
Green = 145
Blue = 146
HEX Value = #7a9192
How Does Moody Blue Feel in a Space?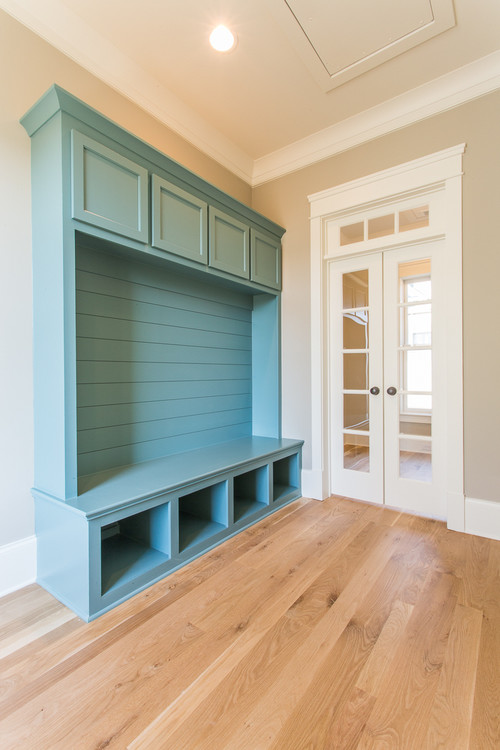 Moody blue exhibits a feeling of sophistication and serenity in a space.
Due to its low reflectivity, the color may appear dark and dull in some situations so, they need to be paired with the perfect opposites!
Since MB is a cool-toned color, I would highly recommend southern states and warmer coastal areas to incorporate this in their homes (if the size and scale allows)!
This color is bound to calm you down after a long, hard-working day and is also meant to release stress-free vibrations that will make your LOVE your home even more!
For all the coastal and Caribbean interior design lovers, here is a chance for grabbing the most of BLUES for your home.
How Does Light Affect the Color?
I always say light has a major effect on any and every paint color.
Be it light or dark!
It makes the wall paint look lighter and brighter and that is when we need to observe where to use the wall paints.
Moody Blue in the absence of light may appear much darker than it is – maybe like SW Tempe Star. But in the presence of ample natural and artificial light, this paint color appears lighter.
So, if you are looking for a dark and daring mood – do use Moody Blue!
What are the Coordinating Colors for Sherwin Williams Moody Blue?
Now that you're wondering how to use the paint color in your home – well, you could either go for a monochromatic palette or a contrasting pop style to incorporate Moody Blue.
I have a few recommendations for you that could be considered while picking paint colors. Let's start with the monochromes that are a good fit to pair:
Rain SW 6219
Interesting Aqua SW 6220
Delft SW 9134
Riverway SW 6222
You can pair all these through wall paints, furnishes, and upholstery to create a perfect timeless monochromatic room.
In the case of contrasting shades, if you are more of a colorful spirit, I have a few recommendations that you could consider.
Drift of Mist SW 9166
Greek Villa SW 7551
Biscuit SW 6112
Try to pair beiges and off-whites with this paint color to balance the temperature and backdrop!
Also, in the case of trims and moldings, I would highly recommend SW Pure White and SW High Reflecting White to further protrude the depth offered by the above-mentioned paints.
Sherwin Williams Moody Blue Vs. Similar Colors
I understand we all need two and three alternatives to the paint color. Well like I said no two colors are the same, but I can definitely suggest a few options that are closely related to Moody Blue.
Two of the closest cousins are SW Whirlpool and SW Delft!
Moody Blue Vs. Whirlpool
Whirlpool is not exactly like Moody blue but can appear to look similar if not closely observed.
Whirlpool is more of blue paint with deep blue undertones. No green base here!
With an LRV of 29, this color seems a little lighter.
As such, here is some advice – if you're considering two color options, always buy real-time samples and swatches to see the real difference.
Screens really are deceiving!
Moody Blue Vs. Delft
Delft is quite similar in terms of undertones!
They both have blue and green blends; however, delft is a shade lighter with an LRV of 33.
So how about considering Delft?
Where to Use Moody Blue in Homes?
Laura from House Envy reveals the kitchen makeover
This blue could make a good match to any wall and any room in your home as far as you pair it well.
If you have a coastal interior design style, it is a great WIN-WIN solution for you, however, in the case of transitional, traditional, and modern interior design style – moody blue is not a bad option!
Let's discuss how potential Moody Blue is – for your homes!
Moody Blue in Living Rooms
Elise from Bobbleheadbaby flaunts-off moody blue in the dining space
I would recommend choosing white and off-white paint options for adjacent walls and furnishes. You could use MB on the focal wall of your living room!
For a fireplace, either choose white painted bricks or black marble or tiles to add a contrast to your living room.
Meanwhile, for the furniture, choose neutral upholstery with yellow, grey, or light blue fur or patterned throw pillows.
Moody Blue in Kitchens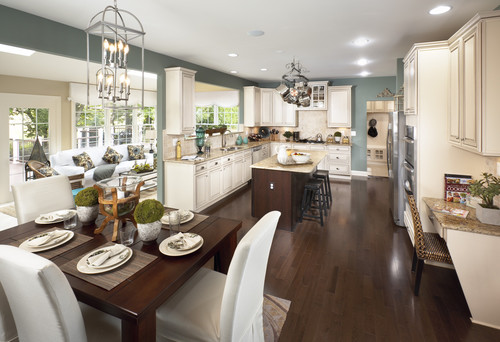 I absolutely love the moody blue kitchens!
You could paint the walls in mood blue and let the upper and lower cabinets in white or off-white. To add an accent, I would recommend choosing gold-tinted pull handles and fixtures!
If you have hardwood floors, you could use white runners to create a cozy and welcoming feel.
Moody Blue in Bedroom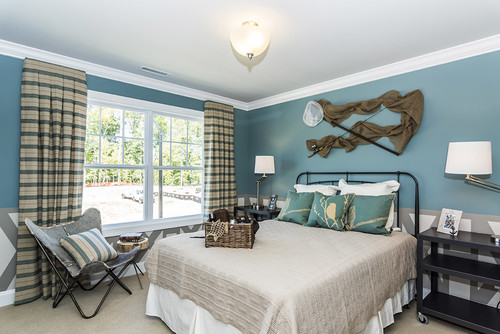 Moody blue in bedrooms is what all the blue lovers should aim for!
To create a perfect aura, pair up moody blue walls with white bedframes, nightstands, and accessories.
You could use grey and green throw pillows and white bedding to create a dramatic yet cozy appearance.
Bedrooms are your most personal spaces, so you need to ask yourself what kind of mood you want to create.
Moody Blue in Exteriors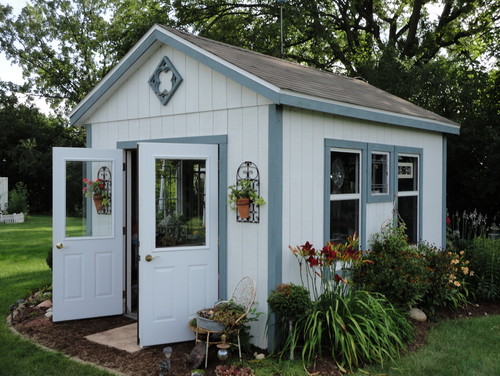 Like a Caribbean feel, you can use this paint color on the exterior facades.
This color is bound to further look lighter and brighter in the exteriors due to excessive natural light.
Try to pair with white trims and decorative moldings, grey-toned tiles and slate on the roof, and white door and window frames.
So, are you confident enough to use this color in your homes? Maybe interiors or exteriors? However, do abide by the rules and I am sure moody blue will prove to be a perfect blue in your home. Do let me know in the comments below about your experiences as I would love to hear from you!
Wondering what your home is worth in today's market?
Get New HOT listings to your inbox daily, before any other buyers at: