Whenever you imagine blues, what do you usually visualize?
Maybe something like sea blue, midnight blue, or cobalt blue, right?
Well, how about something a bit more unusual…but STIL considered a blue?
Sherwin Williams Moscow Midnight is a dark-toned blue paint color that has a slight green touch when observed closely.
It is quite a crisp shade that is unique in its own sweet ways!
Symbolic of sophistication, elegance, and beckoning intensity, this paint color is all set to grab the attention of everyone who gazes upon it.
I personally LOVE the feel and look of this paint color on walls, furnishings, as well as just about any decorative elements.
Since it's a dark paint color – it comes with its own usage limitations and consequences.
You have to be very careful around this color especially when you're using it broadly in your homes. Don't be demotivated – I have got your backs for yet another gorgeous paint color!
The name of the color exactly suits its looks – just like midnight skies!
So, if you fantasize about these dark and daring paint colors – keep reading ahead to know how best you can make the most of this color.
And in no time, you'll be an expert!
Sherwin Williams Moscow Midnight Details and Specifications
https://www.houzz.com/photos/rocky-butte-remodel-portland-oregon-contemporary-kitchen-portland-phvw-vp~105630479
(SW Moscow Midnight on the island table cabinet)
Moscow Midnight has a lot to say and do!
Before choosing a paint color – it is important to understand the basic underlying facts and theories behind it!
I am sure you don't want to mess up with your homes with abrupt use of paint colors – and that is why I must tell you some of the scientific terms associated with paint colors.
First and foremost, always consider the Light Reflectance Values (LRVs) of the paint color. It is usually written at the back of the paint swatch.
LRV is basically a term that helps in determining how light or dark the paint color is!
This information then later helps to know where you should use the paint color and specifically what directions should the walls be facing.
So, LRV of Moscow Midnight is 5!
Which is amazingly dark (remember, the lesser the value – the darker the paint color is)!
Other important values are GRB and HEX as follows:
Red = 32
Green = 70
Blue = 82
HEX Value = #204652
Now enough with the technical and scientific information, let's get started with the practical aspects of this beautiful and timeless color.
How Does Moscow Midnight Feel in a Space?
Jessica from House Homemade reveals her bathroom makeover and paints her lower cabinets in SW Moscow Midnight
Absolutely elegant and luxe!
However, due to low reflectivity – the color appears darker than the norm and that's why you have to very careful around the amount of paint color used in the room.
This color has such a rich charm that I wouldn't stop you from painting all your walls in Moscow Midnight!
Just assure the perfect blend of lighter paints with this dark and daring backdrop!
You can use this paint color in colder as well as warmer areas – so not really any restrictions out there!
How Does Light Affect the Color?
Light has a role in brightening and darkening the wall surface.
In the north-facing rooms, this paint color appears to be very crisp and dark blue whereas, in the south-facing rooms, it appears lighter and warmer!
Even though you are dependent on the natural light, you might still have to play with the artificial lighting – whether warm, cool, or colored!
Long story short, this color absorbs tons of light (due to its low LRV), so unless you're aiming for a daring aura – you need to balance the light with dark!
It will make your room look smaller and congested so make sure to use this color in your home if it is spacious enough!
What are the Coordinating Colors for This Blue?
Moscow Midnight is another term for timelessness and magnificence.
So, if you're planning to use this paint color in your homes, you could choose from either of the color schemes – contrasting or monochromatic.
I absolutely LOVE the monochromatic scheme of this paint color and let me tell you – it is quite an ongoing trend for the upcoming years too!
So, go ahead with it! Or if you are more like a contrasting-admiring spirit – I would recommend pairing this blue with yellows, lighter blues, greys, and a few patterns.
Here I enlist the recommended colors (first, for the monochromatic scheme),
Debonair SW 9139
Blustery Sky SW 9140
Waterloo SW 9141
In the case of the Contrasting scheme, consider the following:
Lullaby SW 9136
Harvester SW 6373
Monorail Silver SW 7663
In all these cases, paint SW High Reflectance White or SW Pure White on the trims, moldings, and Door and window frames!
Sherwin Williams Moscow Midnight Vs. Similar Colors
I know it's quite a norm to look for similar-looking paint options!
Even though I don't think it is required for this beautiful paint color to have counterparts – but still I will suggest considering SW 6230 Rainstorm and SW 6517 Regatta.
Moscow Midnight Vs. Rainstorm
Sharing the same LRVs of 5 with Moscow Midnight, Rainstorm makes a perfect match to each other.
They look absolutely the same if painted on north-facing walls but in the case of southern-facing directions, Raindrop appears to be another blue-green whereas, Moscow looks a little greenish!
However, I wouldn't either mind using Rainstorm – it too is very beautiful and sophisticated!
Moscow Midnight Vs. Regatta
Regatta has an LRV of 8 – which makes it a lighter option to Moscow Midnight!
Even though they are somehow similar – when observed in depth – they kind of look different.
Regatta is more like a dark-toned – electric bluish tint!
This color is not very subtle – instead, reflects creative blue – so, here you can add poppy bright and cheerful yellows to create a majestic space!
Where to Use This Fun Color in Your Homes?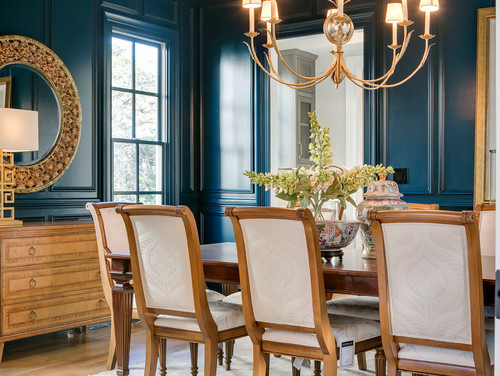 You can see in the photo above how this blue blends with golds to create a striking contrast.
Moscow Midnight is a great option for homes if you use it as an accent or in some cases, a base.
So, you can definitely use this paint color in your homes – anywhere you feel like. Just make sure you pair it opposite the best paint options and materials.
This color is a great option for contemporary, modern, minimalist, transitional, coastal, and mid-century modern styled homes!
Don't worry! I got your back!
Let's read ahead to see where the color should be used in homes.
In Living Rooms
Moscow Midnight in Living Rooms will absolutely LOOK great!
You can use neutral upholstery, white sheer curtains, hardwood or black marble floors, and black and white accents and patterns!
If you plan to use it on the accent wall or the fireplace wall – do make sure to finish the fireplace with either travertine natural stone or black and white marble stone!
In Kitchens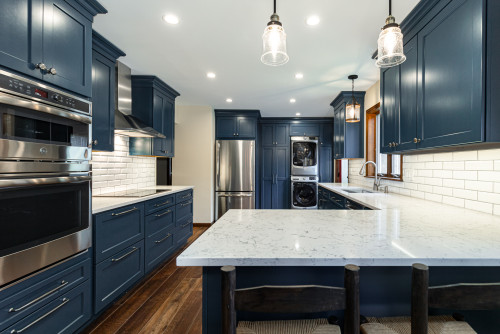 Talk about beautiful cabinets…wow.
Kitchens are the heart of your homes and if your heart calls out for a dark shade – Moscow Midnight could be it!
If you want a brighter look and still use Moscow Midnight – you can paint the cabinets in the blue paint and the rest walls in stark white and white backsplash!
Many cape cod kitchens make use of this color!
Keep in mind the pull handles – which could be either rose-gold or gold!
All these will give your kitchen a classic and sophisticated look.
In Bedrooms
Erin from LivinginYellow reveals how dramatic SW Moscow Midnight can look in her spare bedroom.
Darker bedrooms are the most intimate!
So, if you're looking for a darker option on the walls, you could use Moscow Midnight!
However, pair it with whites, off-whites, and greys upholstery, gold-tinted chandelier, Black painted doors, and windows.
Otherwise, just paint the focal wall behind the bed in Moscow Midnight and the rest in pure white for a perfect contrast in your bedroom.
In Exteriors
The color seems lighter on the exterior walls – like I always say, due to excessive natural light – it appears brighter!
Just pair them with white trims, moldings, and door and window frames!
Or else go vice versa and use this paint on trims and decorative moldings. You can also use natural stone wainscotting!
This is a timeless paint color, and your home is going to look amazing in this paint color!
So, are you ready to embellish the walls in SW Moscow Midnight? Now that I have let out all the secrets, are you excited about using this paint color in your homes?
Should there be any questions and doubts, do let me know your comments and questions in the comments below and I will get back to you!
Wondering what your home is worth in today's market?
Get New HOT listings to your inbox daily, before any other buyers at: