Quite trending and unique – Sherwin Williams Oceanside is a beautiful blue paint color that is enchants any living space with its deep blue-green undertones.
Something exactly like it sounds – 'Oceanside' looks so natural and different from the rest of the blues, making it one of the most eye-catching and exotic SW hues.
Well, I am sure – most of you out there love the feeling of this color in some way – whether it is the trip to the Bahamas, your favorite accent wall in your favorite café, your nail paint, shoe color, or a particular vase you want to decorate with!
Trust me – even though it is quite a bright hue – you can bet it'll never bore you!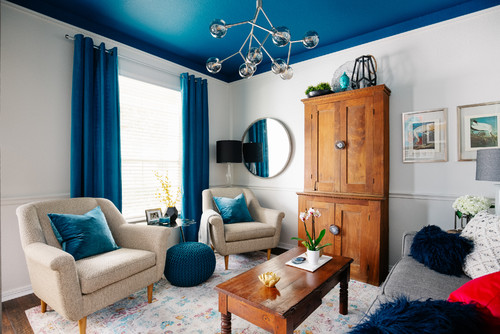 And especially, like I said – if you have an eclectic spirit!
So, are you excited to have this beautiful, unique shade of blue in your home?
Well, I am too! (Would love to see how it looks, so shoot me a picture in the comments below)!
So, without a delay – I am going to be spilling some Oceanside beans here!
Sit back and enjoy the trip as we explore this color together.
In no time – you will be an expert in this color.
Sherwin Williams Oceanside SW 6496 Details and Specifications
Every color is different – even though they start to look very similar when comparing them.
And that is why you must read this section very carefully!
Before you pick a paint color, you must understand what the hue is comprised of, how it feels, and most importantly, what makes it so unique!
So, first and foremost, you must know the Light Reflectance Value or the LRV of the paint color. You can easily find the value at the back of the paint swatch or the Sherwin Williams website.
This value helps in determining how light or dark the paint color is.
In this case, the LRV of Sherwin Williams Oceanside is 8.
Only 8.
And that means it is a very dark paint color!
But let me tell you something – it doesn't appear very dark on the walls – so right there is a little fun game you play!
Secondly, other important associated terminologies are the RGB and HEX Values that further tell us what the color is made of.
Red = 1
Green = 90
Blue = 107
HEX Value = #015a6b
Now that we have talked about the technical and scientific terminologies, let's get started with the practical aspects of this magical blue Sherwin Williams paint.
How Does this Color Feel in a Space?
Sherwin Williams Oceanside makes your space feel energetic, bright, and very much weighted down and enthusiastic.
Even though blues are expected to calm down the environment while releasing cool and relaxing vibes – well, this one is pretty much different!
Unlike the other blues, this will end up doing the opposite of what is expected!
It will make your space feel comparatively warmer, darker, and overwhelming.
So, remember to use it only as an accent!
(Unless you are painting a grand mansion with walls much higher and heavier… LOL)
Furthermore, I also wouldn't restrict this paint to a specific climate – rather, every state can incorporate it.
How Does Light Affect the Color?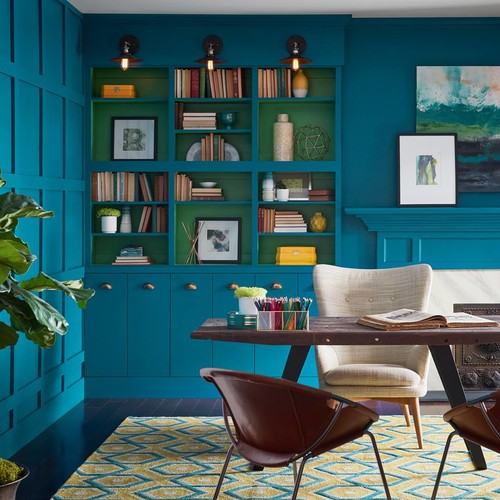 Light has some role to play here.
So, firstly, look around and observe – do you have ample natural lighting flourishing indoors?
Well, if you do – this paint is a great option to be used!
Else, restrict the amount of paint you intend to use.
I would say – this paint is quite opinionated!
If you love it – then simply use it regardless of the size of your room or the overall surrounding environmental conditions.
However, be careful what you truly pair it with!
And that is what I am going to be talking about now.
What are the Best Coordinating Colors?
Now that we have analyzed the true theory behind the color, its light reflectance values, how it truly feels, and the effects of light, let's first look at what best suits the exotic blue paint color.
Wisely and creatively choosing complementary colors is primary when it comes to such unique shades.
Hence, you could either choose from a contrasting or a monochromatic color palette (depending majorly on the interior design style).
Well, here are a few of the colors I would recommend for a monochromatic palette!
SW 6493 Ebbtide
SW 6494 Lakeshore
SW 6495 Great Falls
On the other hand, here are a few of the colors I would recommend for a contrasting color palette!
SW 6673 Banana Cream (See my review of this color here!)
SW 6023 Insightful Rose
SW 6231 Rock Candy (See my review of this color here!)
For your ceilings, trims, and moldings – I would recommend using SW Pure White to further achieve a creamier look or else if you want a crisp look, choose SW High Reflectance White.
SW Oceanside Vs Similar Colors
So, just in case if you are looking for a similar alternative – here I am going to enlist two hues that are very closely related.
Although, remember that none of them will be exactly the same – either the undertones or the reflectivity will differ them all!
Hence, the two most closely related colors are SW 9060 Connor's Lakefront and SW 7663 Monorail Silver.
Oceanside Vs Connor's Lakefront
Another blue-green paint from the collection, Sherwin Williams Connor's Lakefront has an LRV of 9 – making it quite a dark-toned paint.
Just like the other – it is beautiful and eclectic – hence, will make a great match for unique backdrops and accent walls.
Oceanside Vs Bosporus
Not so green but definitely a blue, Sherwin Williams Bosporus is a remarkable paint that can be used in your home – as an alternative.
However, due to the lack of green, it appears slightly cool, bright, and extremely saturated!
As a solution, try pairing with subtle and muted tones to create a balance.
Where to Use Oceanside?
Now here is a twist – you have to be very careful while using SW Oceanside in your home!
Because trust me, this color has the potential to make or break your space.
Due to its high saturation and utter brightness, this paint can be quite overwhelming if not used properly.
Especially for interior design styles like Eclectic, Art Décor Maximalist, and Grandmillenial – this paint is absolutely good to go!
So, here are a few places you can incorporate this paint in (along with a few tricks so as to how)!
Oceanside in Living and Dining Rooms
Yes! You should incorporate this paint in the common spaces like the hallway gallery walls, living room, and dining room.
You can also play the other way around by using this color on your focal furniture pieces and let the backdrop wall be a stunning wallpaper or a contrasting paint.
Try adding tons of geometric patterns, zebra prints, and also polka dots.
Furthermore, you can also add golden-tinted or brass fixtures and lighting equipment to create a stylish yet eye-catchy background.
Don't forget to neutralize by using creamy or crisp whites.
Using in Bedrooms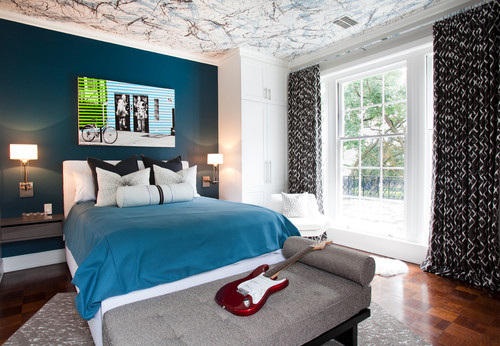 Absolutely yes!
In fact – there have been a number of times I have recommended this paint to my E-Design clients who want a maximalist-eclectic touch!
You can pair it with Sakura pinks and neutral linen upholstery for a noteworthy backdrop.
Also, I recommend lighter-toned curtains and drapes to add depth to your bedroom.
Oceanside in Kitchens
I recommend you do that only if you really want that paint on your cabinets!
It is a good option for the eclectic décor, and you can really pair it with some stunning contrasts to create a flabbergasting experience.
Try pairing with brass and gold on the fixtures and pull handles to further refine your palette!
Using in Décor
Let's forget the walls for a moment and focus on the décor items in your home.
Whether it is an antique credenza or a piece of nightstand – you can absolutely paint your décor items in this color to create an eye-catchy and yet vintage vibe.
Oceanside on Exteriors
Whether it is the chirpy Caribbean-styled home or the Floridian style, this exotic color will absolutely add an authentic touch to the exterior plastered or shiplap walls.
You can pair it with white trims, moldings, and door and window frames or choose darker gray to add a base.
Pink or red doors can too play a great accent with this paint.
So, how do you want to use this color in your homes? Interiors or Exteriors? Do you like this hue, or prefer some of the more common and popular SW Blues?
Now that you have all the secrets – are you excited about painting your home in Oceanside? Should there be any questions or thoughts, let us know in the comments below!
Wondering what your home is worth in today's market?
Get New HOT listings to your inbox daily, before any other buyers at: