Sherwin Williams Olympus White is a sophisticated and timeless neutral paint color.
Just out of a fairy tale – this subtle gray is bound to take your breath away!
Its slight crispness and purity, when stained on walls, can absolutely do wonders!
Like a light, chirpy and peaceful backdrop – Olympus White could be your next partner. So, if you want to know more about what makes this color an absolutely favorite of so many – have a look!
OW is a Smooth Neutral paint color with slightly blue undertones – so, falling on the cooler end of the scale.
I absolutely love this color and have used it for multiple projects.
The best part about the color is how it seamlessly creates a perfect backdrop to the surrounding theme without having to be in limelight!
This color is not to be used as an accent but mostly as neutrals and bases.
So, if you are planning to use Sherwin Williams Olympus White in your homes, I must say – go ahead with it – but be careful about the colors you pair it with and how it realistically feels like.
Let me tell you one thing before – unlike other colors, Olympus White is totally pure and peaceful – so there aren't a lot of rules and restrictions associated.
Basically, you're free to use this ANYWHERE.
Sherwin Williams Olympus White SW 6253 Details and Specifications
If you are a newcomer, here is an important point to note –
Color specification is not as easy as it sounds like! You have to be very careful regarding understanding the back theories, analyzing it, and then using the color.
Don't Worry!
That's what I am here for – to make it easier for you.
Each color is unique!
They are associated with some values that uniquely describe how the color was actually formed and how it behaves in the light!
So, first and foremost, let's discuss the Light Reflectance Values (or LRV) that determines how much light is reflected from the painted surface.
Hence, the LRV of Olympus White is 68.
That means the color is light and will reflect away most of the light falling on it.
Hence, deriving that you would be able to use this color in smaller areas.
Oops!
Before I spill all the secrets, let's discuss more about the core theory linked.
RGB and HEX Values are as follows-
Red = 212
Green = 216
Blue = 215
HEX Value = #d4d8d7
It is now time to read more about the practical aspects of the color.
How Does Olympus White Feel in a Space?
Here's the color painted on the upper walls as shared from the Design Sponge blog.
Sherwin Williams Olympus White is going to make your room feel much spacious, airier, and brighter!
With a tinge of cool blue, the color is bound to add a feeling of satisfaction and piousness as soon as you enter your home.
So, if you live in southern states – and especially states like Arizona, Florida, and Texas – I highly recommend using this color if you always sweat on your way home and want an immediate cool environment!
Yes, Colors are that dynamic!
They can make you feel energetic, quiet, and motivated. Just have to choose the perfect one!
Also, if you have a smaller space and yet not too small – painting in Olympus White could be your solution!
For extremely small spaces, I recommend colors with LRV above 85.
How Does Light Affect the Color?
Light has a major role to play here.
Due to the color's high reflectivity, most of the natural or artificial lighting that falls is being reflected away.
However, if you plan to use warm-yellow artificial lighting – the wall paint is magically going to turn off-white and beige!
Long story short, this color easily absorbs the temperature of surrounding light sources!
So, this can help you determine what kind of mood you want to create in your space.
What are the Coordinating Colors for Sherwin Williams Olympus White?
Olympus White complements the whites and blacks
Olympus White is another synonym for timelessness!
So, if you are planning to use this color in your homes, I have a few recommendations that could be considered when choosing complementary colors.
Olympus White best suits the subtle cool blues, off-whites, and dark grays!
Here I enlist a few of them,
Let it Rain SW 9152
Extra White SW 7006
North Star SW 6246 – see detailed review here
In this case, you can let Olympus White and Extra White play neutrals, let it Rain as a base, and North Star as your accent!
The other way round of using the color would be in the form of monochromes!
The recommended colors to blend are –
Lazy Gray SW 6254
Morning Fog SW 6255 – see detailed review here
Dustblu SW 9161
This would be a classic way to use the color! Remember to paint your trims and moldings either in Pure White or High Reflectance White.
Sherwin Williams Olympus White Vs. Similar Colors
There are many other colors that could be used as alternatives for Olympus White. Depending on your personal choice, whether warm or cool, there is no doubt you would be able to find the one next in the line.
Two of the colors closely related to Olympus White are SW 7661 Reflection and SW 7071 Gray Screen.
Olympus White Vs. Reflection
With an LRV of 66, Reflection is a perfect neutral with slight undertones in blue and gray!
Although, in daylight – it appears to be more grayish than blue!
That could be deceiving on screens so be careful and buy real-time paint swatches to experience the color in real-time.
Olympus White Vs. Gray Screen
With an LRV of 59, Gray Screen is a more grayish version of the mentioned above two paints.
It is comparatively darker with deep blue undertones.
Although light plays a major role in this color and your space could look cool white if used on the exteriors.
If you paint all these three colors by side, you will know the exact difference! Yes, even though they are similar – they are still very different!
Where to Use Olympus White in Homes?
As I said, Olympus White is a great option for neutrals and bases.
So, you can absolutely use it ANYWHERE as far as the surrounding theme allows!
Do not use of you have a warm-beige theme in your home or have golden oak cabinets and brown furniture laid around.
That is an absolute NO-NO!
However, for Scandinavian styled homes, Modern, Contemporary, and even Minimalistic Homes have a great potential to incorporate Olympus White!
Let's see how to incorporate this color in homes.
Olympus White in Living room
The DIYer's over at Restyle It Wright gave their Living Room walls a truly stylish makeover
Pair it with glossy black and off-whites!
Paint your moldings and door/window frames in white and use dark grey or black as an accent to observe perfection.
If you have a fireplace as the focal, you could either use granite or marble stone to highlight it and maybe use bright red and yellow accents through the artwork.
That will more or less reflect an art deco style.
Your furniture in this case could be all neutral as well!
Olympus White in Kitchens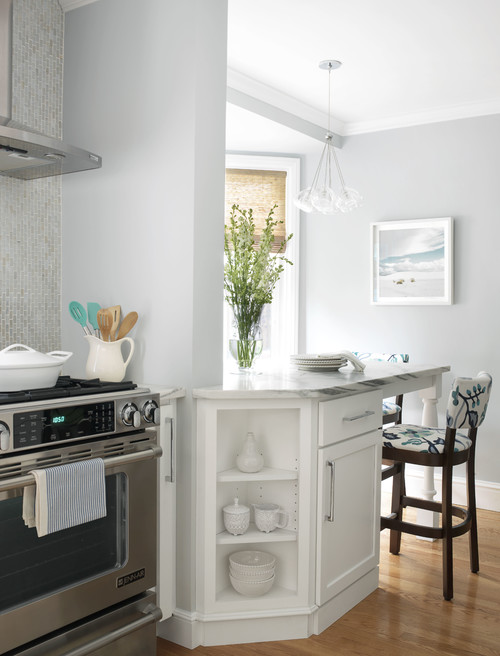 Olympus White on Kitchen walls adds freshness in addition to the lighter cabinets.
If you want a cool-tinted kitchen – do, try Olympus White there!
However, to complement it – I recommend white cabinets or midnight blue cabinets (you could try SW Waterloo)!
Use a white stone countertop and glossy patterned backsplash tiles to create a dynamic look!
In the end, your flooring could be black tiles too! Want to try that?
Olympus White in Bedrooms
A little girl's makeover looking amazing with OW, from Linen & Ivory
Bedrooms should be soothing, right?
You could paint all your walls in Olympus White and let a bright accent play the drama.
Wooden textures wouldn't be a bad option, but you can definitely look for alternatives!
Use Industrial or Farmhouse styled chandeliers and maybe some silver or gold tints to highlight an accent!
Regarding rugs, prefer either a patterned one or a sheepskin pure white in the center of the room!
Olympus White in Exteriors
Looking clean and inviting against the deep, natural stained wood colors of the front door and coordinating brick.
Olympus White when used in the Exteriors proves to be even lighter than it is!
Many homeowners across the country prefer to use this color and why not?
It definitely gives a classic and timeless effect.
You can always pair this color with dark greys and pure whites in the form of wainscoting, roof tiles, door, and window frames.
This color is a NO-NO for shades of beige so be careful if there is travertine stone around!
So, how do you want to use this color in your homes? Now that you have all the secrets – are you excited about painting your home in Olympus White? Should there be any questions, let us know in the comments below and we will get back to you!
Ciao Until then!
Wondering what your home is worth in today's market?
Get New HOT listings to your inbox daily, before any other buyers at: