From the endless varieties of whites – do you know which one to is the one for you?
Some are warm, some are cool, and some are neutral.
And further, some are comparatively lighter and some bolder.
Some appear absolutely airy, and some appear weighted down. Whew!
One such noteworthy example is Sherwin Williams Pearly White that is a white and, well, an off-white paint color!
It is neither too warm and nor too cool – however, aligning somewhere towards the peach and pink under certain lighting conditions.
It is absolutely beautiful and is simply, a perfect mimic of pearls!
So, if you are looking to add this timeless off-white paint to your home – I must say you go ahead!
However, since this white has certain undertones, you have to be very careful about picking the best complementary hues.
Also, let me tell you, this color can play a great chameleon.
It will tend to look cooler in some rooms and warmer in some – and that is why I am here to help you make informed decisions.
So, sit back and relax!
I am going to spill some Pearly beans here!
Sherwin Williams Pearly White SW 7009 Details and Specifications
Before picking a paint color, you should always be careful and understand the true hue and specifications.
If you are wondering how to figure out the best one for your home – I say, you read this section very carefully.
So, every color has a story to tell – and that story majorly differs from any other color!
To make it easier for you, here are a few terminologies that you must consider.
First and foremost, look at the back of your paint swatches to determine the Light Reflectance Values or the LRV's of the paint color.
This value helps in determining how light or dark the paint is.
Remember, the greater the value – the lighter the paint and vice versa!
So, the LRV of Sherwin Williams Pearly White is 77.
And that means it is an extremely light-toned paint color (After all, it comes from the Sherwin Williams White and Off-White Collection).
Secondly, other important associated terminologies are the RGB and HEX Values that further tell us what the color is comprised of.
Red = 232
Green = 227
Blue = 217
HEX Value = #e8e3d9
Since we have discussed the technical and scientific information, let's get started with the practical aspects of this pretty white Sherwin Williams paint.
How Does this Color Feel in a Space?
Sherwin Williams Pearly White will make your space feel airy, warm, calm, and relaxed!
Or should I say – warm and cool both (but I will reveal those secrets later)!
So, this color plays a great neutral and base in your home!
Furthermore, this color makes a great statement in extremely small, small, and even medium-sized homes.
It will create an illusion of making a space look larger and enhanced!
I would also not restrict this paint to a particular climate!
Whether it is 100 degrees or 40 degrees – you can use this paint everywhere!
How Does Light Affect the Color?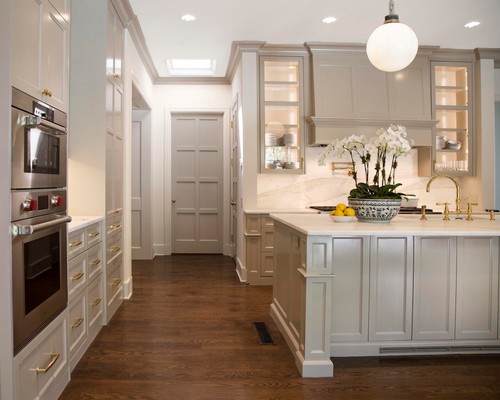 Light has some role to play here!
Since the paint color is already extremely light – it will tend to wash away the undertones when used in the east or west-facing rooms!
Now here is another trick – look around and observe your space!
If you get ample natural light – it will tend to look much lighter and brighter! (Use eggshell finish in that case)
Else, this paint is good to go for even the rooms with little to no natural light.
Also note that this paint will appear slightly warmer in east, west, and south-facing rooms whereas cooler in the north-facing rooms!
What are the Best Coordinating Colors?
Choosing the best complementary colors is the key: and that can only happen if you study the paint very well.
Remember, if you mess up with these palettes and schemes – you end up messing with your home (especially if you use it as a neutral or the base)!
And you don't want that, right?
So, I will recommend a few options that you could consider pairing up with this tricky white paint.
First and foremost, you could either choose from a contrasting or a monochromatic color palette – depending upon your interior design style.
In the case of contrasts, since the paint has slightly peachy and pink undertones – I recommend pairing it with taupes, mauves, dusty pinks, dusty reds, and even blush, charcoal blue, and grays!
Well, almost everything!
So, check out these few colors I would recommend for a monochromatic palette!
SW 7030 Anew Gray
SW 7031 Mega Greige
SW 7032 Warm Stone
On the other hand, here are a few of the colors I would recommend for a contrasting color palette!
SW 6043 Unfussy Beige
SW 6045 Emerging Taupe
SW 6039 Poised Taupe
Now, here is a twist – use the same SW Pearly White on the walls and the ceilings and trims at the same time!
SW Pearly White Vs Similar Colors
There are quite a few alternate examples that you could choose from!
Even though they might differ in undertones or reflectivity – there are some characteristics that will make them look similar!
So, the two closely related examples are SW 6070 Heron Plume and SW 7013 Ivory Lace.
Pearly White Vs Heron Plume
With an LRV of 75, this off-white paint is beautiful and absolutely timeless!
Although, unlike the SW Pearly White shade, this one feels warmer in almost every condition.
I recommend you not use this paint on the ceilings and trims with medium-toned paints!
Pearly White Vs Ivory Lace
Another creamy shade of whites, this warmer tone makes a dashing statement to your spaces.
With an LRV of 79, this is comparatively lighter than the former.
Try avoiding in warmer states and west-facing rooms as it may appear too overwhelming in such cases.
Where to Use Pearly White?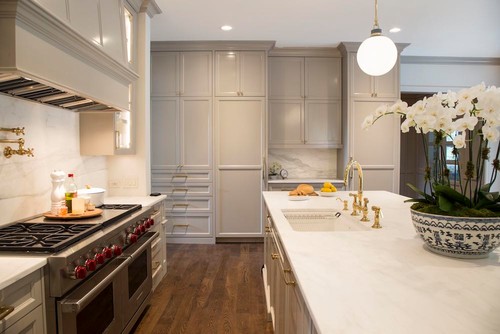 Sherwin Williams Pearly White can absolutely be used anywhere in your home – whether the hallways, living rooms, formal rooms, kitchens, as well as exteriors.
The best part about the paint is that it specifically doesn't align to a particular style – you can use it in Modern Farmhouse as well as the Modern and Contemporary!
Let's see where and how to incorporate this beautiful white color into your home.
Pearly White in Living and Dining Rooms
Absolutely yes!
Try pairing it with bolder paints like deep blues and taupes to create stunning contrast.
If your living room faces the north, you can consider using a semi-gloss finish or the cashmere pearl – else eggshell is one of the best options.
This paint will make your living room look larger and more compact – so keep a note of the compass directions and then use it strategically!
In the north, it will look cooler, so try pairing with warmer tones to balance the appearance!
Using in Bedrooms and Bathrooms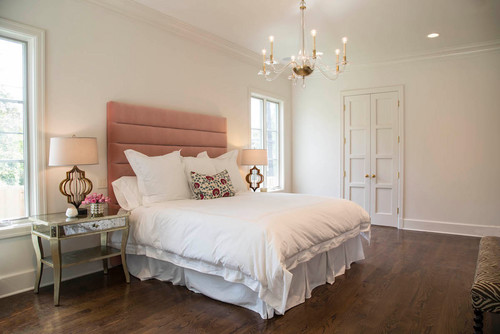 Why not?
Use this paint as the neutral or base in your bedroom and choose darker paint for the accent wall.
You can even use this paint on all the walls and choose heavy furniture to add depth to your space.
Use bold blackout curtains with hues like beiges and taupes to add the vertical statement!
Moreover, to create a cohesive touch, you can also continue this hue in the bathrooms and pair some authentic brass or matte black light fixtures to go!
Avoid choosing a bold color in the bathroom! Rather stick to SW Pearly White for a transitional style look.
Pearly White in Kitchens
Kitchens are the heart of our homes!
So, if you want a warmer-toned kitchen and have tons and tons of natural light – this is probably one of the best options!
Try pairing with rose-gold and brass fixtures and pull handles while choosing a dramatic backsplash tile to play with the overall mood of your kitchen.
Using on Exteriors
SW Pearly White is timeless – and that is why you can use it for most of the exterior designs!
You can either pair it with black or grey accents through trims, moldings, and door and window frames.
You can also use natural stone wainscotting for the patio columns and surroundings!
If you plan to use a darker color on the façade – then choose SW Pearly White for the doors for a great contrasting experience!
So, how do you want to use this color in your home? Interiors or Exteriors?
Now that you have all the secrets – are you excited about painting your home in Pearly White? Should there be any questions or thoughts, let me know in the comments below!
Wondering what your home is worth in today's market?
Get New HOT listings to your inbox daily, before any other buyers at: