Doesn't the name of the color feel mysterious? Is it truly a gray paint? Well, no! Just like the screens – even the names of the paint can be deceiving!
So, Sherwin Williams Popular Gray is truly a greige paint color that has a perfect blend of warm beiges and grays. Overall, this color exhibits a true warm undertone appearance.
You see, it is not even an inch close to a 'true gray'!
In some lighting conditions, this color may feel more inclined towards the taupes or beiges. But mainly, it tends to look like greiges!
So, if you are looking for a lighter-toned greige that appears more like taupes with a subtle crisp texture – this color is definitely good to go.
And since it is lighter in tone – you can absolutely use it in homes as a base or a neutral. However, be careful about pairing it with the best complementary colors since the undertones can be misleading in some situations.
So, are you excited? Well, I too am! Read below to know more about this 'popular' color!
I promise in no time – you'll be an expert.
Sherwin Williams Popular Gray SW 6071 Details and Specifications
As soon as you start to select paint colors for your home, it is important to truly analyze and study each one of them so as to choose the best possible option.
Remember, without analyzing the paint colors, you might end up messing up with your space as these are the terminologies that will help determine what the color has to offer.
So, first and foremost, it is crucial to look through the light reflectance values or the LRVs of the paint color.
In this case, the LRV of Sherwin Williams Popular Gray is 61. And that means it falls somewhere in the mid to light-toned shades.
Just in case if you are wondering where to find this value – well, simply look at the back of the paint swatch.
Secondly, other important associated terminologies are the RGB and HEX Values that further tell us what the color is made of.
Red = 212
Green = 204
Blue = 195
HEX Value = #d4ccc3
Now that we have discussed enough about the technical and scientific information, let's get started with the practical aspects of this greige Sherwin Williams paint.
How Does this Color Feel in a Space?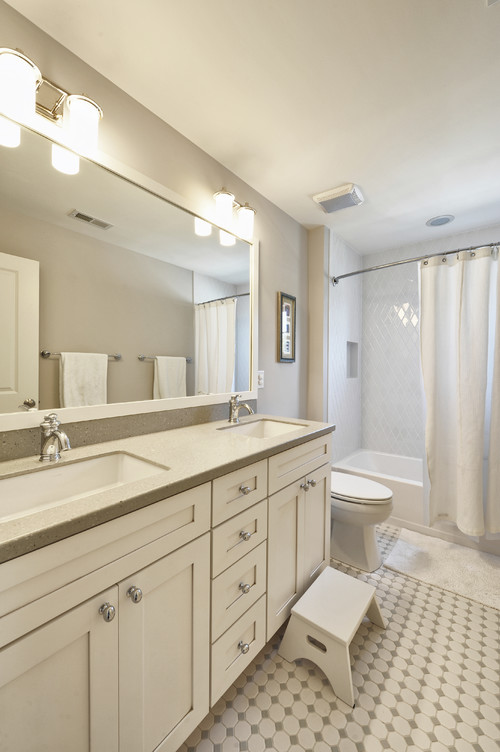 This color feels weighted and yet very airy, light, and beautiful when used in a space.
Now that I have mentioned the word 'weighted' – well, it simply means that you can easily detect this color on the walls as even though they are lighter in tone – they still have tons of character!
Moreover, you can use this color in either colder states that crave a warm touch indoors or simply rooms that are comparatively smaller in size. (Especially if whites and pastels are not your thing)
But don't hold back if you want to use it in warmer regions as well – since you can always pair it with navy blues to balance the saturation.
Long story short, this color adds a refined touch to your spaces. Hence, I wouldn't say no to it.
How Does Light Affect the Color?
Light has some role to play here.
Here comes the next most important task: after studying and analyzing the color, it is important to determine the amount of incoming natural light in a room.
So, look around and observe! Is there ample natural light in your space? Or is there no light at all?
Hence, in the case of excessive light, this color may appear even lighter. Or else it may appear darker – well something like SW Versatile Gray in the absence of light.
Since this color has high reflectivity, it is bound to make your space feel lighter and brighter! And that is why you should use this color.
What are the Best Coordinating Colors?
Now that we have analyzed the true theory behind the color, its light reflectance values, how it truly feels, and the effects of light, let's first look at what best suits the paint color.
Wisely choosing complementary colors is primary.
Hence, you could either choose from a contrasting or a monochromatic color palette (depending on the climate or the interior design style)
Well, here are a few of the colors I would recommend for a monochromatic palette!
SW 6072 Versatile Gray
SW 6073 Perfect Greige (see my full review here)
SW 9169 Chatura Gray
On the other hand, here are a few of the colors I would recommend for a contrasting color palette!
SW 7048 Urbane Bronze
SW 6255 Morning Fog (check out this color in detail)
SW 6074 Spalding Gray
For your ceilings, trims, and moldings – I would recommend using SW Pure White to further achieve a creamier look or else if you want a crisp look, choose SW High Reflectance White.
SW Popular Gray Vs Similar Colors
Just in case if you are not completely satisfied with this color, I am going to recommend a few that will replace this paint. However, remember that no two colors are exactly the same even if they tend to look similar!
Hence, the two most closely related colors are SW 7634 Pediment and SW 7632 Modern Gray.
Popular Gray Vs Pediment
Sharing almost the same LRV's, these two colors have a tinge of warmth that makes them look so similar. However, the latter seems to be a pastel that is more subtle and soothing for rooms.
With deep red-brown undertones, they tend to prove a perfect neutral and base when used in homes. I would recommend this color in homes as far as you pair it with beiges and off-white soothing paint colors.
Popular Gray Vs Modern Gray
Another paint that has a deceiving name, SW Modern Gray appears more like a greige than a gray. Yes! And that is why it shares tons of similarities with the former paint.
Sharing similar LRV's, this warm-toned paint makes a perfect alternative to Popular Gray – hence, you can absolutely consider it in your homes.
For even accurate results, I recommend buying real-time swatches and paint samples to determine the true hue or you can also place it against a white sheet of paper!
Where to Use Popular Gray Your Home?
Popular Gray can be used in hallways, living rooms, bathrooms, family rooms, bedrooms, and kitchens. Also, don't forget the exteriors!
Especially for interior design styles like Mid-Century Modern, Traditional, Transitional, eclectic, and Modern Farmhouse – this paint is absolutely good to go!
Let's see where and how to incorporate this beautiful greige color in your homes.
Popular Gray in Living and Dining Room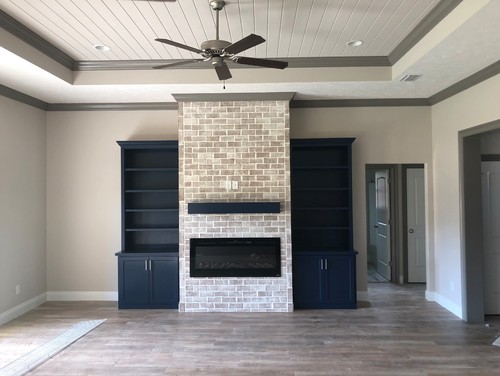 Crisp and warm, this color exhibits a welcoming experience in homes. Thus, if you are looking to add a cozy touch to your homes, this color is good to go!
Although it can be tricky playing with this color – since it amalgamates both gray and beige!
Hence, I would recommend either choosing this color as a neutral or base, or simply painting only a focal wall in this and letting the rest in off-white.
For the fireplace, choose black glossy marble or even granite!
Using in Bedrooms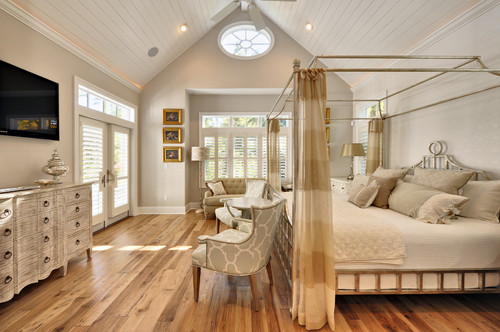 This color is a good option for bedrooms as it has a perfect soothing appearance. Hence, don't hold back from using this color in your bedrooms.
Try to pair it with neutral upholstery, white sheer curtains, sheepskin rugs, and cozy throw pillows to add a refined look to your bedrooms.
Moreover, you could either choose to paint all the walls in this color or simply let it play an accent – the choice is yours.
Popular Gray in Kitchens
Painting and deciding color schemes for the kitchen are pretty intriguing. You know why? Well, that is because it is not only the walls that play magic but also the cabinets here.
Hence, you could either choose to paint the cabinets in this color or the backdrop wall. In both cases, choose a black or white marble or granite countertop, white backsplash tiles, and gold-tinted pull handles.
You can also place a black metal pendant light over the island table to create a focal point.
Using on Exteriors
Whether it is the Mediterranean style, Mid-century style, or the Spanish Villa, this warm color will absolutely add an authentic touch to the exterior walls.
You can pair it with white trims, moldings, and door and window frames or choose lighter gray to add a base.
Black doors can too play a great accent with this paint.
So, how do you want to use this color in your homes? Interiors or Exteriors? Now that you have all the secrets – are you excited about painting your home in Popular Gray?
Should there be any questions or thoughts, let us know in the comments below!
Wondering what your home is worth in today's market?
Get New HOT listings to your inbox daily, before any other buyers at: