Do you have an eye for detail? Maybe you are not satisfied with a generic blue and are constantly looking for options that are either directed towards grays or greens?
Well, let me introduce you to a blue paint color from nature with deep gray undertones – Sherwin-Williams Storm Cloud!
A perfect symbol of 'stormy clouds', this deep blue-gray Sherwin-Williams paint is quite darker in tone.
So, if you are looking to add a bold and authentic touch to your homes, this beautiful paint is definitely your answer.
Absolutely out of the box – it is quite likely to find such beautiful paint elsewhere – so, I would highly recommend you consider this for your home makeover projects.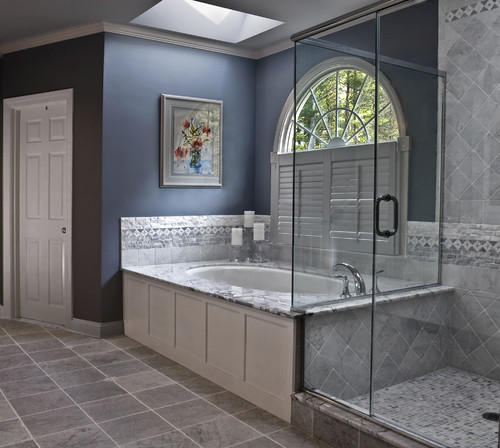 However, you need to be very careful around pairing this color and truly understanding what the color offers.
You also need to be careful about how, where, and when to use this intimate blue-gray paint!
Well, don't worry! I am here to unveil it all. This blog will help you decide if you really should use this color in homes or not.
I promise – in no time, you will be a Storm Cloud expert!
So, let's get it started!
Sherwin Williams Storm Cloud SW 6249 Details and Specifications
Before choosing a paint color for your house, it is important to consider the backlog theories and specifications!
Remember, each color has a story to tell – and no two colors are exactly the same (even if they look the same)!
Ignoring these values will further create a mess – and I am sure, you wouldn't want that, right?
So now, it is time to discuss some of the important terminologies. Firstly, it is crucial to know about the Light Reflectance Values or LRV's.
This term defines how light or dark the color is. So, the LRV of Storm Cloud is 23. And that means it is comparatively a darker color – and yet not too dark.
In case you are wondering where to find that value – well, simply look at the back of the paint swatch!
Moreover, other associated terms are the RGB and HEX Values that you need to consider.
Red = 122
Green = 132
Blue = 141
HEX Value = #7a848d
Now enough with the technical and scientific information, let's get started with the practical aspects of this mysterious Sherwin Williams paint.
How Does this Color Feel in a Space?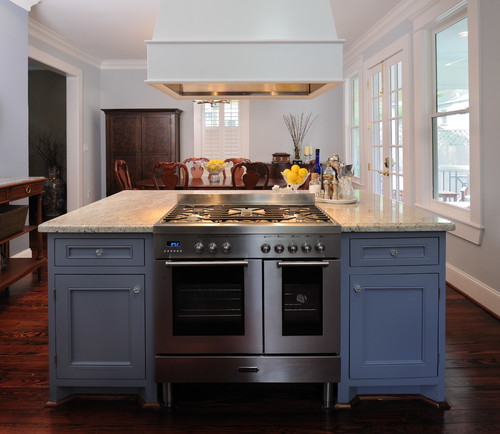 Sherwin Williams Storm Cloud is bound to add a bold and daring touch to your homes. Due to its low reflectivity, the space tends to look smaller and more intimate!
Since most of the incoming natural light is absorbed, the walls tend to come closer to make the space look enclosed.
However, don't hold back if you have smaller spaces – because I am going to let out some tips and tricks to use this paint color in those tiny rooms as well. Mainly, using ACCENT WALLS is the key. But let me spill out those secrets later.
Moreover, this paint adds a touch of artistic yet characteristic charm.
You can simply use this SW paint in the warmer states such as Arizona, Southern California, and Texas that are comparatively hot and dry with desert-like landscapes.
How Does Light Affect the Color?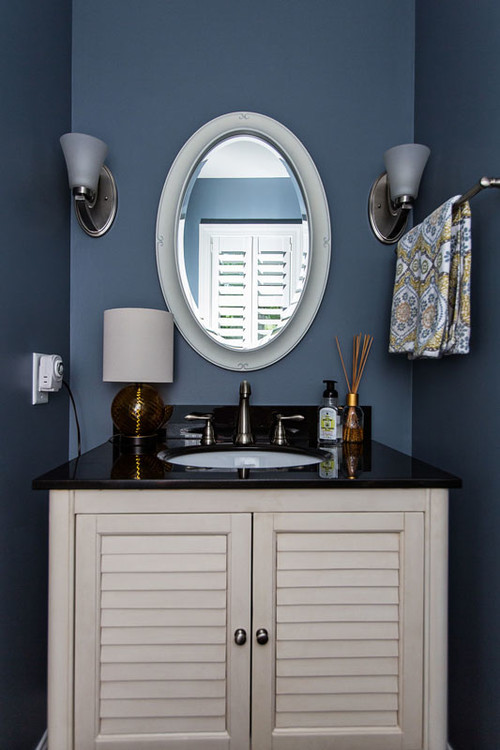 Light always has a major role to play in darker colors, especially.
Since they have low reflectivity, it is important that if you use this color, there should be ample natural lighting in the room. Else, think twice!
Mainly, in the presence of excessive natural light, this color will look lighter – well, something like SW Let it Rain. Whereas on the other hand, in the absence of natural light, this color will almost appear dark blue-grayish.
So, it's important to first analyze the amount of natural light received in the room. If it is plenty – definitely use a dark color, else consider lighter colors!
What are the Best Coordinating Colors?
Now that we have analyzed the true substance behind the color, its values, how it truly feels, and the effects of light, let's first look at what best suits the paint color.
This is the next major step to take when considering SC for home – color palettes and color schemes.
Trust me, it is important to analyze the saturation and lightness before pairing it with the best complementary colors. In this case, you should consider off-whites, beiges, golden browns, yellows, cool whites, and warm grays.
You could either choose from a monochromatic or a contrasting color palette. Let's see what makes the best match!
So, here are a few of the colors I would recommend for a monochromatic palette!
SW 6248 Jubilee
SW 9152 Let it Rain
SW 6250 Granite Peak
On the other hand, for a contrasting color palette, I would recommend the following paint colors that you could incorporate:
SW 6045 Emerging Taupe
SW 7004 Snowbound – see my full Snowbound review here
SW 7667 Zircon
For your ceilings, trims, and moldings – I would recommend using SW Pure White to further achieve a creamier look or else if you want a crisp look, choose SW High Reflectance White.
SW Storm Cloud Vs Similar Colors
Well, it is now time to look at some of the similar-looking examples. Even though I wouldn't recommend considering similar colors since this color is extremely pretty – there are still a few that could be considered.
Two of the most similar ones are SW 6256 Serious Gray and SW 2819 Downing Slate. Let's see how all these differ.
Storm Cloud Vs Serious Gray
A neutral paint color, Serious Gray shares the similar LRV's with Storm Cloud with an LRV of 23. Inclining more towards the grays – this paint is slightly crisp and cool.
For even accurate results, I recommend buying real-time swatches and paint samples to determine the true hue or you can also place it against a white sheet of paper!
Storm Cloud Vs Downing Slate
An 'interior only' paint, Downing Slate has an LRV of 21 making it a slightly darker paint option. With deep gray undertones, this color is absolutely priceless!
The blue in this paint color will only be detected if you observe it extremely closely or under specific lighting conditions.
Where to Use Storm Cloud in Homes?
Kristin from The Lackadaisical Mom reveals the timeless SW Storm Cloud in her living space
Am I allowed to say, well, ANYWHERE?
Yes! That's how versatile SW is. You can consider this color in homes with an interior design style of Modern, Minimalist, Contemporary, Farmhouse, and Coastal.
So, don't hold back from incorporating this paint color in your homes – whether it is the hallways or the exterior trims.
Let's see where and how to incorporate this color in homes.
Storm Cloud in Living and Dining Room
If you admire a dark and daring living room with a characteristic identity – I would recommend painting an accent wall in this color. Make sure not to paint all the walls – instead, choose the backdrop wall or the wall with the fireplace.
Moreover, you can balance the intimacy of the paint by pairing it with neutral-toned upholstery, white sheer curtains, and lighter-toned bases and neutrals.
Placing a large neutral rug as a centerpiece would be a great step towards attaining harmony.
Using in Kitchens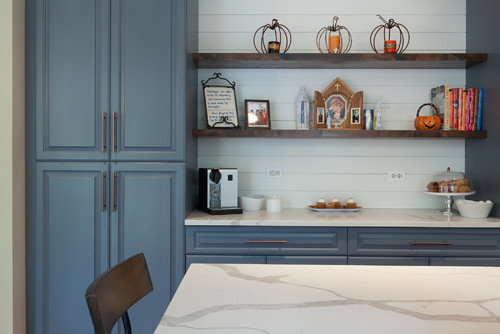 Kitchens are the heart of our homes. So, especially in the kitchens – this color is absolutely good to go if you prefer painting the cabinets!
I promise a bold and majestic look with a touch of luxe and sophistication. Moreover, consider using golden-tinted pull handles and fixtures to create a charming accent.
So, if you use this, make sure to pair it with white or off-white backdrop walls, white or gray marble (with or without veins), and white backsplash tiles.
Storm Cloud in Bedrooms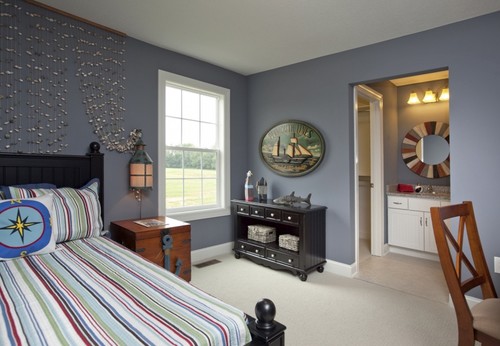 I have personally recommended this combination to one of my clients.
If you receive ample natural lighting and the room is pretty good-sized, you can absolutely use this paint color. On the other hand, even if you are not blessed with a large-sized space or ample natural light, I would recommend using this color only as an accent.
You can pair with whites and off-whites through decorative accents, of course! Moreover, you can also add geometric angles and shapes to add depth to your bedroom.
Using on Exteriors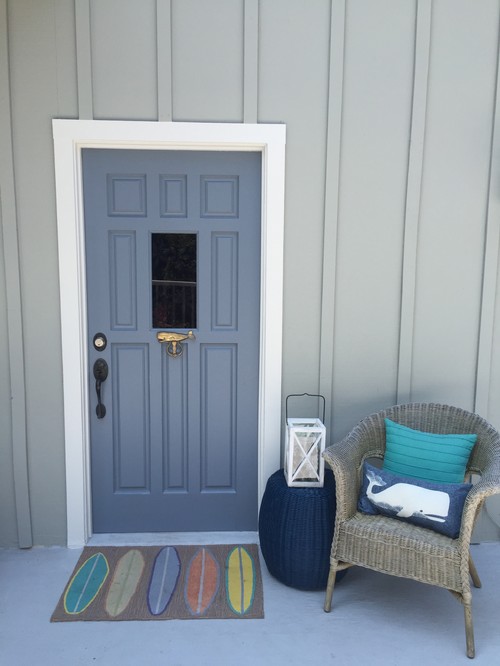 If you have classical, contemporary, Victorian, or Mid-Century Modern style exteriors, I recommend considering this.
You can pair it with whites and off-whites in trims, decorative moldings, and door and window frames!
Moreover, if you prefer stonework on your siding, choose a gray-tinted or travertine-shaded stone style.
So, how do you want to use this color in your homes? Interiors or Exteriors? Now that you have all the secrets – are you excited about painting your home in Storm Cloud? Should there be any questions or thoughts, let us know in the comments below!
Wondering what your home is worth in today's market?
Get New HOT listings to your inbox daily, before any other buyers at: