A very cheerful and fun paint color to play with – Sherwin Williams Tidewater is a beautiful aqua blue that tends to add a fresh vibe to your home.
This color definitely reminds me of my visits to the Gulf of Mexico on the west coast of Florida!
The blue and green hue in this paint is also conjures up Caribbean homes by the beach or even those tower houses that exhibit a perfect beachy vibe!
So, whether or not you live by the coast – you can absolutely incorporate this paint in your home.
I would say – especially for all the continental states, it is the summertime all year round with this one on the walls!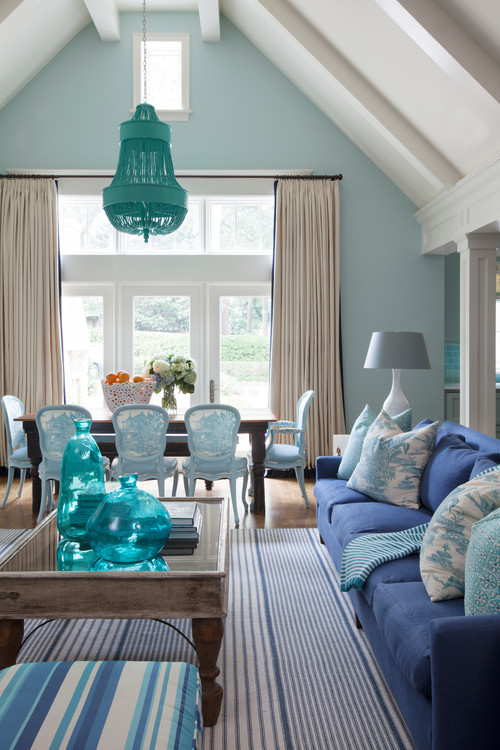 If you're craving those beachy and coastal vibes – this color is a must as you consider your palette.
When I see this paint, I immediately think of pairing it with seashells and sandy accessories, and I'm off to the tropics.
SW Tidewater has deep green and blue undertones – making it align towards the cooler side of the scale.
So, if you are looking to add a jolly feel – even a pinch of this color added to your living space will bring the joy.
However, considering its saturation and brightness – it can be slightly challenging to pair it with a compatible hue.
But in this article, you're going to find out all the how's and where's of this color as we explore it together.
Let's get started!
Sherwin Williams Tidewater SW 6477 Details and Specifications
You know the reason that makes this paint so whimsical and eye-catchy?
Well, this section will answer that.
So, every paint is different – even though very close shades tend to look similar!
With tons and tons of blues out there on the swatch – what makes this one so unique and distinctive?
And that is why you need to first understand how the color is made, its properties, and what it truly has to offer.
To make it easier for you, here are a few terms that you must keep in mind.
First, look at the back of your paint swatches to get the Light Reflectance Values or the LRV's of the paint color.
This value helps give you a scale for how light or dark it is.
Remember, the greater the value – the lighter the paint and vice versa!
So, the LRV of Sherwin Williams Tidewater is 65. And that means it falls on the lighter end of the scale.
Secondly, other important associated characteristics are the RGB and HEX Values that further tell us what hues the color is comprised of.
Red = 195
Green = 215
Blue = 211
HEX Value = #c3d7d3
Now that we've looked at the technical and scientific information, let's get started with the practical aspects of this pretty blue Sherwin Williams paint.
How Does this Color Feel in a Space?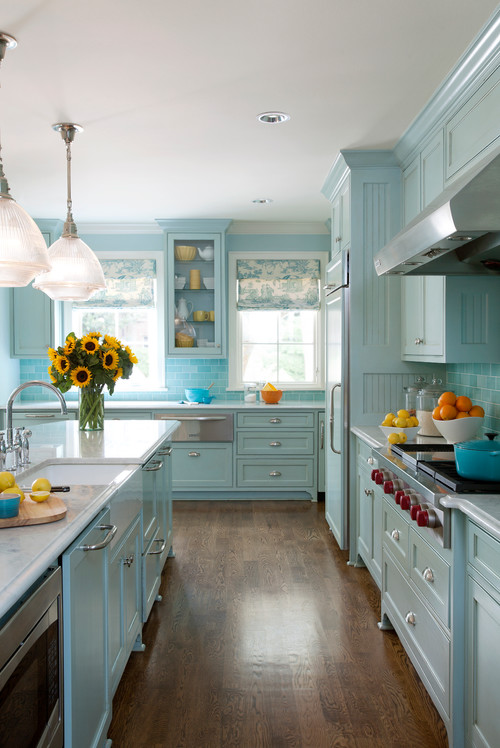 Sherwin Williams Tidewater feels different in different rooms!
In the north-facing rooms, it will feel quite cool, calm, bold, relaxed, and crisp – whereas, in the west – the same hue feels creamier blue and slightly lighter as the sun washes away the hue.
When talking about climates, especially for the warm and tropical states – this color is absolutely good to go!
It will help foster a cool and tranquilizing aura that will make you feel calmer after a long hard-working day!
Moreover, you can also incorporate this paint in smaller spaces to create an illusion of a larger space as they have high reflectivity.
How Does Light Affect the Color?
Like I always say – light tends to play a major role in the paints, overall!
Here, in this case, I want you to do a little exercise!
Firstly, look around and observe – what is the compass direction of your room and how much time do you intend to spend there?
In case you use the room is North or South and you mostly spend the evening or morning there – you are quite likely to feel cooler and calmer!
On the other hand, In case you use the room is West or East and you mostly spend the evening or morning there – you are quite likely to feel warmer and lighter!
You see – that's a little game the same paint plays in the same room – throughout the day!
In case of little to no lighting, make use of artificial lighting to play a character in your space.
What are the Best Coordinating Colors?
These sparkly blues are quite a challenge when it comes to picking the best complementary hues.
Well, it all comes to creating a sense of balance and harmony with the incorporation of such a saturated hue.
Remember, if you mess up with these palettes and schemes – you end up messing with your home.
And you don't want that, right?
Hence, I will recommend a few options that you could consider pairing up with this quirky blue paint.
First and foremost, you could either choose from a contrasting or a monochromatic color palette – depending upon your interior design style (whether minimalist, or any other)!
In the case of contrasts, feel free to pick from creamy whites, deeper blues, mustards, blacks, grays, and even mid-toned beiges.
So, check out these few colors I would recommend for a monochromatic palette!
SW 6478 Watery (Check out my SW Watery review here!)
SW 9051 Aquaverde
SW 6479 Drizzle
On the other hand, here are a few of the colors I would recommend for a contrasting color palette!
SW 9109 Natural Linen
SW 7067 Cityscape (see my Cityscape review here!)
SW 7009 Pearly White
You can use SW High Reflectance White or even SW Extra White to further complement your color palette.
SW Tidewater Vs Similar Colors
Sherwin Williams has curated quite a few blues for the homeowners to have ample choices from. Similar is the case for these aqua blues which have quite a few counterparts!
To name a few, the two most similar-looking color options are SW 6484 Meander Blue and SW 6470 Waterscape.
Tidewater Vs Meander Blue
A more saturated paint option, SW Meander Blue plays a great alternative to SW Tidewater.
With an LRV of 66, this paint falls on the lighter end of the scale – making it a great option to be used!
However, be careful when choosing complementary shades as this is more saturated than Tidewater and you might need some subtle tones like muted beiges to create a sense of balance.
Tidewater Vs Waterscape
Aligning more with the greens, SW Waterscape is a pretty aqua blue paint that plays a more subtle cousin of SW Tidewater.
It has an LRV of 62 – thus, can be absolutely used in smaller spaces and east or west-facing rooms!
Where to Use Tidewater?
Check out the laundry room reveal for the Pedraza House
Living rooms, bedrooms, bathrooms, home gyms, exteriors, kitchens – and the list goes on and on!
This bright paint color is a great recommendation for interior design styles such as Coastal, Caribbean, and Floridian styles!
Let's see where and how to incorporate this beautiful blue paint color in your home.
Tidewater in Living and Dining Rooms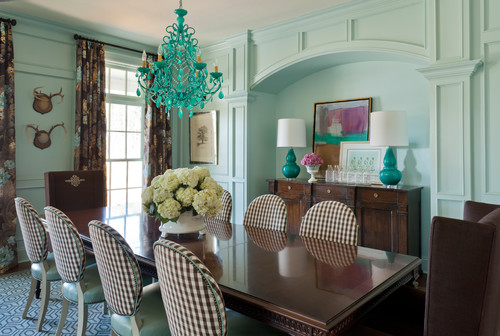 Why not?
You can paint all the walls in this paint or simply use the upper half of the paneled wall to make the most use of this breezy paint!
Use creamy whites on the ceilings, door and windows and bold grays and blues as the accents.
I further recommend using hardwood floors, white wooden or black metal furniture, and probably airy furniture that allows the room to further upscale its aura.
Remember to incorporate tons of wooden textures here for a refined palette!
Using in Bedroom and Bathrooms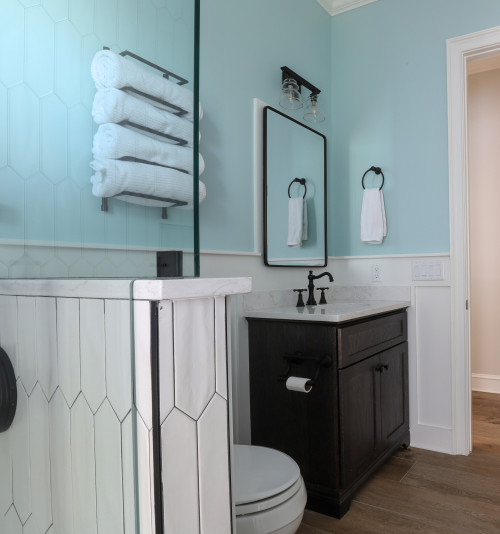 Whether painting a focal in SW Tidewater or all the walls, this color will definitely add a playful vibe!
I also recommend you use this paint in your kids' bedrooms and play areas to feel charming and bright.
Pair it with cheerful colors like pinks and yellows as accents on the pillows, upholstery, and curtains – along with rugs and some toys!
Moreover, to create a cohesive touch, you can also continue this hue in the bathrooms and pair some authentic stainless steel light fixtures to go!
Tidewater in Kitchens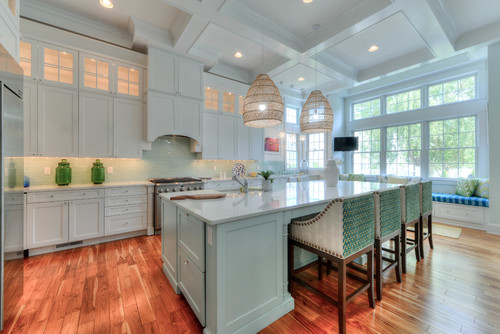 Living by the coast or not – this color in the heart of the homes will definitely create a captivating vibe!
You can either paint the cabinetry systems in this paint or prefer to choose vice versa!
Remember to avoid brass and pick more like stainless steel fixtures for this kitchen.
Using on Exteriors
Especially for Cape Cod, Caribbean, and Coastal styles, this color is a great option for your exterior walls.
You can either pair it with white or gray accents through trims, moldings, and door and window frames.
You can also use natural stone wainscotting for the patio columns and surroundings!
So, how do you want to use this color in your homes? Interiors or Exteriors? Now that you have all the secrets – are you excited about painting your home in Tidewater?
If you have any questions or thoughts, let me know in the comments below!
Wondering what your home is worth in today's market?
Get New HOT listings to your inbox daily, before any other buyers at: