What is the best thing about summers?
I am sure it is definitely sand, water, and sun!
While we all wait for the summers to come around – there is a tinge of craving for all the city dwellers to taste a side of a beach!
Well, what if I say – you can have that vibe in your own home – even if you are miles away from the beach.
Yes, this is where I introduce you to this wonderful blue that is absolutely jaw-dropping when used on the walls!
Sherwin Williams Tradewind is a perfect cool blue paint color that is bound to add a refreshing vibe to your home. And in particular, it's an ideal choice for costal homes.
It is a clean and crisp color with a very slight grey and green touch to it – which I must say is hardly noticeable!
Mimicking the vibe of a coast, Tradewind is definitely a 'go-to' color if you are planning to incorporate a beachy vibe, décor, and an overall coastal theme!
Classic and timeless – this color is also highly flexible to use!
Don't worry! I have a few tips and tricks ready for you to show how this color can be incorporated in homes and with what best counterparts does the color blend in with!
Just remember – the serenity and peacefulness of the color are worth comparing to none!
Sherwin Williams Tradewind SW 6218 Details and Specifications
Every color has its own sweet story!
They all convey a message and in no time beautify your spaces with their hidden charm!
This is the theory you must get familiar with – if you are planning to choose colors by yourself.
One such important terminology is Light Reflectance Value (LRV)!
It defines how light or dark the paint is, or how much light is the color reflecting! This later will help in deciding what spaces should the color be applied.
For Tradewind, the LRV is 61.
Which says that the color falls on the lighter end of the scale (Remember, the greater the number – the lighter the color is)
Now, that you know that Tradewind reflects away light – you should be using it in the south-facing room or westside windows!
But before I blur out further details, let us discuss the RGB and HEX Values of Tradewind.
Red = 194, Green = 207, Blue = 207
HEX Value = #c2cfcf
Now do you see that Tradewind has a lot to offer you!
Let's discuss the impacts of this color in your space.
How Does Tradewind Feel in a Space?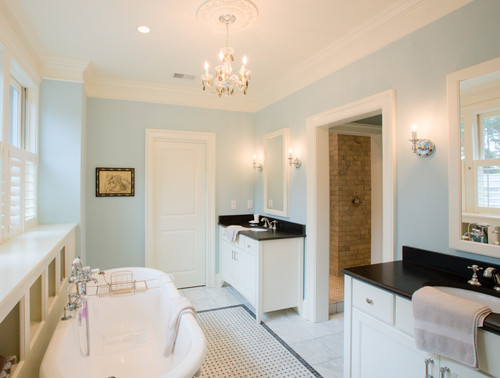 Absolutely light and bright!
First and foremost, if your space feels congested and crammed up – always look for a lighter color.
Post this, you are left with two options – either to choose a warmer or a cooler hue.
Resting aside your personal preferences and lifestyle if you are looking for either of the options – I highly recommend using cooler shades!
Blogger Carrie from The Vintage Wren proves how whites best complement SW Tradewind
A light warm color might still trigger an energetic and crammed-up vibe – but in the case of cooler hues – you can let off that stress!
Tradewind is one such light and cool shade that will maximize the feeling of airiness, spaciousness, and serenity in your space.
It will make your room look bigger and brighter.
Also if you crave a beach and coastal vibe – Tradewind is your answer!
How Does Light Affect the Color?
Design Blogger Carrie at The Vintage Wren reveals her bedroom makeover in SW Tradewind
To be honest – A LOT!
Due to high reflectivity, this color tends to reflect a lot of light – thus, making the color even lighter than it is!
Meanwhile, in the night – with slightly warm-white lights – the color tends to appear a little darker than it is.
To simplify for you – it looks a lot like SW 6220 Interesting Aqua!
Hence, always remember to note the effect of light on paint!
It can absolutely change the overall looks.
What are the Coordinating Colors for Sherwin Williams Tradewind?
Timeless and Classic, Sherwin Williams Tradewind defines utmost perfection
Are you considering using the color for the walls of your home?
Are you figuring out what best complements the color?
On the trims, moldings, and accent walls?
Well, here is another spill.
I always like to mention the monochromatic options (considering how trendy and timeless the style is).
So, here are a few options to go-
SW 6219 Rain
SW 6220 Interesting Aqua
SW 9134 Delft
SW 6221 Moody Blue
However, if you are considering pops of color and a little depth, consider these hues-
SW 6204 Sea Salt
SW 7653 Silverpointe
SW 7064 Passive
Considering these paints, note that the trims and moldings need to be painted in SW Pure White and SW High Reflectance White for the best results!
Sherwin Williams Tradewind Vs. Similar Colors
If you are looking for alternatives to Sherwin Williams Tradewind – keep scrolling!
One of the most similar and yet a close cousin of Tradewind is SW Rainwashed!
SW Tradewind Vs. SW Rainwashed
Similar to Tradewind, Rainwashed is a neutral blue which slightly has some grey in it!
It is another cool blue paint color with an LRV of 59 – that is comparatively lesser than Tradewind – thus making the color slightly darker than Tradewind.
Do you see the slightly green tinge you see in the color? Yes, that is what differentiates the both of them!
SW Tradewind Vs. SW Sleepy Blue
A pure blue paint color with an LRV of 58!
Darker than Tradewind – this color is not recommended if you want a coastal vibe – but if you are generally in need of blues – this is not a bad option!
With a slightly creamy texture, this color goes well with bright reds if you prefer a transitional style of design.
Where to Use Sherwin Williams Tradewind in Homes?
SW Tradewind on the upper and SW Accessible Beige on the lower wall is well embellished in this nursery by Blogger Sarah from Little Wife Power House.
Like I said before, Tradewind mostly has positives and very limited restrictions.
It is flexible, unlike any other bold blue.
So, you can simply use this color ANYWHERE in your homes. Actually, you should!
The only thing that the color lacks is coziness – which is absent due to missing creamy texture or warm tinge.
Stay away from this color if you want a very cozy, cozy environment but if not – read below to see where all can the color play its magic.
Tradewind in Living Room
Paint all the walls in Tradewind – if you do!
This is not an "accent wall" type color – so keep that in mind!
You can paint your trims and door frames in pure white and surround the fireplace with a glossy black slate or tiles for a perfect modernish look!
Avoid using exposed materials with this color!
Simply use with wooden textured furniture, a bright and airy glass countertop coffee table, and dark tufted upholstery!
Tradewind in Bedroom
Blogger Kristie from Decorologist shares her experience post Bedroom makeover for little girls
Bedrooms should be relaxing and soothing!
As you spend one-third of your lifetime in the bedroom – it is important to incorporate a serene and peaceful color!
And just like I said – Tradewind very creatively passes the test in here!
Pair up the color with either Shabby Chic furniture or new White-tinted furniture from Pottery Barn!
Just make sure to maintain balance in there.
Tradewind in Kitchen
Could be typical as you have to be specific with the color of cabinetry, countertops, and hardware in the kitchen!
If you are looking to use Tradewind in the kitchen – remember to use stark white cabinetry, black or silver-tinted hardware, and wither white or black marble or granite countertops!
An oak or wooden cabinetry is no-no.
In the end, incorporate island tables and either use rattan pendant lightings or farmhouse-style metallic pendant lighting to add perfection to your kitchen!
Tradewind in Exteriors
I have been asked this question multiple times – and I should say – why not?
For a perfect Cabana-like experience, you should definitely paint your home exteriors in Tradewind.
Although, I always say that the color will look lighter and brighter when exposed to natural lighting.
Pair with white frames and moldings or vice versa to enjoy most of the color!
Now that you see Tradewind has a lot to offer you! Are you excited to use this color in your homes? Do share pictures and let us know in the comments below about your experiences with the beautiful Sherwin Williams Tradewind!
Wondering what your home is worth in today's market?
Get New HOT listings to your inbox daily, before any other buyers at: