Sherwin Williams Tricorn Black is a lush, elegant, and saturated version that will make you fall in love with blacks all over again!
Black can really have a graceful touch to it, can't it?
After all, it has the potential to drive in sophistication like no other color and act timeless with absolutely any and everything on the planet. And it does so without screaming at you.
Similarly, Tricorn Black from Sherwin Williams is one such hue that will act as a perfect backdrop to most of the shades and accents out there.
So, if you are planning to use this color for your home interiors, or even exteriors, I must say – Keep it going and you will love the perfect haven that your house gets transformed into from this absolutely MAJESTIC black.
But, beware…
I understand the color is timeless and stylish and classic – but since it's quite a bold tone, you don't want to mess it up using it just – ANYWHERE.
Yes! It has limitations and underlying theories that you may want to know before painting that living room wall or bedroom accent with it.
I assure you will know exactly how and where to use this color after reading this article.
So, let's get started!
Sherwin Williams Tricorn Black SW 6258 Color Details and Specifications
You see that mysterious look that Tricorn Black has – that is due to the absence of colors!
Tricorn Black is a neutral color that is void of any undertones! It is simply – "Just Black"
So, leave aside all of the confusion and doubts about undertones and tints and tones.
Tricorn Black pairs with stark white on the Stairway to create a perfect balance
This color is pure, refined, and unblended.
Which, let me give you a hint, is going to get easier to pair against the opposites.
Moving ahead with the details, first and foremost – one of the most important terms in color psychology is Light Reflectance Value (LRV).
It helps you in deciding which room and in particular which wall you require the paint to be on.

So, LRV for Tricorn Black is 3!
And WOAH.
That's it.
The lower the Light Reflectance Value – the darker and bolder the shade is.
And with this limitation, Tricorn Black gives a major concern regarding where it should be used.
But before that – let's discuss the other important terms associated with the color.
Red = 47,Green = 47,Blue = 48
HEX Value = #2f2f30
Let's be clear, Tricorn is not apure black color. You can see in the gradient demo above how it compares to a complete black color.
By this time, you know that Tricorn Black really has a lot to offer you.
Whether it's the bedroom or the living and family room, there are various creative ways to imbibe this color in your space.
And they are really unique and flabbergasting to say the least.
How Does Tricorn Black Feel in a Space?
Tricorn Black promises a bold, authentic, and charismatic feel.
Due to its low reflectivity and ultra-darkness, this color may make your living space feel suffocated and congested if used in smaller apartments or spaces with small sizes.
Let's not to get caught up in a situation like that!
Blogger Shauna fromThe House of Silver Lining remodels her home in herringbone patterns and SW Tricorn Black (Photo credit: Shauna Beltramo)
However, all the city dwellers and apartment owners, don't feel demotivated.
I know you love black and that's why I have a trick for you – go ahead and use it in your small spaces – but as ACCENTS!
Maybe try painting just a single wall or a backdrop with Tricorn Black – and leave the rest with Pure White or Stark White.
This way, you immediately get the best of both worlds!
Do not try this color out on North-facing rooms – an absolute no-no.
Due to the absence of natural light – it's quite possible that your room will look dull and dark. (Not too inspiring…unless you want that specific theme!)
However, the crispness of Tricorn Black is bound to make your space look elegant, sophisticated, and timeless when used the right way.
Especially now that black is admired by almost everyone – it is quickly being counted as a trend now and for the upcoming years.
How Does Light Affect the Color?
To be honest – not a lot!
Due to low reflectivity, this color appears almost the same with or without natural light (of course – darker when there is no light at all.)
However, depending on the type of lighting – natural, warm-white, warm-yellow, and colored, the color does exhibit a tinge of yellow, white and color.
But doesn't affect a lot!
Also, if you have plenty of natural light falling in the rooms, I recommend using Tricorn Black. It will showcase smooth, crisp and refined character.
What are the Coordinating Colors for Sherwin Williams Tricorn Black?
There are numerous ways of blending Tricorn Black and making the most use of this color in your homes.
Firstly, remember blacks are timeless!
Hence, you have the advantage of using any color – ranging from stark-whites to off-whites, blues, greens, yellows, and beiges or greiges.
However, try to avoid a lot of bright and warmer hues – it may tend to make the space feel too energetic – which on a daily basis, could be harmful to perceive.
These days, neutral monochromatic shades are quite trendy – and if you're considering one, here is a list you may want to blend –
Inkwell SW 6992
Black of Night SW 6993
Dovetail SW 7018
Dorian Gray SW 7017

The best paint options for trims and moldings, whether exteriors or interiors are Pure White or High Reflectance White.
This will further enhance the color and help in protruding the Tricorn Black!
Sherwin Williams SW 6258 Tricorn Black Vs. Similar Colors
Many other colors are possible alternatives for Tricorn Black!
However, keep in mind if you need something specific – some may display a warmer tone and some cooler.
But one of the colors that shares the most similarity with Tricorn Black is Caviar!
Tricorn Black Vs. SW 6990 Caviar
With a similar LRV of 3, these colors share quite a lot in common.
Meanwhile, Caviar is not exactly 'Black' but has a brownish tinge to it.
In short, it is somewhere between brown and black.
For even further accurate results, I highly recommend buying real-time samples and swatches to compare the two.
Screen colors could get deceiving sometimes!

Tricorn Black Vs. SW 6991 Black Magic
With an LRV of 3, Black Magic too is a product of Black but with a lesser black feel than Tricorn Black.
Again, if observed closely, it is not true black which makes it slightly aligned with various other neutral undertones – basically, dark blue.
Light plays a major effect on these colors – hence, it is highly recommended to apply a sample of paint on a bare wall!
Trust me on this, they will look absolutely different – and that will help you in deciding which color to choose from.

Where to Use Sherwin Williams Tricorn Black in Homes?
The exotic charm of the color makes it one of the most flexible black options to be used in the home interiors.
With a perfect number of bases and accents – this color can shine even brighter than you think!
If you are wondering, where all in your home can you specify this color, my answer would be –
ANYWHERE! And even the exteriors!
So, let's hop on to some of the tips and tricks to apply Tricorn Black in homes.
Tricorn Black in Living Room
Living Room is a space that demands welcomeness and comfort! It should be able to drive the attention of your guests and make them want to admire your entire house.
Hence, to make your living room stand out with Tricorn Black – make sure to use it in little amounts!
Whether it's an accent wall, or the wall surrounding your Fireplace, Tricorn Black when paired opposite greiges/off-whites and whites give extravagant solutions.
Can This Work in Bathrooms?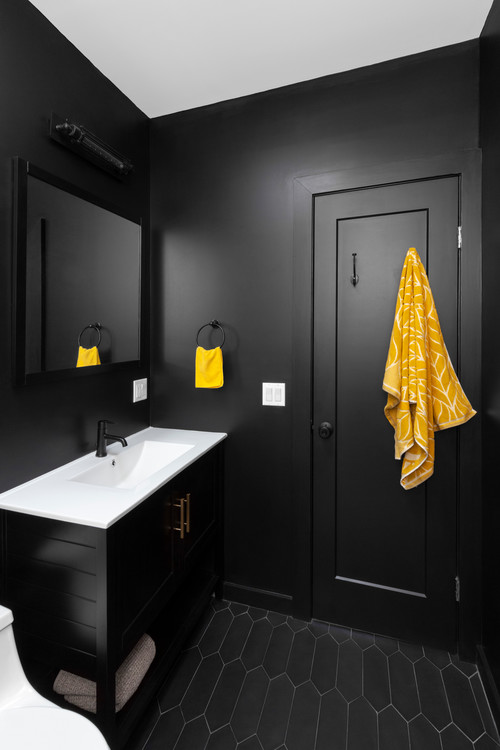 Yes it can, but as you can see from the example photo above it definitely brings a masculine feel.
With diffused lighting, the finish will come across as satin. This brings a high-end, luxury quality that is fun to accent with bright colored towels and bathroom accessories.
Opt for a light colored or even white tile floor if you don't want to feel like you're in a cave!
Tricorn Black in Kitchens
Kitchens are regularly occupied spaces – hence they speak your personality!
Black and White monochromatic kitchens are an ongoing trend that will probably never even fade away!
So how about painting your walls or cabinets in Tricorn Black? With a white neutral backdrop?
It will surely add a perfect statement of sophistication to your homes.
Tricorn Black in Bedroom
Blogger Jessica from House Homemade paints her bedroom wall in Tricorn Black
The bedroom is the most personalized space in your home.
It demands comfort, coziness and should reflect your character, personality, and lifestyle.
So, if you are a believer in minimalism, contemporary or Scandinavian style, I highly recommend this color.
Meanwhile, if you want a bohemian or French Country vibe – Tricorn Black is an absolute no-no!
Tricorn Black in Exteriors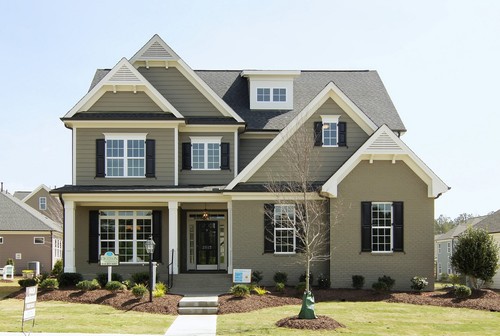 In the above example you can see how dark shutters work to bring elegance and a modern flair to an already beautiful home.
Most commonly used in Victorian homes (you might have seen a few walking down the streets of San Francisco), this color is not commonly preferred by homeowners.
Due to its ultra-bold look, it sometimes gets challenging choosing the perfect shaded roof and wainscoting along with it.
It also doesn't complement a lot of natural stones for skirting – however, if you really plan to use it – make sure the door and window frames, moldings and trims are painted in stark white to balance the look!
Bottom of the story, if you want to introduce drama into the homes, Tricorn Black is the one you're looking for. It is trendy, sophisticated, and elegant when used in the correct amount and paired with perfect opposites.
So, are you excited to have this color in your home? Let you know your experiences in the comment below!
Wondering what your home is worth in today's market?
Get New HOT listings to your inbox daily, before any other buyers at: