Sherwin Williams Turkish Coffee is exactly like you are picturing it – dark brown like the coffee beans and unfiltered coffee.
But trust me; the color of Turkish Coffee is much more beautiful than your regular morning coffee!
It is a warm-toned color with a slightly dark-grayish touch to it that can promise you an opulent look whenever needed.
Browns are usually the hardest ones to pick – they are not as subtle as greiges or as timeless as beiges!
However, with a perfect pairing, they too can absolutely look amazing.
Some say – 'browns are the new classy of this century!', but is that true?
Well, I believe so! Until you have the opportunity to paint inside your home with Turkish Coffee – you absolutely need not worry about the look and feel it brings.
It definitely adds drama to your space!
But, use it carefully.
This is a very delicate color (in terms of applying) and you just can't afford to mess it up when using it.
You need to consider the shades, tones and tints – the how 'bouts, whereabouts and pros and cons!
Yes, it can be simple if you know what you're doing and that is why I am here to guide you a way through.
By the end of this color review, I promise you will know exactly when, where and how to use it. Or let's say if you should use it at all?
Sherwin Williams Turkish Coffee SW 6076 – Details and Specifications
When choosing a color, it is extremely important to understand the psychology and theory behind it.
You simply can't use any color – anywhere!
First and foremost, always remember to consider the LRV Values of a color.
LRV stands for Light Reflectance Value that states how light or dark the color is! The higher the value – the lighter the color – the more light will the color reflect!
So, the LRV of Turkish Coffee is 5!
Yes, just 5.
This means the color is pretty dark and will not reflect away light – thus, making your room look smaller and darker!
The other considerations are the RGB and HEX Values. They are as follows-
Red = 77.Green = 57,Blue = 48
HEX Value = #4d3930
By this time, you know the color has a lot to offer you! If you are wondering how it feels in a space and how to incorporate these browns in your homes, let's have a read below.
How Does Turkish Coffee Feel in a Space?
Turkish coffee promises a bold and glam look!
Due to its low reflectivity and ultra-dark look, this color may feel congested and compact if not used in the correct amounts.
If you are a city dweller and are caught up in a small apartment – don't take this color lightly! (no pun intended)
Using in excessive or inappropriate amounts may end up messing up your home walls.
However, if you do love the color and plan to use it – remember to use it in very small amounts – like accents or in furnishings.
You will definitely be guaranteed a nice, French-country style home in this situation.
You can definitely use this color in either larger rooms or rooms facing east, west and south with larger windows.
The basic idea is to balance the space and color with a definite perspective.
Don't paint all your walls in Turkish Coffee – the result might lead to an uncomfortable environment that is too energetic for your daily needs.
And due to the darkness of this color – you simply can't afford a small space or a room with smaller windows and lesser natural light!
How Does Light Affect the Color?
Well, it definitely does – but not a lot!
Depending on the temperature of the light, Turkish Coffee might end up reflecting a yellow or white appearance.
The low reflectivity of this color definitely tends to make your space look dark and dull – without ample natural lighting.
However, in larger rooms like family and living rooms with ample windows – you can definitely use this color. Double-heighted hallways are not a bad option too!
This color definitely is a no-no for Scandinavian and bohemian styles – but definitely a good option for the country, farmhouse, traditional and contemporary styles.
What are the Coordinating Colors for Sherwin Williams Turkish Coffee SW 6076?
By now, if you have realized Turkish Coffee is the one for your home, there are few other recommendations to consider.
What color well complements it?
Remember, this color is quite complicated and you can't blend it with any color. Since Turkish Coffee is a warm touch – pair it with lighter warm shades like beiges and warm whites.
You could also use stark white opposite Turkish Coffee. That will totally exhibit a modern and contemporary look.
The present-era trends are highly admiring monochromatic themes. Thinking about having one with Turkish Coffee?
Well, here are my recommendations!
Spalding Gray SW 6074
Versatile Gray SW 6072
Garret Gray SW 6075
Perfect Greige SW 6073
However, if you want to blend Turkish Coffee with other shades, try considering greiges and beiges. Primarily, consider the following,
Casa Blanca SW 7571
Spalding Gray SW 6074
Heron Plume SW 6070
Sherwin Williams SW 6076 Turkish Coffee Vs. Similar Colors
Don't worry if you are looking for further alternatives to Turkish Coffee. Sherwin Williams still provides a wide array of options.
Expect some to be lighter or darker, warmer or cooler! You might still expect minor variances but not very major as such!
But one such color that shares the most similarities is SW Bramble Bush.
Turkish Coffee Vs. Bramble Bush
With an LRV of 0, this color definitely falls on the darker end of the scale yet still with a tinge of brown.
When paired opposite Pure White and High Reflectance White, this color absolutely looks stunning.
But before finalizing one, I highly recommend buying real-time swatches and paint colors to try them on walls and identify the differences.
Yes, the screens are deceiving.
Turkish Coffee Vs. French Roast
A perfect interior as well as exterior application, French Roast could be your alternative if you are looking for brownish-red undertones.
With a similar LRV of 4, this color is equally dark with suppressive warmer tones.
However, the crispness of both the colors makes them outshine in almost every area of your home.
Where to Use Sherwin Williams Turkish Coffee in Homes?
Turkish Coffee is an elegant, crisp brown that is bound to add utmost sophistication to your homes.
It is somewhat flexible if your home is already huge, airy and bright!
If you are wondering where exactly you should be using the color – I must say ANYWHERE as far as the square footage is large and there is ample natural light to balance out the darkness of the color!
Let's talk about the color and its effect on specific spaces in your home.
Turkish Coffee in Living Room
Blogger Mary remodels her home and paints the staircase in Turkish Coffee
Looking for a sophisticated option for your living room?
I guarantee with the perfect hardwood floors, natural wooden textures and warm white Sherwin Williams Alabaster – your living room will absolutely look stunning in a tinge of Turkish Coffee.
You could either paint the fireplace wall in the same or use it as an accent on the adjacent walls – but, remember to use a tinge of this color in the furniture pieces as well.
Turkish Coffee in Bedroom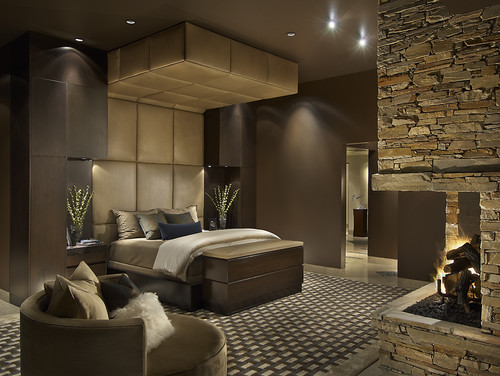 I would highly recommend this if you have a large – east or south-facing room!
But again, bedroom choices are quite subjective – you may or may not like it at all!
If Turkish Coffee speaks your personality, design style, theme and lifestyle – go for it!
Plan to paint an accent wall in it and try sheer white window treatments for an amazing look!
Also, consider a similar shade for your bed headboard and frame finish. Remember, the idea is to balance out the bold and daring look.
Turkish Coffee in Kitchen
Blogger Janette fromStyle with Cents remodels her kitchen and paints the cabinets in Turkish Coffee
Kitchens are the heart of our homes!
Using a color that speaks bold of your kitchen is not a bad option. Hence, if you are planning to use Turkish Coffee for the kitchen – paint your cabinet finish and trims and moldings in Stark White!
Highlight the color with warm-white wall scones or gold-tinted metal finish pendant lighting!
Turkish Coffee in Exteriors
The bungalow's facade in Atlanta is embellished in Turkish Coffee – Shared by Ontario Park Bungalow
Quite dark and daring, you absolutely need a lot of courage to use this color on your home's facades.
For all those who live in warm and humid areas, Turkish Coffee is definitely a no-no for your case.
You do not want to attract harsh sun warming up your homes! Meanwhile, for colder areas – you could use the color when paired with whites in trims, moldings and door/window frames.
You could also use the reverse – paint your eaves and trims in Turkish Coffee!
So, now that you are aware of the dos and don'ts of the color, are you excited to get your boots on for the work? Remember to analyze your space before finalizing a color – similarly, what best pairs and complements is necessary as well. Turkish Coffee definitely has a lot to offer you! Let us know your experiences in the comment below!
Wondering what your home is worth in today's market?
Get New HOT listings to your inbox daily, before any other buyers at: