One of my absolute favorites, Sherwin Williams Urbane Bronze is a timeless paint color with utmost luxe and sophistication.
It is a neutral dark-toned paint with deep warmer undertones – something like browns-gray!
Well, I can't even count the number of times I have recommended this color to my clients – since it is so beautiful and refined.
Also one of the most popular paints by Sherwin Williams, Urbane Bronze has been declared as the Color of the Year 2021. Deeply rooted in nature's textures and hues, this color defines the next level to magnificence in a space.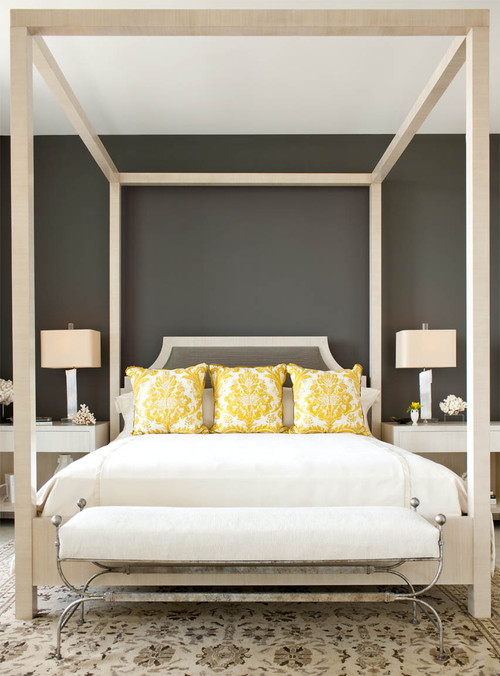 And another feature that I love is the sense of tranquility exhibited by this paint. Even though it is pretty dark in tone, it may still feel quite natural and down-to-earth when used in homes.
This color is somehow associated with the features of biophilia – mimicking the ground and nature's hues, this color is a great option if you want to add a natural touch to your homes.
Its organic appeal is definitely worthy of admiration. Hence, you can absolutely use this color in your homes – whether small or large. Don't worry – I have tricks and tips to share that will help you choose the best possible ways to incorporate this color in homes.
So, let's get started with this beautiful color.
Sherwin Williams Urbane Bronze SW 7048 Details and Specifications
Let me first start with the where and hereabouts of this color – mainly, what truly it is and the crucial backlog information that defines the true substance of this color.
Remember to always consider this section of paints when choosing one for your homes. Because you don't want to mess up with your homes, right?
So, let's first start with the Light Reflectance Values or the LRV's that helps in determining how light or dark the paint color is.
In this case, the LRV of Sherwin Williams Urbane Bronze is 8.
Now if you are wondering where to find this value, well just look at the back of the paint Swatch.
Secondly, other important associated terminologies are the RGB and HEX Values that further tell us what the color is made of.
Red = 84
Green = 80
Blue = 74
HEX Value = #54504a
Now that we have discussed enough about the technical and scientific information, let's get started with the practical aspects of this greige Sherwin Williams paint.
How Does this Color Feel in a Space?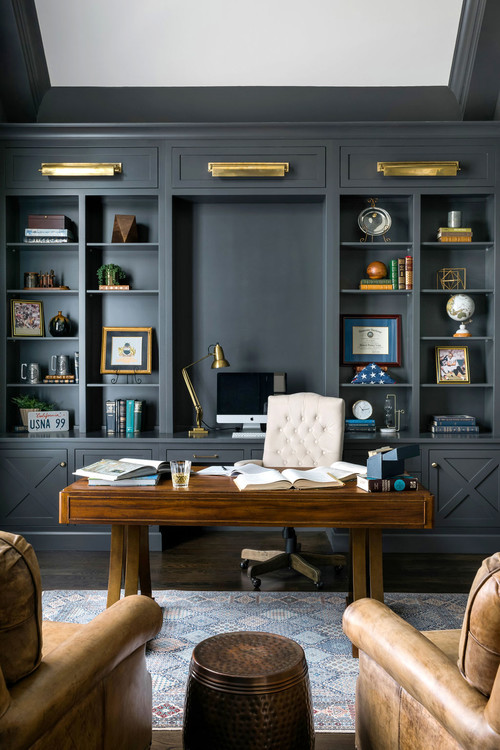 This color feels absolutely organic, natural, and bold when used in a space. Moreover, due to its dark tone, it feels further weighted and luxurious in a space.
Yes! I would use the word splendor and majestic to describe the color because that is how it actually appears on the walls.
I recommend any and every climate to incorporate this color – even though it has a touch of warmth and is dark and bold – you can always pair it with subtle hues to feel balanced.
Just in case if you have a smaller space – use this color very wisely – mainly using it as an accent or just in tinges!
That way you get the best of both worlds! (Don't worry, I have a color scheme ready for you later in the article)
How Does Light Affect the Color?
Light has a major role to play here!
If your room receives ample natural light – there is no doubt you should incorporate this color as it will balance the boldness with the airiness through incoming light.
On the other hand, in the absence of natural light, it may feel very dark – a shade that you will most likely not appreciate.
Hence, it is always better to analyze the incoming light in a room – especially if you prefer to choose a dark paint.
But don't worry – you can always play with artificial lighting in the form of pendant lights, chandeliers, and table lamps to create a great ambiance.
What are the Best Coordinating Colors?
Now that we have analyzed the true theory behind the color, its light reflectance values, how it truly feels, and the effects of light, let's first look at what best suits the paint color.
You can either choose a monochromatic or a contrasting color palette in this case – depending on the interior design style.
If you like more minimalism – choose monochromatic shades or else add fun colors to touch upon a specific theme.
Since it is a timeless color, I believe you can best pair it with off-whites, yellows, mustards, and cool and crisp whites.
Well, here are a few of the colors I would recommend for a monochromatic palette!
SW 9171 Felted Wool
SW 7046 Anonymous
SW 7047 Porpoise
On the other hand, here are a few of the colors I would recommend for a contrasting color palette!
SW 7511 Bungalow Beige
SW 6129 Restrained Gold
SW 6120 Believable Buff
For your ceilings, trims, and moldings – I would recommend using SW Pure White to further achieve a creamier look or else if you want a crisp look, choose SW High Reflectance White.
SW Urbane Bronze Vs Similar Colors
Even though you really need not look for other alternatives as this color is truly one of the best in its class.
I promise this color wouldn't give you a reason to disappoint, but just in case, I am going to recommend considering SW 9610 Stony Creek and SW 7020 Black Fox.
Urbane Bronze Vs Stony Creek
Solid and crisp, Sherwin Williams Stony Creek can be a great alternative to Urbane Bronze. It has deep gray-brown undertones that help make the color look luxurious and sleek.
With an LRV of 9, this paint color is equally darker in tone. Hence, you can absolutely use this color – anywhere in your homes.
However, this is only an 'interior only' paint so remember to not use it on the exterior walls.
Urbane Bronze Vs Black Fox
Warm-toned black and brown, this paint color can play a perfect alternative to Urbane Bronze. However, it is more inclined to black than luxe browns.
With an LRV of 7, this paint color is quite dark in tone. So, you can absolutely use it if you are craving a bold and daring backdrop at the home. See my full rundown of SW Black Fox here.
Where to Use Urbane Bronze in Your Home?
You can use this color in all the common spaces such as family, living, and bedrooms along with the kitchen.
Especially for interior design styles like Minimalism, Mid-Century Modern, Contemporary, Scandinavian, Transitional, and Modern Farmhouse – this color is absolutely good to go.
Let's see where and how to incorporate this beautiful bronze color in your homes.
Urbane Bronze in Living and Dining Rooms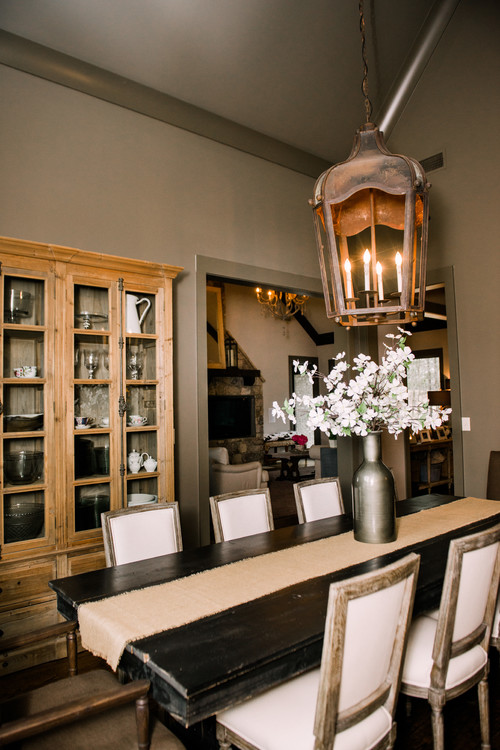 If you are looking for a cozy and elegant touch to your homes, this color is definitely a great option. You can pair it with warmer neutrals and yellows or mustards as accents.
Remember to pair it with neutral upholstery and white sheer curtains to add a bright feel to your living room. Moreover, adding mustard throw pillows, artwork, and rug would further add a pop of contrast to your living room.
You can also keep it neutral by choosing off-whites and warmer beiges along with the monochromatic shades to exhibit a modern and minimal touch to your living rooms.
Using in Bedrooms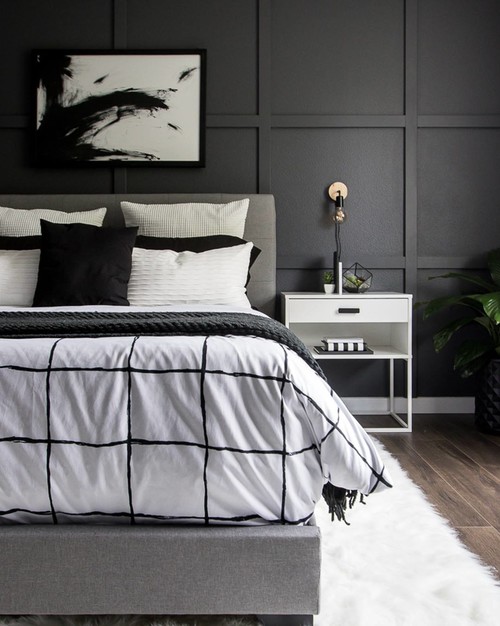 I would recommend using this color only on a single wall or the headboard wall to feel the most of this color.
It is definitely going to reflect a pure organic touch to your bedrooms. As an addition, you can add tall fig trees or succulents to further facilitate biophilia.
In case you have a large room, use this paint on all the walls and use lighter accents to balance the saturation in the room.
Urbane Bronze in Kitchens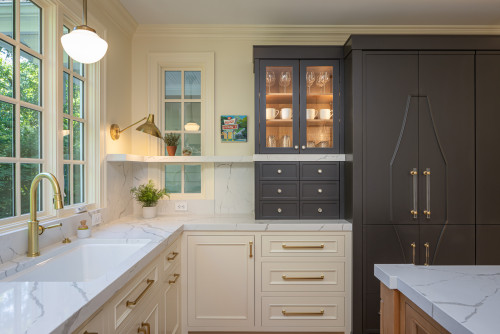 Urbane Bronze kitchens are the best! They are sophisticated, elegant, and totally welcoming.
You could either paint the cabinets in this color or let the backdrop wall be in Urbane Bronze. To add a pop of contrast, add golden tints through pull handles and fixtures to further add a refined touch to your spaces.
I would recommend this color in kitchens that have an open space planning – because the paint is going to add a sense of 'weight' in your kitchen.
Using on Exteriors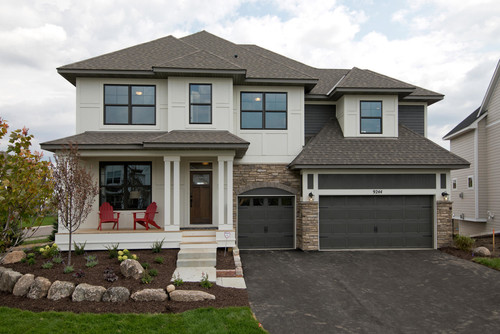 A great option for Contemporary and Mid-Century modern homes, this color is absolutely recommended for exterior walls.
If you are planning to use Urbane Bronze on the exterior façade, it will tend to appear much lighter than it already is! (of course, due to excessive natural light)
Pair it with white or off-white shaded trims and moldings!
Yes – that way you make a great contrast in your home exteriors! Also, you can do the other way round, by using pure whites on the decorative moldings!
So, how do you want to use this color in your homes? Interiors or Exteriors?
Now that you have all the secrets – are you excited about painting your home in Urbane Bronze? Should there be any questions or thoughts, let us know in the comments below!
Wondering what your home is worth in today's market?
Get New HOT listings to your inbox daily, before any other buyers at: