I routinely observe homeowners getting confused between the different types of whites.
Does it happen to you as well? Are you in a constant confusion of figuring out the differences between two kinds of white paints?
Well, let me tell you, Sherwin Williams white paint colors are no exception!
But don't worry! It is pretty common, and it happens to almost everyone (at least all those who are not color consultants and design experts!).
Jokes aside – I understand if you are among them, so that's why I recommend reading this guide very carefully!
It's true, there are various types of SW colors that are labeled as "white". With so many possible options, I want to narrow down the field and cover some of the most important and "best whites" available to choose from Sherwin-Williams.
We'll cover the ones that are specially formulated to compliment other SW colors and enhance any color palette you might be considering.
But before I dive deeper into that, let's first discuss specifications, typologies, and what SW whites truly to offer. This will help you decipher, evaluate and ultimately choose the best one for your project and needs.
Painting the Picture White
Obviously the lightest paint color of all, whites are actually created by combining red, blue, and green at an equal amount.
Call it a "pure white" or "true white", if you will.
And since this equal blend essentially cancels out its contributing colors, it doesn't have any hues.
The true white will simply not incline to any of the undertones – rather be stringent about its own identity.
This lends to an absolute timelessness and authenticity no other can offer.
They practically get a pass at not having to adhere to any specific interior design style and can be incorporated literally anywhere and everywhere.
Well, you would be surprised to know that Sherwin Williams has formulated many of its colors to best pair with these whites. Also, their experimentation with various shades of whites will leave you awestruck!
Hence, these above-mentioned qualities make this color a great option as bases and neutrals in the homes.
So, let's get some hands on the lightest color of the palette.
Solving the Mysteries of SW White Colors
Whites have a lot to convey! Really! Just like Sherwin-Williams Grays – they too have cooler and warmer tones.
You see. a white doesn't always have to have that perfect and equal blend of red, green and blue. If you have more or less of one or the other, even slightly, you're changing the tone of the white.
And this is why most of you get confused when choosing a perfect white for your home. Whites can too be creamy as well as crisp – Sherwin Williams provides many for each one of them!
It's good to have these choices, but it helps to gather information like you are now. You need this knowledge to save yourself time and headaches, with results that make you say "wow, this color scheme looks amazing!".
The Power of Undertones
So, what are you looking for when it comes to the tone of your whites?
Here are some examples:
If you plan to add more blues, greens, and purples in your palette, you want your whites (via trims, cabinets, etc.) to be a cool-toned white.
This paint will appear more crisp and clean and at the same time will exhibit a colder feel in your space depending on how much you use.
Best of all, it will compliment those cooler-based colors just mentioned above, whether they are in your other paints, furniture, carpets, flooring, accessories or accents.
On the other hand, if you're running with reds, browns, yellows, and taupes you'll want a warm-toned white that carries one or some of these same underlying hues.
This paint will appear more creamy and cozy while exhibiting a warmer feel in your space.
But don't be too dependent on these undertones as…
Lighting Matters
I often say that lighting plays a major role on any paint colors. It further tends to overpower the true undertones with its saturation – whether warm or cool.
This us huge!
So, the light saturation of your pendant lights and chandeliers have the potential to alter the appearances of your Sherwin Williams White paint.
The number of windows, which direction they face can impact too. This stuff is variable as well, since the sunlight shining or bouncing through in the day time is going to make your walls look different than at night when you have your artificial lighting up.
How do you deal with this?
Honestly, this is where samples come into play. We all know that getting some sample colors that are close to what we like at least on paper or screen is the final test and verdict.
It used to be we were forced to buy small cans of paint and go through the process of painting patches on our walls. Now, we have Samplize!
I love Samplize because for a few bucks you can get the sample colors you need and temporarily put them on your walls to test against your other colors and of course that crazy lighting.
Grab some samples of SW whites from Samplize early on in the process and you will be thanking yourself!
Best Places to Use Sherwin Williams White Paint Colors?
It is time to look at the layout of your home and observe the compass directions! What direction(s) does your room face? North, east, west, or south?
I recommend using this paint in any of the rooms as far as you know what type of paint you plan on using.
For example, in the case of a warmer white, try to use it in either north or south-facing bedrooms and living rooms.
On the other hand, in the case of a cooler paint, I prefer to use it on either east or west-facing bedrooms and living rooms.
To be assured, try examining different paint samples in different lighting conditions to determine how the color would appear.
Read on to see more examples of where to use this paint specifically!
Best Sherwin Williams White Paint Colors
Now comes one of the most awaited topics to talk about! Isn't this what you're waiting for?
So, here I will be discussing some of the best white paint colors that are also quite renowned in the interior design industry.
5 Most Popular
Here are the SW choices that really do get a lot of love.
Let me just say that while whites have gotten more popular lately, I wouldn't classify the color as a 'trend' as it appears to be more of a necessity in a space!
Sherwin Williams Alabaster:
One of the most popular, Sherwin Williams Alabaster is a creamy warm toned paint color with deep yellow-beige undertones.
With an LRV of 82, this paint has the potential to make your spaces look larger than they already are – by simply pushing away the walls and ceilings.
So, if you want to add a cozy vibe to your space, you can definitely incorporate this color.
Moreover, it is important to understand the associated RGB and HEX Values that are as follows:
Red = 237
Green = 234
Blue = 224
HEX Value = #edeae0
Try using this color in more warmer interior design styles such as Bohemian, Japandi, French Country, and Modern Farmhouse.
This color also plays a great base and neutral in homes!
Sherwin Williams Pure White:
Pure White is pure beauty!
It is totally poles-apart different than SW Alabaster. You know why?
Well, that is because this is truly a pure white, it doesn't align to the warmer or the cooler tones.
So, if you are planning to choose a white-white, this color is definitely recommended.
Moreover, lighter than the former, this paint has an LRV of 84 – which falls extremely on the lighter end of the scale.
It's also important to understand the associated RGB and HEX Values that are as follows:
Red = 237
Green = 236
Blue = 230
HEX Value = #edece6
This color is a great option especially for ceilings, trims, and moldings. It will further help protrude out your accent and base paints.
Sherwin Williams Snowbound:
SW Snowbound seems like a warm toned color at the first glance – but the truth is that it really is a cool toned off-white paint color.
With an LRV of 83, this paint magically makes your space look larger while pushing the walls away from each other.
Here are some of the associated RGB and HEX Values that you must know:
Red = 237
Green = 234
Blue = 229
HEX Value = #edeae5
I don't recommend this color for ceilings or trims as it may end up misleading the observer regarding the color palette of the room.
Check out my complete guide on using SW Snowbound here!
Sherwin Williams Natural Choice:
Comparatively the darkest of them all, SW Natural Choice is a creamy and cozy off-white paint that has deep beige undertones.
With an LRV of 73, this paint can make up for a great base as well!
If you have a dark and daring room – this color can even play an accent!
Check out more details on my SW Natural Choice guide now!
Here are some of the associated RGB and HEX Values that you must know:
Red = 227
Green = 222
Blue = 208
HEX Value = #e3ded0
However, you must know that this white paint can play really tricky in a space.
So, be careful around planning your contrasting color scheme.
Sherwin Williams High Reflective White:
Literally the lightest paint color in the Sherwin Williams paint deck, this color is also one of the brightest.
Generally being used on the trims and ceilings, this color exhibits a crisp touch to a space.
I wouldn't recommend using a lot of this color in a single space at the same time – rather use it only to protrude the other hues.
Here are some of the associated RGB and HEX Values that you must know:
Red = 247
Green = 247
Blue = 241
HEX Value = #f7f7f1
5 Next Most Popular
Sherwin Williams Shoji White:
White paint with a slight pink touch, this feminine color is a great fit for all the sober and subtle interior design styles.
With an LRV of 74, this paint plays a great role as a base in rooms with accents such as browns, blush, as well as other earthy tones.
Sherwin Williams Origami White:
A warmer white and pastel, SW Origami White is a beautiful paint color that exhibits a great balance – well, neither too creamy and nor too crisp.
With an LRV of 76, this paint can also be used as a neutral or a base in homes to make the spaces appear larger than they are.
Sherwin Williams Extra White:
The color functions exactly like its name – extra white!
Falling on the cooler side of the scale, this color can be used on the ceilings as well as the trims and moldings.
With an LRV of 86, you can also use it in smaller apartments located in warmer areas to invite a cool vibe.
Sherwin Williams White Duck:
One of the timeless whites, this color is absolutely beautiful with a perfect blend of whites and warm beiges.
This color has an LRV of 74 – thus, falling on the lighter end of the scale.
However, know that this color looks amazingly gorgeous when used in double-heighted spaces!
I have a full guide on SW White Duck, if you want to learn more!
Sherwin Williams Crushed Ice:
Like the name suggests, this cool-toned white exhibits absolute crispness with a deep admiration for grays.
This color is a great fit for homes to feel colder that are located near the Equator or by the ocean.
Also, you can use this color in Coastal Interior Design styles as bases and neutrals.
My Personal Favorites
These next choices are some my go-to SW whites I'm excited to share.
Sherwin Williams Greek Villa:
One of the go-to paint, I like how the warmth of this color can play a soothing magic in your spaces.
It's creamy texture can further create a warm and welcoming experience for the visitors.
Sherwin Williams Egret White:
Not very popular but definitely worth trying, this paint has a comparatively bolder backdrop as compared to the other whites.
However, it definitely adds depth to your spaces.
Sherwin Williams Eider White:
Another popular paint I recommend and use frequently, this cool-toned white is a great way to introduce a fresh and wholesome vibe indoors.
Sherwin Williams Creamy:
The go-to warm white paint, this color has deep yellow undertones to feel bight and overwhelmed in your spaces at all times.
Do try it! You can learn more about SW Creamy in my guide here.
Sherwin Williams Casa Blanca:
A perfect neutral to Boho Chic homes, SW Casa Blanca is a beautiful white paint to enrich your homes with utmost coziness!
Inspiration and Examples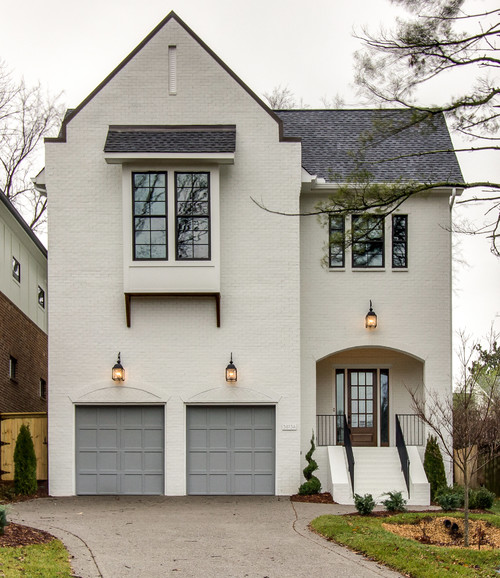 SW Spare White paint on the exteriors help exhibiting a perfect contemporary touch.
This traditional-styled home is a perfect example.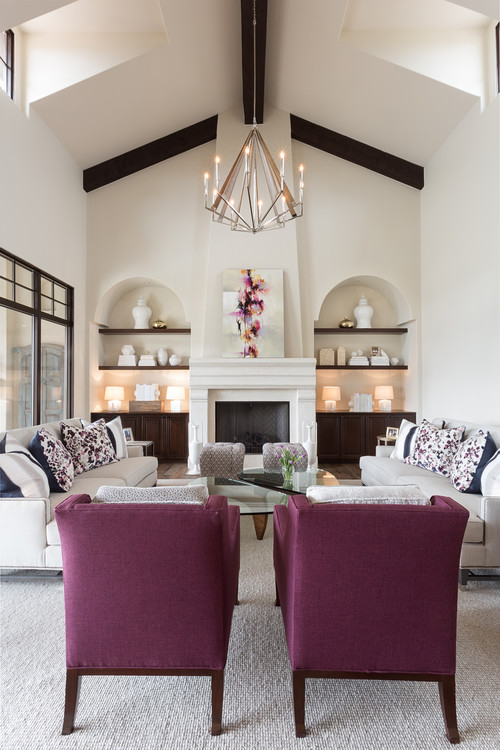 This transitional style living room looks beautiful in a warm white paint color that is a 50/50 mix of Sherwin-William whites.
Doesn't it simply appear warm and welcoming?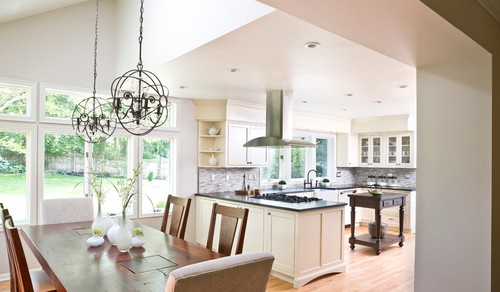 White paints like SW Alabaster shown here are essential for an open space concept plan.
Isn't it simply timeless?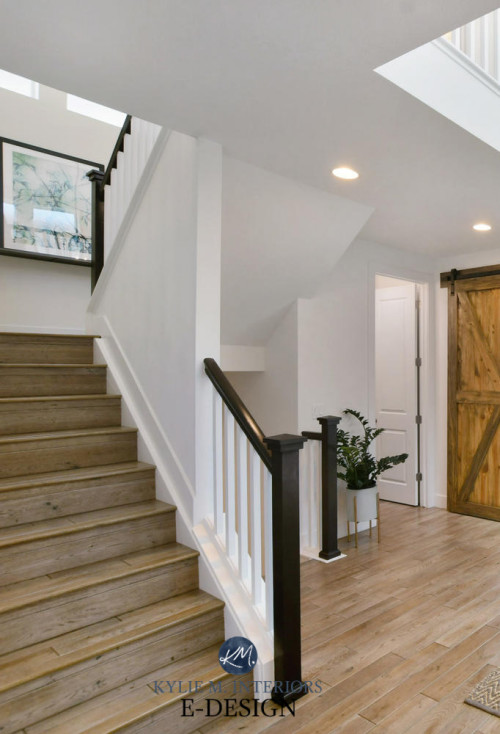 Not only the bedrooms, kitchens, and living rooms but also the hallways and stairways deserve a touch of white!
I love this example of SW Pure White in action.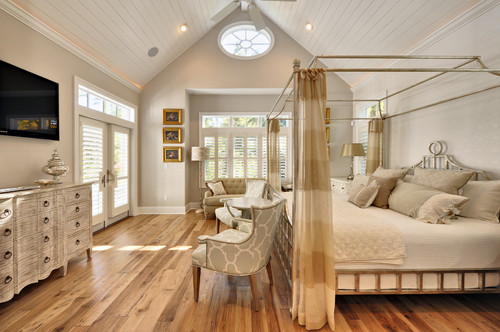 Off-white bedrooms are the most soothing ones!
Here, you'll see the ceiling & trim color is Sherwin Williams SW7005 Pure White (semi-gloss).
Would you want to come back home to this panorama and relax?
Conclusion
Now that we have discussed the major aspects and types of whites, do you feel confident in incorporating any one of them in your homes?
Well, I would say SW whites are pretty and timeless!
So, whether it is the hallways or the exteriors, bedrooms, or the living room – whites speak for themselves at each and every point! You just have to give them an opportunity!
Also, let me tell you, whites can align to almost any and every color.
Pick up your favorite white now and don't forget to let me know your thoughts in the comments below!
Wondering what your home is worth in today's market?
Get New HOT listings to your inbox daily, before any other buyers at: